(hit "refresh" to get the most recent version of this page; click on photos for larger images)
former IBM Complex
Boca Raton, FL
The IBM Complex was built in 1970. It was designed by Marcel Breuer and Thomas Gatje. The buildings now house the Boca Corporate Campus. For more, see this website. [map]
Clearwater City Hall
Clearwater, FL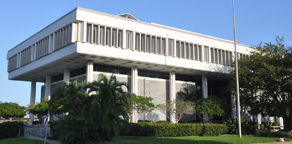 The Clearwater City Hall City Hall was built in 1966. [map]
Clewiston City Hall
Clewiston, FL
The Clewiston City Hall appears to have been built in the 1960s. [map]
Okaloosa County Courthouse [gone]
Crestview, FL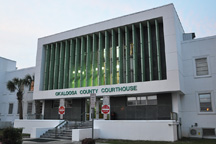 The Okaloosa County Courthouse was originally built in 1918. In 1955, the building was remodeled. The building was demolished in 2017.
East Landmark Building
Fort Lauderdale, FL
Broward County Main Library
Fort Lauderdale, FL
The East Landmark Building was built in 1966. [map]

The Broward County Main Library was designed by Robert Gatje of Marcel Breuer & Associates. It was built in 1984. For more, see this website. [map]
Federal Building and U.S. Courthouse
Fort Lauderdale, FL
The Federal Building and U.S. Courthouse was designed by William Morgan and built in 1979. In 2021, it was announced that a new Courthouse will be built at a different location and is expected to be completed around 2026. [map]
Gulf South Forest Products
Fort Lauderdale, FL
City Hall
Fort Lauderdale, FL
The Gulf South Forest Products building was built around 1954. It may have been designed by Charles F. McKirahan since it is in the same complex as his offices in the Bolender Building. [map]

The City Hall building was designed by William Parrish Plumb & John Robin John and built in 1969. [map]
KenAnn Building
Fort Lauderdale, FL
The KenAnn Building was designed by F. Louis Wolff and built from 1963-1964. It was named after the builder/realtor Kenneth G. Burnstine and his wife Ann. The bottom floor housed the KenAnn House Coffee Shop. The top floor housed the Chateau Madrid restaurant and nightclub. It did not revolve. By the 1980s, the top floor housed The Rooftop, a gay club. The exterior features a 100-foot-tall mosaic covered tower with fish, birds, seahorses, waves, and trees. It was created by the Mosaic Tile Co. of Zanesville, OH. In 1991, the building was redesigned by Dan Duckham. The building was completely gutted and the facade was replaced. The spikey rings at the top of the building were added. In 1994, Duckham designed the round two-story addition shown on the bottom right above. It originally housed the Hot Chocolate nightclub. Since the remodeling, or at least by 2007, the building's main tenant has been Citibank. For more, see these websites: 1 and 2. [map]
RoadsideArchitecture.com

Copyright. All photos at this website are copyrighted and may only be used with my consent. This includes posting them at Facebook, Pinterest, blogs, other websites, personal use, etc.

Tips & Updates. If you have suggestions about places that I haven't covered, historical info, or updates about places/things that have been remodeled or removed, I'd love to hear from you: roadarch@outlook.com.