(hit "refresh" to get the most recent version of this page; click on photos for larger images)
former Pan Am International Flight Academy
Miami, FL
The Pan Am International Flight Academy was built in 1963 by Steward-Skinner Associates. The building features roof cutouts, a lacey, concrete screen block fašade, and gold anodized aluminum columns. It now houses the Atlas Air Training Center. The building, also called the "Taj Mahal," was considered a tribute to Edward Durell Stone's U.S. Embassy in New Delhi, India built in 1958. [map]
former National Cash Register Co.
Miami, FL
The National Cash Register Co. building was designed by T. Trip Russell and built in 1965. The screen panels cover two upper stories. The building now houses multiple retail tenants. [map]
Maule Building [gone]
Miami, FL
1840 Building
Miami, FL
The Maule Building on Biscayne Blvd. was designed in 1954 by Pancoast, Ferendino, Skeels & Burnham. It featured concrete brise-soleils, sheltering windows from the sun. It also had light blue mosaic tile and a cantilevered canopy with compressed arches. Despite efforts by preservationists, the building was demolished in 2005 just after this photo was taken.

The 1840 Building was built in 1971. [map]
office building
Miami, FL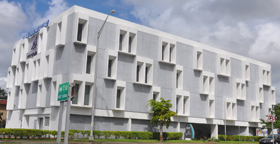 The office building was built in 1971. The building has housed the Carnival Center for Excellence since 2015. [map]
Bacardi Buildings
Miami, FL
The Bacardi Buildings' reinforced concrete tower was built in 1963. On the sides of the tower are two huge ceramic murals. They are composed of 28,000 hand-painted glazed tiles. The building included the Bacardi Museum and a top-floor dining room. In 1973, the smaller square "jewelbox" building was added to the plaza. This building features glass mural tapestries. The two floors inside were used for finance and accounting offices. In 2010, Bacardi moved to Coral Gables, FL. In 2012, the building was sold to the National YoungArts Foundation. For more, see these websites: 1, 2, and 3. [map]
Mailman Center for Child Development
Miami, FL
The Mailman Center for Child Development was designed by Hilaro Candela and built in 1969. [map]
Bob Ehmann Construction Company
Miami, FL

The Bob Ehmann Construction Company building was built around 1962. It was originally faced with stone and had the name of the company in cursive script. Ehmann was a big housing developer in Miami. This building was sold to Wachovia Bank in the late 1970s. It now houses a Wells Fargo Bank. [map]
1688 Meridian Avenue
Miami Beach, FL
The office building at 1688 Meridian Avenue was designed by Morris Lapidus and built in 1961. [map]
State Attorney's Office
Ocala, FL
American
Federal Building [gone]
Orlando, FL
This State Attorney's Office features interesting rock work. My guess is that it was built in the 1960s or 1970s. The building now houses the Clerk of Court Annex. Does anyone know anything about this building? [map]

The American Federal Building, aka the Round Building, was built in 1963. The upper glass section was added in the early 1970s. In 2008, it was announced that the building would be demolished. Preservationists saved the concrete screens and hope to install the panels elsewhere at some point. Demolition of the building began in 2014. For more, see these websites: 1, 2 and 3.
State Capitol Complex
Tallahassee, FL
Rivergate Tower
Tampa, FL
The State Capitol Complex was designed by Edward Durrell Stone and the firm of Reynolds, Smith and Hills. The plan was approved in 1969 but construction was delayed. The complex was built from 1973-1977. The skyscraper at the right is known as the Executive Tower. Two domed buildings on either side of it (only one visible here) are the House and Senate and Office Buildings. For more, see this website. [map]

The Rivergate Tower was designed by Harry Wolf and built from 1986-1988 as the headquarters for NCNB (North Carolina National Bank), later Nations Bank. It is faced in limestone. The cylindrical shape is meant to symbolize a lighthouse. The building's main tenant is now Sykes Enterprises. The building is known known as the Sykes Building or the Beer Can Building. [map]
Straughn & Turner law office
Winter Haven, FL
The Straughn & Turner law office was built in 1957. I don't know if this is the original tenant. [map]
Leedy Architectural Office
Winter Haven, FL
The Leedy Architectural Office was designed by Gene Leedy and built in 1961. For more, see this website. [map]
RoadsideArchitecture.com

Copyright. All photos at this website are copyrighted and may only be used with my consent. This includes posting them at Facebook, Pinterest, blogs, other websites, personal use, etc.

Tips & Updates. If you have suggestions about places that I haven't covered, historical info, or updates about places/things that have been remodeled or removed, I'd love to hear from you: roadarch@outlook.com.