(hit "refresh" to get the most recent version of this page; click on photos for larger images)
777 International Mall
Miami, FL
Biscayne Plaza Shopping Center
Miami, FL
The 777 International Mall building originally housed the Miami Theatre which was built in 1947. The theatre closed around 1978. The building was converted into an indoor shopping center. The fašade shown above dates from that time. The first photo was taken in 2005. By 2011 (second photo), the fašade had been completely redone in a simulation of the original theatre. For more, see these websites: 1 and 2. [second photo thanks Tom Morris] [map]

The Biscayne Plaza Shopping Center, designed by Robert Fitch Smith, was built in 1955. While the main part of the complex has been remodeled, there are some interesting structures still to the rear including a sky-walk and this curved glass building that once housed a bank. This photo is from 2005. The building was renovated by 2011. It is now painted white. [map]
Miami Carpet & Tile
Fort Lauderdale, FL
Ferguson Bath & Kitchen Gallery
Fort Lauderdale, FL
This Miami Carpet & Tile occupies this rock-faced round building which was built in 1961. It was built for the Miami Rug Co. I'm told the building was designed by Seymour Drexler. [map]

The Ferguson Bath & Kitchen Gallery building originally housed the Castro Convertibles furniture store. It was designed by Charles McKirahan and built from 1953-1954. [map]
MLA Furniture
Orlando, FL
Comfort Furniture [gone]
Orlando, FL
I believe MLA Furniture moved to this building in 2009. This photo is from that year. Before that, Furnitureland USA was here since the early 1980s. Another business must have been here before them. By 2011, the building was housing Orlando Office Furniture. Does anyone know the history of this building? [map]

The Comfort Furniture building was originally the Modernage Furniture store, built in 1962. In 2006, it was demolished for a bank and restaurant.
former Honda Motorcycle showroom [gone]
Orlando, FL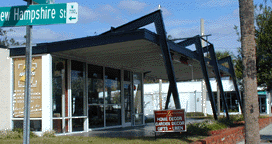 This former Honda Motorcycle showroom was built in 1964. The building housed Z Art Place when this photo was taken in 2005. Around 2009, the building was demolished.
former Bargain Barn
Orlando, FL
2005:
2009:
The Bargain Barn thrift store occupied this building in 2005. By 2009, the building had been repainted but was vacant. In 2013, the building housed a thrift store again but it was vacant again the following year. This building may have been a furniture store originally. Does anyone have more about it? [map]
The Publix Super Market chain was founded in 1930 and now has over 800 stores. In the 1950s, the chain began rapid expansion and developed the design which is preserved in the buildings I show here. The "Where Shopping is a Pleasure" motto is still used today. For more, see this website.
Publix Super Market
Dade Blvd.
Miami Beach, FL
Publix Super Market [gone]
Collins Ave.
Miami Beach, FL
This Publix Super Market on Dade Blvd. was built around 1962. The original design is intact. [map]

This Publix Super Market on Collins Ave. had interesting original tile mosaics on the side of the building. The supermarket is still there but has been completely remodeled and the mosaics are gone.
Publix Super Market
Orlando, FL
This Publix Super Market opened in 1950. Much later, the building was torn down and rebuilt. The distinctive entrance "wings" are a recreation of the original. The freestanding sign in front of the store, however, is original and has been refurbished. [map]
Publix Super Market [gone]
Margate, FL
This former Publix Super Market was probably built in the 1950s. The building was vacant when these photos were taken in 2009 in pouring rain. It was demolished in 2010. For more, see this website.

There is another former location with a building like these in St. Petersburg and another in Pinecrest.
For Art Deco era Publix Super Market buildings, see this page.
RoadsideArchitecture.com

Copyright. All photos at this website are copyrighted and may only be used with my consent. This includes posting them at Facebook, Pinterest, blogs, other websites, personal use, etc.

Tips & Updates. If you have suggestions about places that I haven't covered, historical info, or updates about places/things that have been remodeled or removed, I'd love to hear from you: roadarch@outlook.com.