(hit "refresh" to get the most recent version of this page; click on photos for larger images)
Sunkist Headquarters Building
Sherman Oaks, CA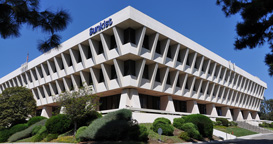 The Sunkist Headquarters Building was designed by A. C. Martin & Associates. It was built in 1969. The building now houses IMT Capital. For more, see these websites: 1 and 2. [map]
Community Facilities Planners Building
South Pasadena, CA
The Community Facilities Planners Building was built in 1959. It originally housed the Smith & Williams architectural firm which designed it. The complex features three office buildings under a metal mesh canopy. For more, see these websites: 1 and 2. [map]
Bel Air Building
Stockton, CA
The Bel Air Building has been here since at least 1966. [map]
Ruby Beauty Academy
Valley Village, CA

2013 and 2018:

The Ruby Beauty Academy moved into this office building sometime after 2011. This photo is from 2013. The building was built in 1961 as an office building known as the Barkley Building. The Aztec relief panel was designed by Max Tuttle. Around 2020, the building began housing the Makeup Institute and the relief was painted black and white. The panels on the sides of the building have been painted black. [map]
medical office
Ventura, CA
This medical office building appears to be from the 1950s or 1960s. [map]
IBM Aerospace Headquarters
Westchester, CA
The IBM Aerospace Headquarters now houses the Otis College of Art and Design. It was built in 1964. The building's design possibly simulated the IBM punch card. The building was designed by Eliot Noyes, A. Quincy Jones and Frederick Emmons. For more, see this website. [map]
Sunset Medical Plaza
West Covina, CA
The Sunset Medical Plaza appears to be from the 1960s. [map]
8899 Beverly Building
West Hollywood, CA
The 8899 Beverly Building was designed by Richard Dorman and built in 1962. It is often referred to as the ICM building since the International Creative Management talent agency had offices there. The building is now known as the Los Angeles International Design Center. There are plans to possibly convert the building into lofts. Work began in 2018 and the scaffolding surrounding the building was still up in 2021. [map]
former Franklin's Beauty Pavilion
West Hollywood, CA

Franklin's Beauty Pavilion was designed by Frank Schneider. It was built in 1967 and functioned as a plastic surgeon's office. The building was originally painted white. The building now houses office space. For more, see these websites: 1 and 2. [map]
RoadsideArchitecture.com

Copyright. All photos at this website are copyrighted and may only be used with my consent. This includes posting them at Facebook, Pinterest, blogs, other websites, personal use, etc.

Tips & Updates. If you have suggestions about places that I haven't covered, historical info, or updates about places/things that have been remodeled or removed, I'd love to hear from you: roadarch@outlook.com.