(hit "refresh" to get the most recent version of this page; click on photos for larger images)
San Jose Water Co.
San Jose, CA
The San Jose Water Co. building was designed by Gifford E. Sobey and built in 1960. Originally, there was a moat with fountains in front of the building. The grass has been replaced with mulch. There was also a sign with a cinder block screen which was removed around 2010. There is also a chain link fence around the building which I believe is vacant. For more, see this website. [map]
CHEIM Lumber Co. [gone]
San Jose, CA

This CHEIM Lumber Co. building was used as a sales office CHEIM's prefabricated houses. The building was designed by Bill May of Kress & Gibson and built around 1954. The building housed Elite Roofing Supply when these photos were taken in 2014. In 2015, the building was demolished. For more, see this website.
medical building
San Jose, CA
This medical building was built in 1963. In 2017, it was announced that the building would be completely remodeled. The building was still there in 2019. [map]
Aramaki & Kawazoe dental office
San Pedro, CA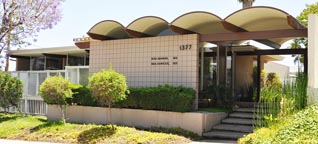 The Aramaki & Kawazoe dental office was built in 1960. [map]
Water Street Medical Plaza
Santa Cruz, CA
The Water Street Medical Plaza was designed by Aaron Green. It was completed in 1964. A pharmacy building is at the center of the complex (bottom row above). Green was an apprentice of Frank Lloyd Wright and collaborated with him on more than 30 West Coast projects. For more, see this website. [map]
St. Joseph Health Memorial Hospice
Santa Rosa, CA
The St. Joseph Health Memorial Hospice building was built in 1966. [map]
chiropractic office
Santa Rosa, CA

This chiropractic office was built in 1965. [map]
Christensen Accountancy Corporation
Santa Rosa, CA
This building has housed the Christensen Accountancy Corporation since at least 2008. It features a striking concrete screen. The building was constructed in 1963 and may have housed Burney Realty originally. [map]
RoadsideArchitecture.com

Copyright. All photos at this website are copyrighted and may only be used with my consent. This includes posting them at Facebook, Pinterest, blogs, other websites, personal use, etc.

Tips & Updates. If you have suggestions about places that I haven't covered, historical info, or updates about places/things that have been remodeled or removed, I'd love to hear from you: roadarch@outlook.com.