(hit "refresh" to get the most recent version of this page; click on photos for larger images)
Marina Professional Building
Marina Del Rey, CA

The Marina Professional Building was built in 1973. It was designed by Don Hartfielder. The building houses medical offices. The round building houses a pharmacy. [map]
Garfield Professional Building
Monterey Park, CA
The Garfield Professional Building was built in 1963. It houses medical offices. [map]
law office [gone]
National City, CA
This law office building was made from fiberglass. It previously housed the Chiropractic & Wellness Center and was painted light blue. I believe it was from the 1960s or 1970s. It was demolished or dismantled around 2018.
Pacific Life Insurance Company Building
Newport Beach, CA

The Pacific Life Insurance Company Building was built in 1972 when the company was known as Pacific Mutual Life. It was designed by William L. Pereira & Associates. [map]
Norwalk City Hall
Norwalk, CA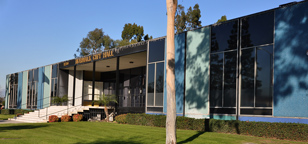 The Norwalk City Hall was designed by Wright & Wright and completed in 1965. There is a round Council Chambers building in the interior courtyard. [map]
Southeast Superior Court
Norwalk, CA
The Southeast Superior Court was designed by William Allen and built in 1969. For more, see this website. [map]
McGraw-Hill Distribution Center
Novato, CA

The McGraw-Hill Distribution Center was designed by John Savage Bolles & Associates. It was built from 1962-1963. McGraw-Hill left in 1991. The building housed Birkenstock from 1992-2007. It remained vacant until 2012 when Birkenstock moved back in. For more, see these websites: 1, 2, and 3. [map]
Oceanside Office Park
Oceanside, CA
The Oceanside Office Park was built in 1983 with a mid-century modern flair. There are two of these pyramid-shaped buildings. [map]
Orange Council Chambers and Civic Center
Orange, CA
The Orange Council Chambers and Civic Center were probably built in the 1960s. [map]
RoadsideArchitecture.com

Copyright. All photos at this website are copyrighted and may only be used with my consent. This includes posting them at Facebook, Pinterest, blogs, other websites, personal use, etc.

Tips & Updates. If you have suggestions about places that I haven't covered, historical info, or updates about places/things that have been remodeled or removed, I'd love to hear from you: roadarch@outlook.com.