(hit "refresh" to get the most recent version of this page; click on photos for larger images)
Giant Auto Parts [gone]
Akron, OH
Diamond Grille
Akron, OH
United Rubber
Workers Building
Akron, OH
The Giant Auto Parts sign was probably from the 1950s. This photo is from 2009. The sign was still there in 2011 but gone by 2014.

The Diamond Grille opened around 1935. This sign is from the 1940s. This photo is from 2010. The sign was restored in 2023. [map]

This United Rubber Workers Building sign is now stashed in a yard behind a church. The URW's headquarters was built in 1945. I assume this sign is from that time. The building was demolished around 1992 to build the John S. Knight Convention Center. [map]
Charlie's Ribs
& Chicken [gone]
Akron, OH
Flag Pole Liquor
Akron, OH
Swedish Pastry
Shop [gone]
Ashtabula, OH
Peck's Jewelers [gone]
Bellefontaine, OH
Charlie's Ribs & Chicken opened as the Bunny Drive-in around 1961. "Bunny" was Charlie's mother's nickname. After she passed away in the 1990s, the place was renamed Charlie's Ribs & Chicken. The owner retired in 2016 and hasn't decided what to do with the eight-foot-tall sign. It was removed in 2019 and put in storage. In 2020, it was announced that the sign was heading to the American Sign Museum. The sign pole originally held other panels reading "Bunny Hamburgers" and "15 cents." There was originally also a female bunny sign on the lot. She may have held an ice cream.

The Flag Pole Liquor sign originally advertised for the Flag Pole Drive-in. The Norge Ball-like sign was meant to resemble a hamburger. There was another Flag Pole Drive-in in town that had a giant flag. It did not have a hamburger sign like this one. I believe this sign is from the 1960s. [map]

The Swedish Pastry Shop opened in 1951 and closed in 2010. By 2014, the sign was gone.

Peck's Jewelers opened in 1952 and closed in 2009. By 2014, this sign was gone.
Corner Grill
Bowling Green, OH
Launderama
Bradford, OH
Dairy Lane [gone]
Brookville, OH
The Corner Grill opened in 1951. The sign is the original. For more, see this website. [map]

This plastic Launderama sign may have been mass-produced but I have never seen another one like it. [map]

The Dairy Lane was officially known as Jake & Em's Dairy Lane. This sign was probably from the 1950s. This photo is from 2009. By 2011, the business had closed and the sign was gone.
Ohio Gas Company
Bryan, OH
Lester's Diner
Bryan, OH
These Ohio Gas Company signs appear to be from the 1950s or 1960s. This photo is from 2009. The siding on the building was removed around 2018. The neon letters remain. The porcelain enamel sign on the side of the building was replaced with a similar but not-as-nice sign. [map]

Lester's Diner opened here in 1965. It was one of four locations owned by Lester Bammesberger. Two other signs like this still exist in Phoenix, AZ and Fort Lauderdale, FL. The Daytona Beach sign is gone.

The first photo above of the sign in Bryan is from 2009. In 2011, the restaurant was sold and renamed the Four Seasons. The name and the cup were changed on the sign. The second photo above is from 2012. For more, see this website. [map]
North Plaza Mall [gone]
Canton, OH
Towne Manor
Motel [gone]
Canton, OH
This photo of the North Plaza Mall sign is from around 2001. The sign was still there in 2009. By 2012, it had been replaced with a sign for the 30th Street Centre.

The original Towne Manor Motel sign was destroyed when a truck crashed into it in 1959. This sign went up soon after that. It featured plastic balls like many other signs from the 1950s and 1960s. The modular plastic letters are original. I believe the sign panels were originally painted navy blue. The sign was removed in 2018. It was put in storage at the Canton Sign Co. It is now displayed inside Rally Sport Classics. They plan to restore the sign with LED.
Party Supplies [gone?]
Carlisle, OH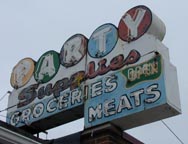 This Party Supplies sign was located on the roof of an unidentified convenience store. I'm not sure that it was in Carlisle. I suspect that this sign is gone. This photo is from 2005. If anyone recognizes this sign and knows anything about it, I'd love to hear from you.
Bair Pharmacy [gone]
Celina, OH
The larger Bair Pharmacy sign read "Walgreens Agency" and was covered over with a "Prescription" panel. By 2018, all the pharmacy signs at this location were gone. Similar Walgreen Agency signs can be found in Fort Madison, IA and Columbia, MS. For more, see this website.
Frigidaire
Centerburg, OH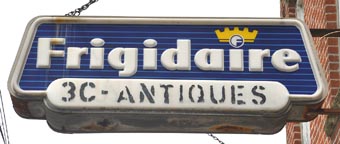 The Frigidaire sign is installed above the Loudermilk Insurance Agency. [map]
Chillicothe:
Globe Furniture: 1, 2 [map]
Carol's Maple Leaf Tavern [gone]
Cleveland, OH
White's Wheel
Aligning Service
Cleveland, OH
Cleveland Indian
Cleveland, OH
Johnny's Bar
Cleveland, OH
The Carol's Maple Leaf Tavern sign was probably built in the 1950s. This photo is from 2007. The sign was still intact in 2014. By 2016, it had replaced with a new sign for the All Stars Ultra Sports Lounge.

White's Wheel Aligning Service was established in 1940. This located opened in 1950 and the sign is probably from then. The bulbs "chase" in a circular pattern and the text flashes. [map]

The huge Cleveland Indian sign is now located inside the Crawford Auto-Aviation Museum. The sign of Chief Wahoo was previously installed at the Cleveland Municipal Stadium from the early 1950s until the mid-1990s.

Johnny's Bar opened in the 1920s as Louise's Garden. The restaurant was renamed Johnny's Bar in 1952. This sign is probably from then. For more, see this website. [map]
Brown Brothers Furniture
Cleveland, OH
Kluck's Restaurant [gone]
Cleveland, OH
Brown Brothers Furniture is gone but these signs remain. [map]

Kluck's Restaurant opened in 1939 and closed in 2007. Around 2008, the signs were adapted for El Jalapenos Mexican restaurant. The neon and lobster are gone. For more, see these websites: 1 and 2.
RoadsideArchitecture.com

Copyright. All photos at this website are copyrighted and may only be used with my consent. This includes posting them at Facebook, Pinterest, blogs, other websites, personal use, etc.

Tips & Updates. If you have suggestions about places that I haven't covered, historical info, or updates about places/things that have been remodeled or removed, I'd love to hear from you: roadarch@outlook.com.