(hit "refresh" to get the most recent version of this page; click on photos for larger images)
Goodyear
Lansing, MI
This Goodyear Auto Service Center is directly across the street from a Firestone dealer. Both have 1950s era neon signs. [map]
Goodyear Auto Service Center
Pontiac, MI
This Goodyear Auto Service Center and sign might be from the 1950s. [map]
Jack's Tire & Auto Service
Sturgis, MI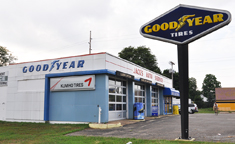 Jack's Tire & Auto Service was established in 1959. This building and pole sign appear to be from then. [map]
Goodyear Tires
Rochester, MN
Johnson Tire Service [gone]
Red Wing, MN
This Goodyear in Rochester has a similar raised letter sign like the store in Nashville shown above. It also has a recessed entrance. [map]

Johnson Tire Service had been operating here since 1960. The building probably housed another tire dealer or garage before that. This photo is from 2012. Around 2018, the business closed and the signs were removed from the building.
Alligood's Garage
Washington, NC
Alligood's Garage was probably a combination repair shop and gas station at one time. The building appeared vacant when these photos were taken in 2010. There is an Alligood's Mechanical Service elsewhere in town. So, it appears the company is still around but moved at some point. [map]
New Jersey Goodyear Buildings & Signs:
Raritan [gone]
Roswell Tire & Appliance
Roswell, NM
Reno Vulcanizing
Reno, NV
The Roswell Tire & Appliance building appears to be from the 1950s. I'm told that this has always been an appliance store and that Goodyear moved in at a later time. [map]

Reno Vulcanizing opened in 1921 and prominently features Goodyear Tires. They are also a full-service auto garage. The business moved to this new building in 1951. These signs were installed then. [map]
Goodyear Tires
Akron, OH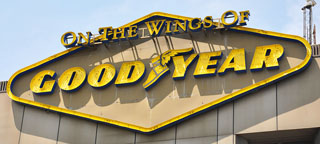 The Goodyear Tires sign shown in the top row above is composed entirely of incandescent bulbs. The neon sign shown in the bottom row was installed on a building across the street. It was built later for cars passing in the opposite direction. That sign was still there in 2011 but gone by 2014. The bulb sign remains. The Goodyear Tire and Rubber Company was founded in Akron in 1898. Goodyear Hall, the company's headquarters, was built from 1918-1920. The first rooftop sign was installed sometime between 1926 and 1928. The neon letters were installed on steel scaffolding. This photo from 1934 shows what that sign looked like. That sign remained until 1939 or 1940 when it was replaced with an all neon sign similar to the one that is there today. It included the Goodyear flag above the letters. It also included the word "TIRES". That sign was there until at least 1951.

Today's bulb sign was installed in 1963. It had about 1,178 bulbs. The sign flashed "Go, Go, Goodyear" until 1991. In 2001, new flashing bulb letters reading "On the Wings of" were installed at the top of the bulb and neon signs. The company stopped using that slogan in 2007. Those letters were removed from the bulb sign by 2012 just before this photo was taken. I don't know when the neon sign shown in the bottom row was built. In 2013, Goodyear moved to a new location. In 2015, the building was being adapted for residential and commercial space. There are plans to eventually relight the rooftop sign with LED bulbs. For more, see this website. [map]
Goodyear
Columbus, OH
Goodyear Tires
Woodward, OK
This Goodyear sign in Columbus is installed in front of A & A New & Used Tires. I don't believe it is lit at night. [map]

This Goodyear sign in Woodward is no longer associated with any nearby business. It apparently had a neon border originally. [map]
More Ohio Goodyear Buildings & Signs:
Toledo
McElroy Tire, Inc. [gone]
Tulsa, OK
McElroy Tire, Inc. opened here in 1931. McElroy's closed in 2009 and the building was demolished in 2010. The Goodyear pylon sign was reworked at some point with the McElroy name. The sign was saved by the Tulsa Foundation for Architecture. The organization hopes to display it somewhere in town. It was still in storage in 2019. For more, see this website.
RoadsideArchitecture.com

Copyright. All photos at this website are copyrighted and may only be used with my consent. This includes posting them at Facebook, Pinterest, blogs, other websites, personal use, etc.

Tips & Updates. If you have suggestions about places that I haven't covered, historical info, or updates about places/things that have been remodeled or removed, I'd love to hear from you: roadarch@outlook.com.