(hit "refresh" to get the most recent version of this page; click on photos for larger images)
This Goodyear section is organized alphabetically by state.
Goodyear Tires [gone]
Red Level, AL
Goodyear Auto Service Center
Huntsville, AL
This Red Level Goodyear sign hung from the side of a former garage building. This photo is from 2010. By 2013, the sign was gone.

This Goodyear Auto Service Center features a nicely preserved, embossed plastic sign. It is probably from the 1960s. There is another sign like this in Gadsden, AL. [map]
former Goodyear sign
Phoenix, AZ
The former Goodyear sign in Phoenix was built between 1958 and 1961 by the Myers-Leiber Sign Co. The sign is 60 feet wide and was lit with 1,340 bulbs. The sign has long been covered up and advertising for a variety of businesses. For more, see these websites: 1, 2, 3, and 4. [map]
Goodyear Tire
Ventura, CA

This former Goodyear Tire store was built in 1930. It housed Reliable Tire in 2008. In 2012, the building was vacant. Tire Man moved into the building in 2013. The building was vacant again by 2015. In 2017, Leashless Brewing opened in the building. [map]
former Goodyear Tire
Long Beach, CA

I believe this building was originally a Goodyear Tire store. If not, it was a Goodyear dealer by the early 1950s at least. The building was built in 1938. It is currently vacant. [map]
Billingsley Tire, Inc.
Lemoore, CA
Billingsley Tire, Inc. was established in 1957. The shop features a neon diamond shaped Goodyear sign. There are also Goodyear porcelain enamel letters on the side of the building. [map]
Crestview Service Center
Los Angeles, CA
The Crestview Service Center opened in 1950. The sign features three types of lighting: chasing bulbs, a neon border, and backlit plastic. The only other sign that I know of is (or was) in Dearborn, MI which has the backlit letters but not the neon or bulbs. For more, see this website. [map]
Goodyear [gone]
Fontana, CA
former Goodyear
Buena Park, CA
This Goodyear location in Fontana had an old sign tucked away at the south entrance. This business is part of the Certified Tire & Service Centers chain featuring Goodyear Tires. The sign was still there in 2016 but gone by 2017.

This Goodyear location in Buena Park may have had a neon pylon sign originally like the one above in Tulsa. It is now backlit plastic. This photo is from 2013. In 2016, the building and sign were painted brown. In 2021, the sign was adapted with plastic letters for Tire Choice Auto Service. [map]
Marina Tire
Los Angeles, CA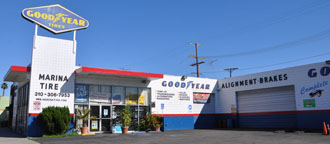 Marina Tire opened in 1965. This building appears to be from then. The sign on top of the pylon may have had neon panels originally. [map]
Kahn & Keville [gone]
San Francisco, CA

Kahn & Keville was established in 1912 at a different location. This building is from 1935. The two neon signs were built in 1958. The business was relocating to South San Francisco at the end of 2019. The signs are now in storage. For more, see this website.
Goodyear Tires
San Jose, CA
This Goodyear sign looks just like the one in Columbus above. However, the "Tires" panel appears to have been tacked on. [map]
former Goodyear Tire
Whittier, CA
This former Goodyear Tire building housed Haendiges Plumbing for many years. Haendiges Plumbing was established in 1937. I don't know when the company moved to this building. Since 2017, the building has housed a RE/MAX Dynasty real estate office. The sign was painted white and plastic letters with the new name were stuck on the panels. The bulbs and bulb sockets are gone. In 2020, the building was vacant and the sign was painted white again with the letters removed. [map]
More California Goodyear Buildings & Signs:
Garvin Tire Co. (Van Nuys) [vintage; gone; International Fiberglass photo thanks Terry Nelson]
RoadsideArchitecture.com

Copyright. All photos at this website are copyrighted and may only be used with my consent. This includes posting them at Facebook, Pinterest, blogs, other websites, personal use, etc.

Tips & Updates. If you have suggestions about places that I haven't covered, historical info, or updates about places/things that have been remodeled or removed, I'd love to hear from you: roadarch@outlook.com.