(hit "refresh" to get the most recent version of this page; click on photos for larger images)
The photos on this page were moved here from various sections of my website to accompany an article I wrote for the Society for Commercial Archeology Journal's North Pole issue. While penguins only live at the South Pole and polar bears only live at the North Pole, for the purpose of this article, I included the two animals together.
Monty's Penguin
Newport News, VA
Holiday Liquor [gone]
Houston, TX
Morgan Air Conditioning
& Heating [gone]
Memphis, TN
Monty's Penguin opened in 1946 as Monty's Sandwich Shop in downtown Newport News. In the 1950s, the restaurant was renamed Monty's Family Restaurant and Drive-in. The business moved further uptown in 1963 and became Montyís Penguin Drive-in. This neon sign was probably created at that time. Montyís moved to its present location in 1974 and most likely brought their sign along with them. Today, only the text portion of the sign is lit although the neon on the penguin appears to be intact. The owner is afraid to "mess with" the signís wiring for fear that the entire sign will go dark. [map]

The Holiday Liquor sign featured an animated, neon penguin. The well-mannered bird tipped his hat with his wing in a four-part sequence. This sign was created around 1974 and was rebuilt after a hurricane in 1983. Sometime after 2006, the sign disappeared. While there is another company by the same name in Houston, it was not related to this store.

The Morgan Air Conditioning & Heating sign featured a plastic penguin with a spinning neon cane. It was built in the late 1970s or early 1980s. The sign caught fire around 2011 and was destroyed.
East Wind Drive-in
Cascade Locks, OR
2008:
2015:
The East Wind Drive-in features another ice cream cone-carrying penguin. The restaurant and sign are believed to be from the 1950s. The drive-in's original name is unknown but by the early 1960s, it was known as Miller's Coffee Time. There was a neon sign attached beneath the present sign which read "It's Coffee Time". Although it is possible that the restaurant had that name originally, the penguin's presence seems out of place. The dead space between the text of "Open" and "Hamburgers" is still unexplained. That portion appeared blank even in vintage photos. In the 1960s and 1970s, this walk-up stand went by the name of Wanda's Drive-in and, after that, Marie's Drive-in. It has been the East Wind Drive-in since around 1982. Although the sign's neon has been maintained, the paint had been peeling badly in recent years. In 2009, the East Wind's new owner commissioned Brad Lorang to repaint the sign. The artist just so happens to be the town mayor. For more, see this website. [map]
Dary Delux
Cleveland, OH [gone]
Doozle's
Frozen Custard [gone]
Florissant, MO
The Dary Delux sign features another cone-clutching penguin. The business was later known as the Dairy Delux. I don't know if the wire mesh was draped over the sign to protect it from rock-throwing vandals or pigeons or both. It had been like that since at least 2006. This photo is from 2009. The stand closed and, by 2012, this sign was part of a private collection in Erie, PA.

Doozle's Frozen Custard opened in 1992. The neon sign at this location has been replaced with a backlit plastic version. For more, see this website.
Penquin Drive-in [gone]
Manitowoc, WI
The Penquin Drive-in's origins can be traced to a custard stand which opened in 1936. Ten years later, a drive-in was built in Manitowoc. No one knows where the spelling of "Penquin" came from. The current owner believed "they just wanted something different" and pronounces the name "penguin". The drive-in burned down in 1961 and was replaced with this building. Indoor seating was added in 1973. The drive-in closed in 2006 but reopened in 2007. The rooftop sign is believed to be from 1946 or shortly thereafter. The two back-to-back sign panels are approximately twenty-five feet long and fifteen feet tall. The sign was well-maintained with working neon and flashing bulbs. These photos are from 2011. In 2012, the drive-in closed and the building was demolished. The signs were saved by a collector.
More Penguin Signs:
Penguin Court (Anchorage, AK)
former Penguin Coffee Shop (Santa Monica, CA)
Kroger (Tucker, GA) [gone]
Penguin Point Drive-ins (various cities, IN)
Covey's (later Holding's) Little America: 1, 2 (Cheyenne, WY) [signs gone]

Shenzhen, China
Pingvin Lakrids (Copenhagen, Denmark)
Milchbar Pinguin: 1, 2 (Leipzig, Germany)
Tokyo, Japan
DeLuxe Cleaners
Clifton, NJ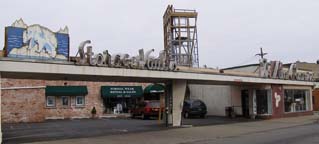 DeLuxe Cleaners was founded in 1930. When DeLuxe moved here in the early 1940s, this group of neon signs was created for their new location. Their polar bear sign signifies that DeLuxe offers refrigerated vaults for furs, leather and suede garments. The bear is lit with blue neon during storage season. The pylon sign which acts as a canopy support (second row above) was restored in 2009 after being struck by a car and damaged in a storm. The signs are lit at night. For more, see these websites: 1 and 2. [map]
Scot Cleaners
Evanston, IL
Great Bear Center
Bloomington, MN
The Scot Cleaners sign appears to be from the 1950s or 1960s. [map]

Great Bear Center was built in 1966 and this sign appears to be from then. It is lit at night. For more, see this website. [map]
RoadsideArchitecture.com

Copyright. All photos at this website are copyrighted and may only be used with my consent. This includes posting them at Facebook, Pinterest, blogs, other websites, personal use, etc.

Tips & Updates. If you have suggestions about places that I haven't covered, historical info, or updates about places/things that have been remodeled or removed, I'd love to hear from you: roadarch@outlook.com.