(hit "refresh" to get the most recent version of this page; click on photos for larger images)
Dot's Diner, another Valentine, was originally installed in 1957 in Los Angeles as Burger Bar No. 3. It was moved to another L.A. location where it was abandoned for 13 years. In 1996, the 10-stool diner was moved here to the Shady Dell. It was restored and reopened in 1997. The Shady Dell is now only open to those who are staying in the restored trailers. The diner is still there. For more, see this website. [map]
Welcome Diner
Phoenix, AZ

2004:
2012:
The Welcome Diner is a Valentine from the 1930s or, more likely, the 1940s. It may have been originally installed in Los Angeles. It was later moved to Williams, AZ or may have been installed there originally. In 1982, the diner was moved to Phoenix but it closed shortly thereafter. It sat for over 20 years before reopening in 2004. The interior still features the wall safe where owners would put a percentage of the day's profits for the Valentine's representative. In 2018, the Welcome Diner moved to a larger space, leaving behind the actual diner which remains vacant. For more, see this website. [map]
Mel's Diner
Phoenix, AZ

2012:
Mel's Diner was installed here in 1963 as Lester's Diner. I don't know what company manufactured the diner. The owner, Lester Bammesberg, later opened three other Lester's Diners. The diners in Bryan, OH and Fort Lauderdale, FL are still operating and have signs with the same design. The third diner in Daytona Beach, FL is still there but has been converted into Surplus Unlimited, a boat supply store.

In 1970, this diner became Glenn's Diner and then Chris' Diner. The name and sign were changed to Mel's Diner for the TV show "Alice". The sign appeared on the show but the filming did not take place here. The diner changed names a few times after that. Sometime after 2003, it became Mel's Diner again. For more, see this website. [map]
The Handlebar Diner is located in the Eastmark Great Park. It came from Loveland, CO and was installed here in 2015. Before the diner was located in Colorado, it was in Nebraska. For more, see this website. [map]
Twin Arrows Cafe
Twin Arrows, AZ
The Twin Arrows Cafe is another Valentine, probably from the early 1950s. It was part of the Twin Arrows Trading Post which featured a gift shop and gas station. This diner has been closed and boarded up since at least the early 1990s. The once popular Route 66 stop is now closed off and owned by the state. These photos are from 2012. By 2021, the diner had been covered with graffiti. For more, see these websites: 1 and 2. [map]
Santa Fe Diner
Winslow, AZ (now Sultan, WA)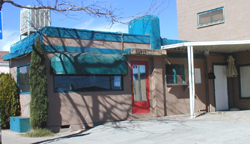 The Santa Fe Diner is another Valentine diner. This one was originally installed in 1950 as the "Birth Place Diner" since it was located on the site of Winslow's first dwelling. At that point, there was a small stork on the roof and it was known as the Stork Cafe. The diner was also known as the "One Spot Grill". An awning and a canopy connecting it to the adjacent building were installed. Since this photo from 2004, the diner was moved to Sultan, WA. For more, see this website.
Highway Diner
Winslow, AZ

2004:
2017:
The Highway Diner, a Valentine diner, was installed here around 1946. It was called "Irene's Diner" for some time before reverting to its original name. When the 2004 photos above were taken, the diner was still open. It closed around 2005 and has been vacant since then. In 2008, the diner was awarded a grant for restoration. However, if that really happened, the wheels are turning very slowly. When the 2012 photos were taken, it appeared that the paint had been stripped. By 2014, it had been painted this dull grey. For more, see these websites: 1, 2, and 3. [map]
RoadsideArchitecture.com

Copyright. All photos at this website are copyrighted and may only be used with my consent. This includes posting them at Facebook, Pinterest, blogs, other websites, personal use, etc.

Tips & Updates. If you have suggestions about places that I haven't covered, historical info, or updates about places/things that have been remodeled or removed, I'd love to hear from you: roadarch@outlook.com.