(hit "refresh" to get the most recent version of this page; click on photos for larger images)
Adrien Pharmacy
Cincinnati, OH
Karl Mouch
Jewelers [gone]
Cincinnati, OH
Klein Motor Co.
Cincinnati, OH
The Adrien Pharmacy sign features an animated mortar and pestle. [map]

This photo of the Karl Mouch Jewelers sign is from 2009. The sign was still there in 2014 but gone by 2016. The building owner removed the sign. It may be restored and then sold to a collector. These Elgin Watch signs were mass-produced. There are similar ones in Chicago, IL, Woodstock, IL, Franklin, OH, and Tiptonville, TN.

The Klein Motor Co. sign appears to be from the 1950s. The business is now known as Klein on Vine. The neon and bulbs were removed from this sign around 2005. This photo is from 2009. The sign has been repainted to read Klein on Vine. For more, see this website. [map]
Al's Bar
Cincinnati, OH
A-1 Dry Cleaners [gone]
Cincinnati, OH
S&S Western Bowl
Cincinnati, OH
The Al's Bar sign appears to be from the 1950s. The neon has been removed. For more, see this website. [map]

The A-1 Dry Cleaners rooftop sign appears to be from the 1950s. The neon has been removed. The sign was gone by 2019.

The S&S Western Bowl opened in 1958 and this sign appears to be from then. [night photo thanks George Feinthel] [map]
Diamonds
Cincinnati, OH
Tower Furniture
Cincinnati, OH
Jack's Used Auto Parts
Cincinnati, OH
Diamonds is gone but this sign remains. This may have advertised for a jewelry store. Does anyone know what was here originally? [map]

The Tower Furniture sign is probably from the 1950s. The business was long gone but the sign remained. This photo is from 2012. Around 2013, the bottom part of the sign was repainted to advertise for Mixx Ultra Lounge which occupies the ground floor now. In 2017, the sign was removed and restored by the American Sign Museum. The building was renovated and the sign was reinstalled in 2018. The "TOWER" portion of the sign has been relit. The original bottom panel was uncovered. For more, see this website. [map]

The Jack's Used Auto Parts sign originally advertised for the Route 52 Flying Saucer Drive-in which had been built by the late 1950s. The hamburger piece on the sign went missing around 2020. [map]
Merry Weather Leather [gone]
Cincinnati, OH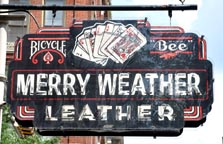 The Merry Weather Leather sign was purchased at an antiques show. The sign was just the two panels at that point with no neon. The "can" was added between them and the wording changed. The sign is protected behind plastic and lit at night. By 2014, the business and sign were gone. For more, see this website.
Terry's Turf Club [gone]
Cincinnati, OH
Terry's Turf Club displayed hundreds of signs from the collection of Terry Carter. Carter began collecting signs in the 1970s. Many of the signs were displayed in his previous restaurant, Neon's, which operated from 1988-2003. Among the signs on display in front of this more recent restaurant were eight mechanical signs. These waving signs included three chefs, two bellhops, a service station attendant, a Dutch Girl, and an Apple Annie. In 2018, it was announced that the place was closing and that the signs would be sold. In 2019, the place was sold and is now known as the Turf Club. The exterior signs were sold and removed. Most or all of the interior signs are still there. [map]
RoadsideArchitecture.com

Copyright. All photos at this website are copyrighted and may only be used with my consent. This includes posting them at Facebook, Pinterest, blogs, other websites, personal use, etc.

Tips & Updates. If you have suggestions about places that I haven't covered, historical info, or updates about places/things that have been remodeled or removed, I'd love to hear from you: roadarch@outlook.com.