(hit "refresh" to get the most recent version of this page; click on photos for larger images)
Conkle's Florist & Greenhouse
Kenton, OH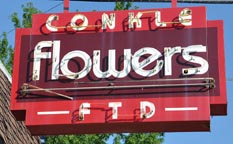 The Conkle's Florist & Greenhouse sign looks like it was recently refurbished or is a replacement of the original. [map]
Malley's Candies
Lakewood, OH
Malley's Candies
North Olmsted, OH
Kings
Furniture [gone]
Lancaster, OH
Plaza
Shopping Center
Lancaster, OH
Malley's Candies was established in 1935. There are now 21 stores. The Lakewood store was the company's second location. It opened in 1949. The North Olmsted store was the third location. I believe it opened in the 1960s. This sign appears to be from then. It mimics the merry-go-round dining area inside the store. For more, see these websites: 1 and 2 [Lakewood map]; [North Olmsted map]

King's Furniture has been closed since 2004. The sign had neon originally. This photo is from 2009. The sign was still there in 2015. By 2016, the building and sign were gone.

The Plaza Shopping Center was built in 1958 and this sign appears to be from then. [map]
Louie's Liquors [gone]
Lima, OH
Eagles Nest [gone]
Lorain, OH
Louie's Liquors was also known as Louie's Nite Club. This photo is from 2007. By 2015, the neon had been removed from the sign. The sign was still there in 2016 but gone by 2017.

The Eagles Nest nightclub sign appeared to be from the 1930s or 1940s. It was installed on the Fraternal Order of Eagles Building. The "Eagles" letters on the sign were embossed. By 2018, the sign was gone.
Crowe's Shoes
Mansfield, OH
Reindl Spring
Service [gone]
Mansfield, OH
Shag-a-Lee's
Mansfield, OH
Porky's Drive-in [gone]
Mansfield, OH
Crowe's Shoes has been here since at least 1939. These Florsheim Shoes signs were mass-produced and customized with the business name. The same or similar signs were installed in Decatur, IL, Aberdeen, SD [gone] and Martinez, CA [gone]. I'd love to know of any others. [map]

The Reindl Spring Service sign had been reworked a bit but still featured the depiction of a spring. An actual spring also hung from the bottom of the sign. The business replaced this with a modern backlit plastic sign around 2020. For more, see this website.

The Shag-a-Lee's bar sign is probably from the 1950s. The name might be a reference to the song "Stagger Lee" which was a hit in 1959. [map]

Porky's Drive-in opened here in 1949. This sign was installed in 1957. The sign was sold to a collector and removed in 2014. The restaurant is still there but there is now a plastic sign with a digital message board. For more, see this website.
City News
Mansfield, OH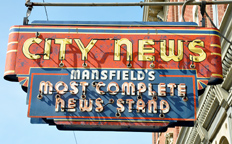 The City News newsstand features a refurbished vintage sign. [map]
Jer-zee Drive-in
Marion, OH
Big Top
Restaurant [gone]
Mason, OH
Admiral Appliances [gone]
Middletown, OH
The Jer-zee Drive-in opened in 1949. [map]

The Big Top Restaurant closed around 2006. In 2010, the sign was donated to the American Sign Museum. For more, see this website.

These Admiral Appliances signs still hung above a former furniture store when this photo was taken in 2009. They were still there in 2013 but gone by 2017.
Tasty Treat
Minster, OH
Mel-O-Dee Restaurant
New Carlisle, OH
Pizza Hut [gone]
New Philadelphia, OH
The neon on the Tasty Treat "Eat-it-All" cone seems to be in good shape. [map]

The Mel-O-Dee Restaurant opened in 1965 and this sign is from then. The message board part of the sign originally read "Drive-in" and the arrow was composed of chasing bulbs. [map]

This old Pizza Hut sign had escaped replacement by corporate headquarters until around 2012. This photo is from 2009. There were two other signs like this in Florida that survived until a few years ago. There is an even older Pizza Hut neon sign in San Antonio, TX.
Villa Arms Motel
Niles, OH
Waldo's Nursery [gone]
North Olmsted, OH
Dreamland
Motel [gone]
Norwalk, OH
Berry's Restaurant
Norwalk, OH
The Villa Arms Motel sign is probably from the 1950s. [map]

Waldo's Nursery was established in 1950. This sign was probably from then. The store closed around 2016. The sign was removed in 2017.

The Dreamland Motel and sign were from the 1950s. This photo is from 2005. By 2012, the motel and sign were gone.

Berry's Restaurant has been around since the 1940s. This sign is probably from the 1950s or 1960s. For more, see this website. [map]
Baker's Motel [gone]
Norwich, OH
former Mug & Jug [gone]
Piqua, OH
The Baker's Motel sign previously had a plastic balls on top. Before that, it had an entirely different look. The Homestead Motel sign in Columbus, OH has a similar design. This photo of the Baker's Motel is from 2003. In 2012, the sign was badly damaged. By 2017, the top part of the sign had been removed and a plastic panel was installed on the base of the sign.

The Mug & Jug featured this beer barrel sign. The bar later housed the Boomerang Pub but this sign remained. By 2018, the barrel had been broken badly and only a small piece of it remained.
RoadsideArchitecture.com

Copyright. All photos at this website are copyrighted and may only be used with my consent. This includes posting them at Facebook, Pinterest, blogs, other websites, personal use, etc.

Tips & Updates. If you have suggestions about places that I haven't covered, historical info, or updates about places/things that have been remodeled or removed, I'd love to hear from you: roadarch@outlook.com.