(hit "refresh" to get the most recent version of this page; click on photos for larger images)
Mission Hills Branch Library
San Diego, CA

IBEW Building [gone]
San Diego, CA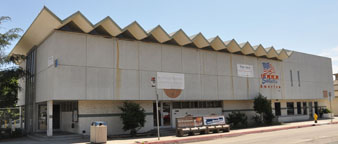 The Mission Hills Branch Library was built in 1961. In 2003, the library purchased this former IBEW Building which was also built in 1961. The IBEW Building was demolished in 2017 to construct a new library on the site. The Library remains open during the construction. [Library photo Gregory May] [Library map]
San Diego Central Public Library
San Diego, CA
The San Diego Central Public Library opened in 1954. This branch closed in 2013 in order to move to a larger building. This building remains vacant. For more, see these websites: 1 and 2. [map]
North Clairemont Public Library
San Diego, CA
The North Clairemont Public Library was designed by Robert J. Platt and built in 1960. For more, see these websites: 1 and 2. [map]
707 Broadway Parking Garage
San Diego, CA
Convention Center
San Diego, CA
The 707 Broadway Parking Garage was probably built in the 1970s. The murals were painted on the building in 2015. [map]

This Convention Center building was part of the Town & Country Resort Hotel which was built in 1953. The Convention Center was added around 1970. The hotel has been demolished. For more, see this website. [map]
Fifth Avenue Financial Center
San Diego, CA
The Fifth Avenue Financial Center was built in 1965. The building features retail tenants on the ground floor, a parking garage, and a top floor restaurant known as Mister A's. In 2016, the building was purchased by the Manchester Financial Group. For more, see these websites: 1 and 2. [map]
Fire Station #1
San Diego, CA
Fire Station #1 was built in 1904. It relocated to this building in 1971. [map]
Featheringill Mortuary
San Diego, CA

I believe this Featheringill Mortuary building is from 1962. [photo thanks Gregory May] [map]
Clairemont Mortuary
San Diego, CA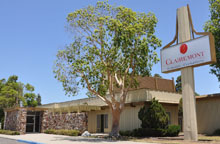 The Clairemont Mortuary was built in 1963. [map]
El Camino Memorial Park Cemetery & Mortuary
San Diego, CA
The El Camino Memorial Park Cemetery & Mortuary was established in 1960. This building was probably built then or shortly thereafter. For more, see this website. [map]
Scripps Green Hospital
San Diego, CA
The Scripps Green Hospital was designed by Edward Durell Stone and built in 1974. [map]
North Park Post Office
San Diego, CA

2016:
2020:
The North Park Post Office was built in 1951. It closed in 2010. In 2016, the building was remodeled for Tribute Pizza. [map]
Serra Mesa Post Office
San Diego, CA
The Serra Mesa Post Office looks like it was built in the 1960s. [map]
former Ruby Room (now Negociant)
San Diego, CA
2009:
2016:
The Ruby Room operated here from 2008-2013. In 2013, Commonwealth moved in. By 2015, the building housed Tabletop Commons. The building was constructed in 1965. Does anyone know what business was here originally? The building housed Bull & Grain from 2016-2018. In 2018, the rocks were removed from the facade and replaced with stucco while preparing for the next tenant. The building now houses the Negociant winery. [2009 photos thanks Gregory May] [map]
Hy Cleaners
San Diego, CA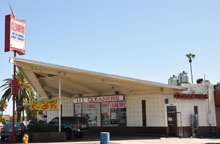 The Hy Cleaners building was built in 1965. [map]
NOTE: There are more San Diego mid-century modern buildings in other sections (Banks, Bowling Alleys, etc.) at the links below.
RoadsideArchitecture.com

Copyright. All photos at this website are copyrighted and may only be used with my consent. This includes posting them at Facebook, Pinterest, blogs, other websites, personal use, etc.

Tips & Updates. If you have suggestions about places that I haven't covered, historical info, or updates about places/things that have been remodeled or removed, I'd love to hear from you: roadarch@outlook.com.