(hit "refresh" to get the most recent version of this page; click on photos for larger images)
former station
Alameda, CA
This former station may have been a Seaside station originally. It was built in 1938. The bay building shown in the third photo above was probably built at the same time. The building most recently housed Alameda Lock and Glass. It was vacant when these photos were taken in 2014. The building was still vacant in 2021. For more, see this website. [map]
former station
Kingsburg, CA
former station
Ceres, CA
These former stations in Kingsburg and Ceres appear to be a prefabricated metal stations. They have the same style canopies and fins on top of them as the station in Alameda shown above. I suspect they sold the same brand, probably Seaside, originally. The bay buildings were most likely added later.

The Kingsburg building appeared to be vacant when this photo was taken in 2013. [map]

From the paint on the side of the canopy, it appears the station in Ceres was a Rocket station later on. The building now houses the St. Jude Auto Shop. [map]
former station
Santa Cruz, CA
This former station shares the same canopy design as those shown above. The building must have been produced by the same oil company and had a similar look originally. The building now houses a Goodwill Donation Center. It previously housed a couple of coffee shops: On a Mission Coffee and The Filling Station. [map]
Valley Oak Food & Fuel
Walnut Grove, CA
former station
San Jose, CA
The Valley Oak Food & Fuel building has the same style canopy fins as the former stations above in Kingsburg and Ceres. The canopy itself and the rest of the building was apparently remodeled. [map]

This former station in San Jose was built in 1935. It closed in 1990. The building has housed Roy's Station Coffee & Teas since 2008. For more, see this website. [map]
Redwood Tree Service Station
Ukiah, CA
The Redwood Tree Service Station was built in 1936 from a hollowed-out redwood tree trunk. The tree was cut down 17 miles west of the city, quartered, and moved here. The restrooms behind the station were also produced from redwood trees. The former station is now used as a museum with old photos of the building. [map]
former station
Stockton, CA
This building appears to be a former station or auto-related business. It housed Mike Buckenham's Stuttgart West auto repair for many years. In 2018, there was a major fire and the building was surrounded by chain link fencing. It was repaired and back in business by 2020. [map]
Madonna Inn
San Luis Obispo, CA
The former gas station at the Madonna Inn is built mainly of boulders like much of the hotel itself. It was built in 1970 and was originally a Union 76 station. The spire supported a revolving Union 76 ball sign. The pumps were painted pink. The gas station closed in 1982. In 2001, the building was converted into a wine and gift shop. For more, see this website. [map]
Petro Fuel station
Santa Clara, CA

The Petro Fuel station was built around 1965 as a Texaco station. The building was part of the Oriental Gardens shopping center which was designed by Aaron Green. The shopping center has been demolished but this station remains. For more, see these websites: 1 and 2. [map]
former station [gone]
Huntington Park, CA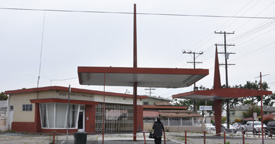 This former station was vacant when this photo was taken in 2017. Just months later, the station and canopies were demolished. The canopy supports were similar to Wilshire stations but they were vertical rather than slanted. The canted office windows were also similar to Phillips 66 stations.
former station?
Los Angeles, CA
The placement far back on the lot and the prefabricated metal construction suggest this may be a former station. Does anyone know anything about it? I did not make note of the location when I took these photos in 2008. If anyone knows where it is located or if it still exists, I'd appreciate the information.
RoadsideArchitecture.com

Copyright. All photos at this website are copyrighted and may only be used with my consent. This includes posting them at Facebook, Pinterest, blogs, other websites, personal use, etc.

Tips & Updates. If you have suggestions about places that I haven't covered, historical info, or updates about places/things that have been remodeled or removed, I'd love to hear from you: roadarch@outlook.com.