(hit "refresh" to get the most recent version of this page; click on photos for larger images)
former station
Calistoga, CA

This former station has housed the Tank Garage Winery since 2014. Before that, the building housed a pet shop and other winery-related businesses. The station was built in the 1930s. Although there are stars and painted green stripes on the building, I don't believe this was ever a Texaco station. It looks more like a Gilmore station. [map]
former station
Fillmore, CA
This former station now houses Ernie's Auto. I don't know if the building was ever used as a Mobilgas station. Those pumps were most likely just added during the restoration. The building design appears to be a Union 76. [map]
former station
Alhambra, CA

This former station housed the Alhambra Smog Center when this photo was taken in 2013. By 2018, it was housing a U-Haul rental office. The building may have been built in 1938. It was probably built as a Union 76 station. [map]
former station
Hanford, CA
former station
Van Nuys, CA
This former station in Hanford was probably built as a Union 76 station. It has housed Adam's Drive-in since around 2019. [map]

This former station in Van Nuys was also most likely built as a Union 76 station. The building was vacant in 2021 when this photo was taken. [map]
former station
Encinitas, CA

This former station now houses Scott's Automotive. It may have been a Union 76 station originally. [map]
former station
Los Angeles, CA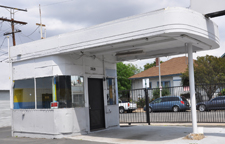 This former station was built in 1930. It may have been a Union 76 station originally. It was vacant when this photo was taken in 2018. [map]
former Union 76 station
Joshua Tree, CA

This former Union 76 station now houses Mel Benson Real Estate. [map]
former Union 76 station
Needles, CA

This former Union 76 station was also restored in 2012 and is currently vacant. The two stations looked like this before the restorations. For more, see this website. [map]
Union 76 station
Carpinteria, CA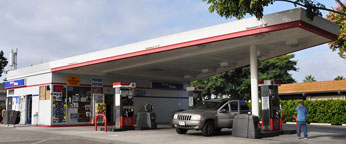 This Union 76 station was probably built in the 1960s. It remains virtually changed since then and is still pumping gas. I don't know of any other 76 stations still using these buildings. For more, see this website. [map]
former Union 76 station
Santa Barbara, CA

This Union 76 station now operates as Santa Barbara Gas. [map]
former station
Montebello, CA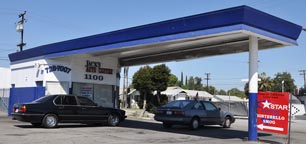 This former station in Montebello was most likely built as a Union 76 station. The canopy may have been shortened at some point. However, the office is a different design from the others shown here. The building now houses Jack's Auto Center. [map]
former Union 76 station
Glendale, CA
This former Union 76 station has housed the Wild Oak Cafe since 2015. [map]
former station
Fresno, CA

2008:
2013:

This former station with a double canopy housed Kimbers Embers in 2008. By 2013, the building had been repainted and is now known as the A-1 Discount Smoke Shop. I think this might have been a Union 76 station originally. [map]
Union 76 station
Riverbank, CA
This Union 76 station was originally built as a Mobilgas station. The station has been affiliated with Setliff Brothers Automotive which opened next door in 1950. This neon sign appears to be from then. In 1988, the steel 76 ball sign was replaced with a fiberglass one which could be internally lit. These photos are from 2014. For more, see these websites: 1, 2, 3, 4, and 5. [map]
Shell station
Palm Springs, CA
This Palm Springs Shell station canopy appears to be from the 1950s or 1960s. I don't know if this has always been a Shell station. [map]
Shell station
Palm Springs, CA
This Shell station was designed by William Cody. It was built in 1964 as a Shell station. The canopy is made of formed concrete. [map]
RoadsideArchitecture.com

Copyright. All photos at this website are copyrighted and may only be used with my consent. This includes posting them at Facebook, Pinterest, blogs, other websites, personal use, etc.

Tips & Updates. If you have suggestions about places that I haven't covered, historical info, or updates about places/things that have been remodeled or removed, I'd love to hear from you: roadarch@outlook.com.