(hit "refresh" to get the most recent version of this page; click on photos for larger images)
former station [gone]
Selma, CA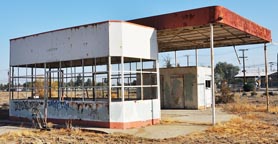 This former station had been abandoned for many years. It was a Red Triangle and a Wilshire station at some point. I don't know in what order or what brand was sold here originally. This photo is from 2013. By 2015, the building was gone. For more, see these websites: 1 and 2.
former Associated Oil station
San Jose, CA
This Associated Oil station was built in 1927. It closed in the early 1970s and was nearly demolished. In 1978, the San Jose Historical Museum moved it here to History Park. [map]
former Mohawk station
Orland, CA
This former Mohawk station was built in 1932. It was located at a different spot in Orland before being restored by a man named Noffy. Around 2014, the station was repainted. The former station now advertises for the State Farm Insurance office located directly behind it. For more, see this website. [map]
former station
Guerneville, CA
This former station might have been built in the 1920s or 1930s. It appears to be used as an office or retails space with an attached residence. [map]
former station
Oakland, CA

2008:
2014:

This prefabricated metal former station and a freestanding canopy were installed on the lot of Oakland All Craft around 2004. The structures were still there in 2014 but pretty much obscured from view behind chain link fencing. The office building is similar to the Associated Oil station shown above. The freestanding canopy structure was probably built later. It appears to have come from a Texaco station. Does anyone know more about either structure? [map]
former station
Pasadena, CA

2013:
2015:
This former station was built around 1929. There are replica Fire Chief pumps here but I don't know if this was ever a Texaco. The radiator-shaped sign on the bay building next door appears to be vintage. From around 2010-2012, the building housed Norma's Tacos. By 2013, the building was vacant again. In 2014, the building began housing the Motordogs hot dog stand. By 2016, it was housing Afters Ice Cream. [map]
former station
Los Angeles, CA
former station
La Grange, CA
This all-metal, prefabricated former station in Los Angeles was built in 1919 for Standard Oil. It is also known as the Jay Risk Station Oil station. It was originally located in downtown Los Angeles on Spring St. It was moved here in 1931 and was used for a produced stand. In 1947, it housed a plumbing company office. In 2022, it was hidden behind a fence and was destined for demolition. In 2023, it was declared a historic, cultural landmark and will be preserved. [map]

This former station in La Grange also appears to have been built from a "kit." It was built in 1925 and may have been a Shell station originally. For more, see this website. [map]
former station
Madera, CA
This prefabricated metal former station is probably from the 1930s. The building now houses Big Boy's Tires & Auto Repair. The canopy is now missing its support poles. There is a smaller building directly behind the office that was probably used for restrooms. The larger bay building behind the office is still used for repairs. [map]
former station
Whittier, CA
This former station now houses Tony's Mufflers. The building design looks very similar to the Madera station shown above. [map]
former Signal station
Santa Rosa, CA
This former Signal station is located at Stoke Ranch. Fred Stoke's property is a popular site for car shows and swap meets. He has a huge collection of gas station and automobile related items. For more, see these websites: 1 and 2. [map]
replica station
Los Angeles, CA
This replica station pays tribute to Earl Gilmore's station which was built in 1936. This building was constructed around 2000 at the Farmers Market near the station's former location. The figure on top of the canopy is true to the station's original design. For more, see these websites: 1 and 2.
RoadsideArchitecture.com

Copyright. All photos at this website are copyrighted and may only be used with my consent. This includes posting them at Facebook, Pinterest, blogs, other websites, personal use, etc.

Tips & Updates. If you have suggestions about places that I haven't covered, historical info, or updates about places/things that have been remodeled or removed, I'd love to hear from you: roadarch@outlook.com.