(hit "refresh" to get the most recent version of this page; click on photos for larger images)
The City Garage is or was owned by Doc Ellis who uses the property for car shows and get-togethers. These signs and a pair of vintage pumps came from somewhere else. The City Garage sign came from Calvert, TX. Doc has a collection of vintage cars inside the building. [map]
Stango's Coffee Shop
San Angelo, TX
Stango's Coffee Shop opened in 2012. I don't know where this coffee shop sign came from. It might have been reworked for this text. The porcelain enamel panel appears to have been cut and replaced. The orange and navy panel of the Owl Drug sign which is inside probably indicates that it was accompanied by Rexall signs. There is also a Sputnik sign here. [map]
OST Liquors [gone]
San Marcos, TX
Aumont Hotel
Seguin, TX
OST Liquors had been closed for several years but this sign was still there when this photo was taken in 2018. "OST" refers to the Old Spanish Trail. This sign might have been built in the 1950s. However, the cans looked like they might have been aluminum and the neon was in perfect shape. I suspect this was either a replica sign or recently restored. In 2019, the sign was replaced with a new sign for Toma Taco. For more, see this website.

The Aumont Hotel opened in 1916. This sign is probably from the 1920s. The rooms are now used as apartments. The other side of the bottom panel read "Aumont Hotel". This photo is from 2011. By 2013, the bottom panel was gone. [map]
Starcke Furniture Co.
Seguin, TX
The Starcke Furniture Co. was established in 1910. The company moved to this location in 1915. These signs appear to be from the 1940s or 1950s. The Budget House was located across the street. That location had closed between 2011 and 2013. That sign was gone by 2013. [map]
City Light & Water Department
Seymour, TX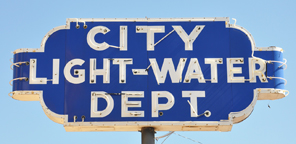 The City Light & Water Department sign is installed in front of the Seymour Municipal Building. It appears to be from the 1950s. This photo is from 2018. The sign was missing in 2019 but the pole was still there. Maybe it was in the shop for repairs? [map]
Westwood
Village
Sherman, TX
Regal Ranch
Stafford, TX
Buena Vista Home for Boys
Stamford, TX
The Westwood Village shopping center sign is probably from the 1950s or 1960s. [map]

The Regal Ranch has been around since at least the 1960s. The sign is spotlit and the bulb-studded wheels spin at night. It might have had neon originally. [map]

The Buena Vista Home for Boys was built in 1928. This sign is probably from the 1930s or 1940s. [map]
Buick
Stanton, TX
Wolfe Nursery
Stephenville, TX
Imperial Sugar Co.
Sugar Land, TX
This vintage Buick sign is installed at the Wheeler Motor Company which sells Buick, GMC, and Chevrolet cars. The company was established in 1948 as a Buick dealership. [map]

The Wolfe Nursery was established in 1919. This giant sign was designed by the store's owner, Hugh Wolfe, and built by the Dallas Sign Co. It was supposedly built in 1965 but it looks like it's more likely from the 1950s. There was a text panel on the pole directly below this sign originally which read: "Wolfe Nursery. Money DOES Grow on Trees." The sign is now displayed at the Stephenville Museum. For more, see this website. [map]

The Imperial Sugar Co. was founded in 1843. The company is still in business but no longer operates here. The refinery building was demolished in 2010 but this building and signs remain. For more, see these websites: 1 and 2. [map]
First Baptist Church
Sulphur Springs, TX
Budget Inn [gone]
Sulphur Springs, TX
Sulphur Springs Muffler Center
Sulphur Springs, TX
This First Baptist Church sign is probably from the 1940s or 1950s. [map]

The Budget Inn sign bore a striking resemblance to the classic Holiday Inn signs. This photo is from 2008. By 2011, the motel was still there but the sign was gone.

The Sulphur Springs Muffler Center sign originally advertised for a mobile home dealer. Another example of these signs is in Cookeville, TN. This sign used to revolve. [map]
Masonic Lodge
Sweetwater, TX
Brookshire's
Sweetwater, TX
This Masonic Lodge sign is a very rare multi-paneled backlit plastic sign. I have not seen another one like it anywhere. It is probably from the 1960s. [map]

This Brookshire's supermarket sign originally advertised for the Village Supermarket, hence the "V" at the top. It is probably from the 1950s or possibly 1960s. As the city grew and the supermarket closed, the sign was moved to this location and adapted for Brookshire's. I don't know if the "V" had neon originally. [map]
Pfennig's
Prescription Pharmacy
Taylor, TX
Kincl Hardware Store
Taylor, TX
Buford Drugs
Terrell, TX
Pfennig's Prescription Pharmacy opened in 1963. I don't know if this sign on the side of the building is from then or from a previous business. [map]

The Kincl Hardware Store opened in 1949. These signs were installed then. Many of the store's signs have since been lost but these remain. The porcelain enamel Frigidaire sign has embossed letters. The building and Kincl sign were restored in 2011. The building now houses an antiques store. For more, see this website. [map]

Buford Drugs has been replaced with a tanning salon but this sign remains. [map]
Texarkana Bearings Supply [gone]
Texarkana, TX
Texarkana Bearings Supply was established in 1956. When the company moved in 2009, the company brought the signs with them. These photos are from 2011. By 2012, the company and signs were gone. For more, see this website.
Shamrock Motel
Texarkana, TX
Air Temp [gone]
Texarkana, TX
Tri State Motel
Texarkana, TX
The neon on the Shamrock Motel sign was removed in 2008. It was probably built in the 1950s. For more, see these websites: 1 and 2. [map]

This Chrysler Airtemp sign hung above the Aycock Distributing Co., a wholesale sporting goods company. In 1934, Chrysler began producing Airtemp air conditioners. In the 1970s, this part of the company's business was sold to Fedders. I'm not sure of the connection between the sign and the business. This sign was gone by 2021.

The Tri State Motel was originally called the Two State Motel. The sign is probably from the 1950s. In 2008, the sign's arrow and revolving star were removed. This photo is from 2011. For more, see these websites: 1 and 2. [map]
RoadsideArchitecture.com

Copyright. All photos at this website are copyrighted and may only be used with my consent. This includes posting them at Facebook, Pinterest, blogs, other websites, personal use, etc.

Tips & Updates. If you have suggestions about places that I haven't covered, historical info, or updates about places/things that have been remodeled or removed, I'd love to hear from you: roadarch@outlook.com.