(hit "refresh" to get the most recent version of this page; click on photos for larger images)
Jones McCall Pharmacy [gone]
Andrews, TX
Andrews Motor Inn
Andrews, TX
Malt Shop
Anna, TX
Jones McCall Pharmacy opened in 1955. This sign was probably from then. This photo is from 2012. The sign was still there in 2013. The pharmacy had closed and the sign was gone by 2018.

The Andrews Motor Inn sign is probably from the 1950s or 1960s. Sometime between 2013 and 2016, the old-fashioned message board was replaced with a digital display. [map]

The Malt Shop opened in 1959 and this sign appears to be from then. It probably had neon originally. [map]
World Baptist
Fellowship [gone]
Arlington, TX
Comet Cleaners
Arlington, TX
Fiesta Motor Inn
Arlington, TX
The World Baptist Fellowship headquarters is still here but this globe sign is gone. It was installed in the 1960s and never revolved. This photo is from 2006. By 2011, the globe had been replaced with a modern plastic sign.

Comet Cleaners was founded in 1923 in Dallas, TX. The chain has 350 locations in 17 states, mostly in the Southwest, and in Mexico. This location and sign are from the early 1960s. It is the last of the company's old signs. For more, see these websites: 1 and 2. [map]

The Fiesta Motor Inn sign is probably from the 1950s. Sometime after 2009, the "Motor Inn" neon part of the sign was replaced with the plastic "Americas Best Value" plastic box. For more, see these websites: 1 and 2. [map]
Oasis Motel
Arlington, TX
Candlelite Inn
Arlington, TX
The Oasis Motel was built in 1965. This sign appears to be from then. [map] The Candlelite Inn restaurant opened in 1957. In 2014, the building was remodeled and the signs were restored. The candle-shaped sign was moved from its pole near the road to the ground near the front door. For more, see this website. [map]
Bill's Trim Shop
Arlington, TX
Babe's
Chicken Dinner House
Arlington, TX
The Bill's Trim Shop opened in 1955. This sign is probably from then. [map]

Babe's Chicken Dinner House restaurant has featured this cowboy sign inside since it opened in 2010. The sign was built around 1945 for the Corral Grill in Dumas, TX. It was repainted and restored by the Wellborn Sign Co. in Amarillo, TX in 2007. The cowboy's lasso is animated. For more, see this website.
Caravan Motor Hotel
Arlington, TX
2011:
2017:
Caravan Inn [gone]
River Oaks, TX
The Caravan Motor Hotel was built in the late 1950s or early 1960s. Around 2016, the main corrugated text panels were replaced with flat plastic panels. The motel is closed and there are plans to demolish the building. I don't think this sign will survive much longer. [map]

The Caravan Inn was originally named the Caravan Motor Hotel. As far as I know, there were other these two locations with identical signs. Sometime between 2006 (first photo) and 2011 (second photo), the River Oaks sign was painted black. In 2012, the motel and sign were demolished. For more, see this website.
Pitt Grill [gone]
Arlington, TX
Pitt Grill
Athens, TX
This Pitt Grill sign in Arlington had been here since the late 1950s or early 1960s. This restaurant was part of a chain. This photo is from 2011. The business and sign were still there in 2015 but both were gone by 2016. For more, see this website.

The Pitt Grill sign in Athens has a slightly different arrow. It is probably from the 1950s or 1960s. [map]

There are other locations in New Boston, TX and Queen City, TX with these signs. There was another sign with a more Gothic style font which was identified as Athens but must have been at another location which is gone now.
Ken's Pizza Parlor
Athens, TX

Ken's Pizza Parlor was established in 1973 and this rooftop sign is probably from then. There was also a pole sign which was probably installed then as well. It has been replaced with a smaller plastic box sign. [map]
Last Stop Liquor
Azle, TX
Texas Grill
Ballinger, TX
The Last Stop Liquor sign appears to be from the 1950s. [map]

The Texas Grill opened in 1961 and I believe the plastic chef sign is from then. The sign shaped like the state of Texas was previously located at the original Texas Theatre which is gone now. The Texas Grill closed but the signs remain. The Gonzalez Restaurant occupies the space now. [map]
Bandera Cabaret
Dance Hall
Bandera, TX
Roadhouse Bastrop
Bastrop, TX
Baytown Revival Center
Baytown, TX
The Bandera Cabaret Dance Hall was established in 1936. This sign may be from then and is most likely painted-over porcelain enamel. [map]

This "Hamburgers" sign is installed in front of Roadhouse Bastrop. The sign appears to be vintage. It has been here since at least 2008 but it was probably not installed here originally. [map]

I believe the Baytown Revival Center was established in 1972. This sign appears to be from then. [map]
Amigo's gas station
Beaumont, TX
2006:
2011:
2019:
The Amigo's gas station sign was probably a one-off. I have not seen any other stations in person or in vintage photos with a Texas-shaped sign. The neon border is gone now. The panels may have had neon originally. [map]
Sartin's Seafood [gone]
Beaumont, TX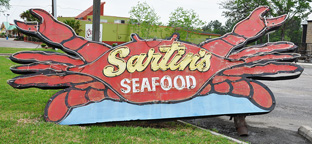 This Sartin's Seafood sign was previously installed on two poles at the original Sabine Pass location which had closed. The sign was 16 feet wide and was built around 1970. It was moved here in 1990 and sat on the ground next to the newer sign. In 2016, the sign was moved next to the building and installed on poles. The sign and restaurant were still there in 2017 but both were gone by 2018. For more, see this website.
Pearl Beer
Beaumont, TX
Debb's Liquor
Beaumont, TX
Patillo's Bar-B-Q
Beaumont, TX
This Pearl Beer sign still stands next to I-10 although the brewery building is long gone. It appears to be from the 1950s. The Pearl Brewing Company was established in San Antonio in 1883. The Pearl Building in San Antonio has been adapted for food and retail businesses. For more, see this website. [map]

The Debb's Liquor sign was probably built in the 1950s. [map]

Patillo's Bar-B-Q was established in 1912 and opened at this location in 1950. The building looks like a former gas station. This neon sign is installed on the roof. It might be vintage or more recent. [map]
Texas Energy Museum
Beaumont, TX
The Texas Energy Museum has several neon signs including these Gulf and Mobilgas examples and a sign from the Western Company.
RoadsideArchitecture.com

Copyright. All photos at this website are copyrighted and may only be used with my consent. This includes posting them at Facebook, Pinterest, blogs, other websites, personal use, etc.

Tips & Updates. If you have suggestions about places that I haven't covered, historical info, or updates about places/things that have been remodeled or removed, I'd love to hear from you: roadarch@outlook.com.