(hit "refresh" to get the most recent version of this page; click on photos for larger images)
The Rexall Drug store signs in this section are organized alphabetically by state.
Crew's Drug Store
Rockford, AL
Bynum Drug Inc.
Eastaboga, AL
Pilcher-McBryde Rexall
Selma, AL
This three drug stores feature the classic orange and navy neon Rexall signs which were built in the 1940s and 1950s. All three of these stores are still in business. I believe the Crew's Drug and Pilcher-McBryde signs are lit at night. I don't know about the Bynum Drug sign. [Bynum photo thanks Tim Ross] [Rockford map]; [Eastaboga map]; [Selma map]
Wikle Drug
Anniston, AL
Parker Drugs
Leeds, AL
Wikle Drug is listed on the National Register of Historic Places. However, it has been vacant for many years. [map]

Parker Drugs has been closed since at least 2009. As of 2010, the mortar and pestle sign remained on the pole outside while the orange and navy sign sat upside down inside the vacant store. As of 2019, the building is still vacant and the pole sign is still there. The other sign is still inside. [map]
Pell City Drug Co.
Pell City, AL
The Pell City Drug Co. was established in 1903. In 2015, the building was housing the Elcazador Mexican Grill. The Rexall signs are still in place. [first photo thanks Tim Ross] [map]
Glenn's Rexall Drug [gone]
Heber Springs, AR
Glenn's Rexall Drug featured an old oval neon sign and a more modern plastic panel sign. These photos are from 2010. By 2015, the store had closed and the signs were gone.
Poynor's Rexall Drug
Berryville, AR
Poynor's Drug was established in Berryville in 1903. The company moved to this building which was constructed around 1930. The store is still open. [map]
City Rexall Drugs
Crossett, AR
The City Rexall Drugs building has housed the Country Vittles restaurant since at least 2009 but these signs remain. [map]
former Rexall sign
Flagstaff, AZ
2012:
2017:
The former Rexall sign in Flagstaff has been repainted for the Mountain Sports store. I believe that Mountain Sports opened in 1980. The sign was repainted around 2015. [map]
Florence Drug
Florence, AZ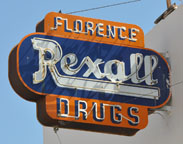 Florence Drug was still in operation when this photo was taken in 2012. By 2016, the store was gone but the sign was still there. This sign is probably from the 1940s or 1950s. [map]
MacAlpine's Restaurant & Soda Fountain
Phoenix, AZ
Willits Rexall Pharmacy [gone]
Willits, CA
MacAlpine's Restaurant & Soda Fountain opened in 1928 as a Rexall Drug Store. It has the oldest operating soda fountain in the Southwest. It is no longer a drug store but it still has wooden booths and a vintage soda fountain. For more, see website: this website. [map]

The Willits Rexall Pharmacy had been around since at least the 1940s. These photos are from 2008. The store closed in 2013 to become a Safeway Pharmacy. These signs were removed. The neon sign went to the Mendocino County Museum.
Ring's Rexall Drugs
Ferndale, CA
former Disernia Drugs
San Francisco, CA
Ring's Rexall Drugs is the oldest continually operating drug store in California. Ring's Pharmacy opened in 1896. There were previously orange and navy panels on the facade as well. [map]

Disernia Drugs opened in 1927 and closed in 1998. It remained vacant until 2009 when Baby Blues BBQ opened here. The drug store signs remain in place. These photos are from 2014. [map]
Reliable Rexall
San Francisco, CA
Reliable Rexall has been here since at least the late 1950s. The Reliable Compounding sign on the corner originally read Reliable Drugs and Liquor. The neon was removed and the panels were reworked sometime between 2006 and 2009. For more, see this website. [map]
Shafter Drugs
Bakersfield, CA
Westside Drug Co.
Firebaugh, CA
Sun Time Sun Tanning
Goleta, CA
The Shafter Drugs sign was originally installed around 1949 in Shafter, CA. The sign was removed around 2005. I believe the store is still in operation. The photo of the sign was taken at the Kern County Museum in Bakersfield, CA where the sign is now displayed.

The Westside Drug Co. sign is installed on the side of the building. It must have been a projecting sign on the front of the building originally with both sides exposed. [map]

Sun Time Sun Tanning was closed but this repurposed Rexall sign remained when this photo was taken in 2012. The sign originally read "Goleta Rexall Drugs". In 2016, a Mexican restaurant moved into the space and this sign remains. For more, see this website. [map]
Robinson's Rexall Drugs
Placerville, CA
Vermillion's Rexall Drugs
Long Beach, CA
Robinson's Rexall Drugs was established in 1932 and is still open. [map]

The Vermillion's Rexall Drugs signs are probably from the 1950s and 1960s. [map]
Allied Rexall Drugs [gone]
Long Beach, CA
Rexall Drugs [gone]
Oakland, CA
The Allied Rexall Drugs was operating as the Allied & Hopkins Pharmacy when this photo was taken in 2014. I assume that there was a projecting Rexall sign here originally. In 2016, these freestanding letters were replaced with plastic-faced letters. By 2019, those letters were gone and the drug store was gone.

This Rexall Drugs sign hung above the El Mercadito Market in recent years. The building housed Rex's Drug Store by 1954 and this sign was there then. The sign was still there in 2017 but gone by 2018.
Cotati Drugs
Cotati, CA
former Arlington Pharmacy
Kensington, CA
Cotati Drugs is long gone but this sign remains. [map]

The Arlington Pharmacy closed in 2013. The store now houses the Country Cheese Company but these signs remain. The blade sign above the Rexall sign appears to be the older of the two. It has ripple tin panels. [map]
Lark Drugs Pharmacy
Guerneville, CA
Bell Rexall Drugs
Emeryville, CA
The Lark Drugs Pharmacy sign is probably from the 1950s or earlier. While there are dozens of these Rexall signs still scattered around the country, I only know of a few that are still lit at night and none with these colors. The drug store has been there since the late 1800s. [map]

The Bell Rexall Drugs sign was originally located in San Francisco. It is now installed inside the Neon Works sign shop.
The Los Banos Drug Company
Los Banos, CA
The Los Banos Drug Company store opened in the 1930s. There is still a lunch counter inside. For more, see this website. [map]
Soledad Pharmacy
Soledad, CA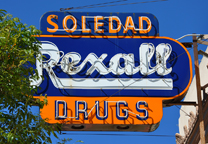 The Soledad Pharmacy features the classic neon Rexall sign as well as a backlit plastic, under canopy sign and Rexall door pulls. [map]
Gale Drug Co.
Springfield, CO
Rexall Drug
Hotchkiss, CO
Liggett-Rexall Drugs
Dania, FL
The Gale Drug Co. was established in 1949. This sign is probably from the 1960s or 1970s. [map]

This Rexall Drug store in Hotchkiss now houses Levels Gym. [map]

Liggett-Rexall was a nationwide chain of drug stores combing the companies of Louis Liggett and Rexall. This photo is from 2005. Around 2014, the building was painted orange. [map]
Pelot Drugs
Bradenton, FL
Miller's Rexall Drug
Atlanta, GA
Horton's Drug Store
Athens, GA
Miller's Rexall Drug features a nice porcelain enamel Rexall sign. This one probably had light bulbs on the arrow like the one in San Francisco above. [map]

Horton's Drug Store opened in 1947. This sign is tucked away on the side of the building. [map]
Alma Discount Pharmacy
Alma, GA
Malcolm's Drug Store
Douglas, GA
The Alma Discount Pharmacy has an old, rare oval-shaped Rexall sign. [map]

Malcolm's Drug Store features some great Rexall signage. The porcelain enamel sign probably preceded the plastic mortar and pestle above. [map]
RoadsideArchitecture.com

Copyright. All photos at this website are copyrighted and may only be used with my consent. This includes posting them at Facebook, Pinterest, blogs, other websites, personal use, etc.

Tips & Updates. If you have suggestions about places that I haven't covered, historical info, or updates about places/things that have been remodeled or removed, I'd love to hear from you: roadarch@outlook.com.