(hit "refresh" to get the most recent version of this page; click on photos for larger images)
Gale Drug Co.
Springfield, CO
2012:
2022:
The Gale Drug Co. was established in 1949. This sign was probably from the 1960s or 1970s. The store also had Rexall porcelain email panels on the facade. Those were gone by 2012. The drug store was operating in 2018 as the R&R Family Pharmacy and this sign was still there. It closed around 2020 and this sign was removed. By 2021, it was on display south of town at the Cat Creek RV Park & Event Center. [map]
Rexall Drug
Hotchkiss, CO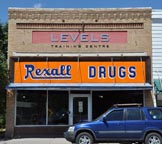 This Rexall Drug store now houses Levels Gym. [map]
Rexall Drug
Colorado Springs, CO
This former Rexall Drug store has housed the Ivywild Pharmacy for many years. The street-facing sign, above right, had been covered with a plastic panel from at least 2008 until 2019. It now shows the original rexall panel, defaced with the Ivywild name. The "Prescriptions" sign on the side of the building was never covered up. Does anyone know the name of the store when it was associated with Rexall? There was also a Rexall pole sign that have been covered up for Ivywild which was removed in 2015 and replaced with a plastic box sign. [map]
Liggett-Rexall Drugs
Dania Beach, FL
2005:
2021:
Liggett-Rexall was a nationwide chain of drug stores combining the companies of Louis Liggett and Rexall. Around 2014, this building was painted orange. [map]
Pelot Drugs
Bradenton, FL
Royal Palm Drugs
Homestead, FL
Watson Drugs
Marianna, FL
Royal Palm Drugs opened in the early 1950s. [map]

Watson Drugs is now known as the Watson Medequip Store. These signs remain at the back entrance to the store. [map]
Miller's Rexall Drug
Atlanta, GA
City Pharmacy
Jackson, GA
Horton's Drug Store
Athens, GA
Miller's Rexall Drug features a nice porcelain enamel Rexall sign. This one probably had light bulbs on the arrow like the one in San Francisco above. [map]

The City Pharmacy opened in 1951 and closed in 2017. This sign remains. [map]

Horton's Drug Store opened in 1947. This sign is tucked away on the side of the building. [map]
Alma Discount Pharmacy
Alma, GA
Blue Ridge Pharmacy
Blue Ridge, GA
The Alma Discount Pharmacy has a very rare oval-shaped Rexall sign. [map]

Blue Ridge Pharmacy opened in 1902. The business moved to this location in the 1920s. The business left this building around 2015 and it now houses the Blue Ridge Antique Mall & Consignment. The Rexall sign remains. This is a very rare all navy, vertical sign. For more, see this website. [map]
Malcolm's Drug Store
Douglas, GA
Marion Drugs
Buena Vista, GA
The porcelain enamel sign at Malcolm's Drug Store is probably from the 1950s. The plastic mortar and pestle sign above it is probably from the 1960s. [map]

The window decals on the long-closed Marion Drugs storefront are probably from the 1950s. There was probably an orange and navy projecting neon sign on the front of the building originally. [map]
South Side Rexall Drug
Ottumwa, IA
The South Side Rexall Drug's neon sign is probably from the 1940s or 1950s. These bulb-studded poles are fairly rare. I believe the bulbs flash on and off in sequence. [map]
Corner Rexall Drugs [gone]
Rock Rapids, IA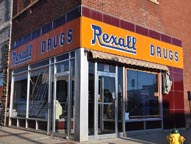 In addition to these porcelain enamel panels, there was probably a navy and orange Rexall neon sign at the Corner Rexall Drug. Around 2020, the panels were painted over. [map]
former Rexall sign
Pocatello, ID
Hy-Way Drug Store [gone]
Idaho Falls, ID
This former Rexall sign originally advertised for Moore Drug. The sign was adapted for Finders Keepers Antiques with wooden panels tacked onto the original Rexall blue and orange panels. This photo is from 2014. By 2015, the space was vacant and the sign coverings had been painted white. The white panels are now painted for the Barricade bar. [map]

There is a restored Rexall sign in Pocatello as well.

The Hy-Way Drug Store opened in 1950. These photos are from 2014. By 2018, the big pole sign and the letters on the roof were gone. By 2019, the plastic sign was gone as well. For more, see this website.
RoadsideArchitecture.com

Copyright. All photos at this website are copyrighted and may only be used with my consent. This includes posting them at Facebook, Pinterest, blogs, other websites, personal use, etc.

Tips & Updates. If you have suggestions about places that I haven't covered, historical info, or updates about places/things that have been remodeled or removed, I'd love to hear from you: roadarch@outlook.com.