(hit "refresh" to get the most recent version of this page; click on photos for larger images)
Cornwell Drug
Webster, SD
Yankton Rexall
Yankton, SD
Cornwell Drug had opened by 1956. The sign's top panel looks like it was tacked onto the original panel which probably had a different name. It was then repainted a time or two. [map]

Yankton Rexall was established in 1923 and is still in operation. There is pole sign around the corner from the store which I missed shooting. [map]
Pearson Rexall
Drug & Jewelry
Sisseton, SD
Miller Rexall Drugs
Miller, SD
The Pearson Rexall Drug & Jewelry sign is probably from the 1960s. [map]

Miller Rexall Drugs opened in 1929 and is still operating. [map]
Casey's Drug Co. [gone]
Chamberlain, SD
Casey's Drug Co. was established in 1896. It opened at this location in 1922. These photos are from 2012. Later that year, the store was purchased by new owners. The building was demolished in 2013 for the new drug store. I don't know what happened with these signs.
Rafferty Robbins Drug
Howard, SD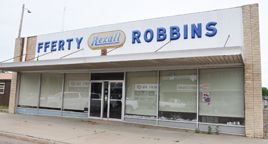 The Rafferty Robbins Drug store opened around 1965. It closed in 2020 but this sign remains. [map]
More South Dakota:
Winner [gone]
Central Drugs
Jellico, TN
Stewart Drug Company
Lexington, TN
Central Drugs has been here since at least 1900. [map]

The Stewart Drug Company has another nice Rexall sign. [map]
City Pharmacy
Grand Saline, TX
Brown Drugs
McLean, TX
Tindalls Drugs
Shamrock, TX
The City Pharmacy is long gone but this sign remains. In recent years, the building houses the "Old City Pharmacy, Coffeeshop and Museum." But that appears to be closed now. [map]

Brown Drugs is gone but this sign remains above the Hair Gallery. [map]

Tindalls Drugs is gone but this sign remains. This style sign didn't have neon but was lit fluorescent tubes from the sides. [map]
Dean Drugs [gone]
Cisco, TX
Hill's Drugs
Del Rio, TX
Dean Drugs was closed when these photos were taken in 2011. By 2014, these signs were gone.

Hill's Drugs is long gone but this sign remains. The neon on the bottom panel read "Prescriptions" and "Drugs." [map]
Prescription
Pharmacy [gone]
Rusk, TX
Kraege Drug
Store [gone]
Yorktown, TX
ABC Pharmacy [gone]
Sulphur Springs, TX
Uvalde Rexall Drugs
Uvalde, TX
This Prescription Pharmacy sign was there when this photo was taken in 2011. It was gone by 2013.

The Kraege Drug Store was established in 1919. In 1928, the store moved across the street temporarily while this new building was constructed on the site of the original. The store is still there but this Rexall sign has been replaced. [map]

The ABC Pharmacy was closed when this photo was taken in 2011. By 2013, the sign was gone.

The Uvalde Rexall Drugs building was built in 1935 as Brumfield's Garage. In 1948, the building began housing a Walgreen Drugs. In 1958, it became Uvalde Rexall Drugs. By 2011, the business became Lifechek Drugs and the Rexall name on the facade sign panels was covered over with orange and similarly painted new panels. By 2021, the facade panels had been removed. Plastic letters reading "Soda Fountain" were installed. This projecting sign remains. For more, see this website. [map]
Wilson United Drugs
Hearne, TX
I believe that Wilson United Drugs was established in the 1940s. These signs of the facade appear to be from the 1960s. The store's older, classic navy and orange sign is now located at the back of the building. [map]
Service Drugs
Stephenville, TX
The Service Drugs Rexall signs had been painted over for many years. In 2016, the building's occupant, L-Bar Western Art, had the paint removed and the signs restored. Since 2017, the building has housed SlimPickins Outfitters. The Rexall signs remain. [map]
Panguitch Drugs
Panguitch, UT
Monroe Rexall Drug
Monroe, UT
Rexall Drug
Helper, UT
When Panguitch Drugs moved around the corner, this sign was moved to the parking lot at the new location. There were other Rexall sign panels on the original building which are gone now. For more, see these websites: 1 and 2. [map]

The Monroe Rexall Drug sign apparently never had neon. It was spotlit with fluorescent tubes instead. Several other signs shown on this page show the same design. I don't know if this was a cheaper version or a later one. At some point, the Cafe sign was tacked over the word "Drugs." The space appears to be vacant now. [map]

The panels of this former Rexall Drug sign in Helper have been covered up with panels for the Helper Emporium which is closed now. I assume that this building originally housed a Rexall Drug. It may have possibly been the Helper Drug Co. or, more likely, Veltri's Rexall Drug. [map]
Smith Rexall Drug
Pleasant Grove, UT
Smith Rexall Drug was founded in 1910 as Pleasant Grove Drug. The store was located across the street at that point. In 1935, it became Smith Drug. The plastic signs on the facade were there by 1965. For more, see this website. [map]
Mease Rexall [gone]
Richmond, VA
Bailey's Drug Store
Louisa, VA
The Mease Rexall store was long gone but this sign still hung above the Corner Coin Laundry until at least 2011. The sign was gone by 2013.

Bailey's Drug Store opened in 1919 and is still in business. [map]
Rankos' Drug Store
Tacoma, WA
Rankos' Drug Store opened in 1929. The store moved to its current location in the late 1930s. These signs have been there since at least the 1950s. [map]
Mueller-Potter Drug Co. [gone]
Oshkosh, WI
Mayer Rexall Drugs
Kenosha, WI
Micklesen Drug
Hudson, WI
The Mueller-Potter Drug Co. was established in 1918. The store is gone but this sign remained. This photo is from 2011. I don't know when or why the Potter name was painted over. The sign was gone by 2017.

Mayer Rexall Drugs is long gone but this sign remains. I have never seen a Rexall scaffold sign like this before. The Federal panel at the bottom was gone by 2014. I don't know if it was removed or if it fell onto the roof or street. [map]

I have not seen a Rexall clock sign before like this one at Micklesen Drug. I assume it's from the 1960s or 1970s. [map]
Seney's Drugs [gone]
Buffalo, WY
Seney's Drugs opened around 1926. The vertical sign appeared to be from then. The orange and navy Rexall sign was moved inside around 2009. These photos are from 2012 when the space was occupied by the Udder House, an ice cream shop. That venture closed later that year and the original soda fountain was removed and moved to Oklahoma. The blade sign was still there in 2018. Both signs are gone now. For more, see this website.
RoadsideArchitecture.com

Copyright. All photos at this website are copyrighted and may only be used with my consent. This includes posting them at Facebook, Pinterest, blogs, other websites, personal use, etc.

Tips & Updates. If you have suggestions about places that I haven't covered, historical info, or updates about places/things that have been remodeled or removed, I'd love to hear from you: roadarch@outlook.com.