(hit "refresh" to get the most recent version of this page; click on photos for larger images)
Liberty Drug Store
Liberty, MS
The Liberty Drug Store was established in 1903. [map]
McDougal Rexall Drugs
Winona, MS

McDougal Rexall Drugs was located in Winona. This sign had been installed in the Dee's Pizza Inn parking lot since at least 2008. The sign is now displayed inside. [map]
Houston Rexall Drugs
Houston, MS
Houston Rexall Drugs has been Pearson's Discount Drug since 1983. [map]
City Rexall Drugs
Picayune, MS
City Rexall Drugs started out as the City Drug Store around 1905. In the 1950s, it became a Rexall franchise. The store moved to its current location in 1965. These signs are probably from then. [map]
McBeath Drug Store
Newton, MS
The McBeath Drug Store opened in the mid-1920s. This store has been closed for many years but these signs remain. The one side of the projecting sign is still lit day and night. [map]
Choteau Drug
Choteau, MT
Plentywood Rexall Drug
Plentywood, MT
Choteau Drug opened in 1939 as a Rexall drug store. [map]

Plentywood Rexall Drug opened in 1910. This backlit plastic sign is probably from the 1970s.
Birmingham
Drug Co.
Hamlet, NC
Butler's Pharmacy
Clinton, NC
Stantonsburg
Drug Co. [gone]
Stantonsburg, NC
Parson's Drugs
Wadesboro, NC
This photo of the Birmingham Drug Co. signs is from 2009. By 2011, the projecting sign had been repainted. The orange Rexall sign was gone. For more, see this website. [map]

Butler's Pharmacy has been around since 1919. The store features a navy blue Rexall sign. I believe these signs are older than the more common orange and blue neon signs like the one at the Stantonsburg Drug Co. If these blue oval signs are not older, they are at least rarer. [map]

The Stantonsburg Drug Co. was established in 1912. The store moved here in 1967 and must have brought this neon sign with them. The plastic sign looked like it might date from 1967. By 2021, these signs were gone.

Parson's Drugs was established in 1875. The store features both porcelain enamel and backlit plastic signs. [map]
Catawba Drug Company
Catawba, NC
The Catawba Drug Company opened around 1915. The store is no longer open but the interior has been preserved and the sign remains as of 2021. [map]
Glenn & Martin Drug Co. [gone]
Mount Olive, NC
The Glenn & Martin Drug Co. was closed when these photos were taken in 2010. The store was still vacant in 2015 but these signs at the entrance were still there. The plastic signs and canopy were gone by then. By 2018, only the projecting neon sign was there. By 2022, that was gone as well.
Wahpeton Drug Company
Wahpeton, ND
Chase Pharmacy
Garrison, ND
The Wahpeton Drug Company opened in 1929. It is now known as Wahpeton Drug and Gift. [map]

The Chase Pharmacy sign never had neon, as evidenced by the dual lights installed on both sides of the sign. The store must have gone by another name originally since it has tacked on panels above and below. The bottom of the sign surely reads "Drugs." Those panels have been there since at least 2007. There were still Rexall panels on the front of the building in 2016. [map]
Bert's Drug Store [gone]
Hastings, NE
The Bert's Drug Store signs were probably from the 1940s or 1950s. There store was still operating in 2022 when it was destroyed by fire. The building was demolished. The sign on the far left was saved and is displayed at the Hastings Museum.
L.T. Pedley Drug
Minden, NE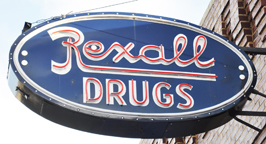 L.T. Pedley Drug was established in 1907 and is still operating. The sign's neon has been replaced with LED tubing. For more, see this website. [map]
Chief Drug
Tecumseh, NE
Chief Drug was founded in 1936. [map]
Franklin Drug
Franklin, NE

Franklin Drug was established in 2018, opening in a former beauty salon. The Rexall sign was located next door and was moved over at that point. The space next door was housing the L&D Rexall by 1948. By 1958 and at least into the mid-1960s, it was known as Andelt's Rexall. [map]
More Nebraska:
Omaha [gone]
RoadsideArchitecture.com

Copyright. All photos at this website are copyrighted and may only be used with my consent. This includes posting them at Facebook, Pinterest, blogs, other websites, personal use, etc.

Tips & Updates. If you have suggestions about places that I haven't covered, historical info, or updates about places/things that have been remodeled or removed, I'd love to hear from you: roadarch@outlook.com.