(hit "refresh" to get the most recent version of this page; click on photos for larger images)
Stephens County Tax Appraisal
Breckenridge, TX

The Stephens County Tax Appraisal office appears to be from the 1960s. i don't know if this was the original tenant. I suspect this could have been a bank originally. [map]
Police Department
Corpus Christi, TX
2011:
2019:
I believe this Police Department building was constructed in the late 1960s. Around 2016, the white building was painted a cream color. [map]
School Administration Building
Corpus Christi, TX
This School Administration Building appears to be from the 1960s. [map]
Nueces County Courthouse
Corpus Christi, TX
600 Building
Corpus Christi, TX
The Nueces County Courthouse was completed in 1977. For more, see this website. [map]

The 600 Building was built in 1962. [map]
One Shoreline Plaza
Corpus Christi, TX
Bay Building
Corpus Christi, TX
One Shoreline Plaza is too recent to be considered mid-century modern but I'll include it anyway. It was built from 1983-1988 and consists of two connected skyscrapers. For more, see this website. [map]

The Bay Building houses offices and a BBVA Compass Bank branch. My guess is that it was built in the 1970s. [map]
Maverick County Finance Center
Del Rio, TX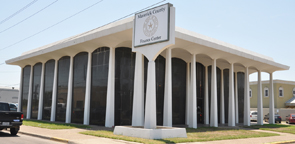 The Maverick County Finance Center was probably built in the 1960s. This photo is from 2018. The building was vacant in 2019. [map]
Duckett, Bouligny & Collins, L.L.P.
El Campo, TX
The Duckett, Bouligny & Collins, L.L.P. law firm building was built in 1950. [map]
Galveston County Courthouse
Galveston, TX
The Galveston County Courthouse was designed by Raymond R. Rapp, Jr. and Ben J. Koten & Associates. It was built in 1966. The courthouse moved to a new building in 2006. The Department of Motor Vehicles and some other offices are still located here. [map]
Lake Jackson Professional Building
Lake Jackson, TX

The Lake Jackson Professional Building was designed by Willard & Associates and built from 1959-1961. [map]
Henry Norris Agency
Lamesa, TX
Petroleum Building
Longview, TX
The Henry Norris Agency building was built in 1958. I don't know if Norris, an insurance agency, was the original tenant. [map]

The Petroleum Building was built in 1953 as a five-story parking garage known as the Downtown Auto Park. In 1956, offices and retail space were added and the building was renamed the Petroleum Building. In recent years, the building has been vacant. In 2018, just after this photo was taken, renovation began to turn the building into apartments which will be known as Alton Plaza. [map]
RoadsideArchitecture.com

Copyright. All photos at this website are copyrighted and may only be used with my consent. This includes posting them at Facebook, Pinterest, blogs, other websites, personal use, etc.

Tips & Updates. If you have suggestions about places that I haven't covered, historical info, or updates about places/things that have been remodeled or removed, I'd love to hear from you: roadarch@outlook.com.