(hit "refresh" to get the most recent version of this page; click on photos for larger images)
Bank of America
Dallas, TX

This Bank of America branch was built around 1965 as an American Savings. [map]
former bank
San Marcos, TX

This former bank housed a Frost Bank in recent years. The building housed the State Bank & Trust in the 1970s. The gold metallic screens were removed from the facade sometime in or after 2017. These photos are from 2018 when the building was being redeveloped for retail space as The Provenance. The orange glazed tile has since been covered with white paint. The building shown in the second row is the former Frost Bank motor bank which is just down the block. It was probably built in the 1960s at the same time as the main bank building. [bank map]; [motor bank map]
First State Bank of Odem
Odem, TX
The First State Bank of Odem was designed by Jim Machlan and built in 1966. The motor bank is located directly behind the main branch. [map]
First State Bank of Central Texas
Hamilton, TX
This First State Bank of Central Texas was built in 1978. The bank closed around 2009. The building now houses the Hamilton County Courthouse Annex. The building with the matching design in the photo on the right above housed the motor bank. [map]
First National Bank
Killeen, TX
This First National Bank was built as the First National Bank of Killeen around 1960. Shown above is the motor bank part of the building and the metal screen on the side of the bank itself. It appears that this bank once has a Roto-Sphere. It may be the one now at a pawn shop in Killeen which is shown at that page. [map]
First Financial Bank
Abilene, TX
This First Financial Bank was built as the Bank of Commerce from 1966-1967. The columns and screen are made from precast concrete. [map]
Coleman County State Bank
Coleman, TX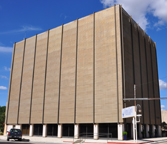 The Coleman County State Bank moved to this pre-existing building in 1948. The building was probably clad with these gold metal screens in the 1960s. [map]
First Coleman National Bank
Coleman, TX

This First Coleman National Bank motor bank was built in 1964. The nearby branch is now known as the Coleman InterBank and a more modern motor bank has been built. This building is no longer in use other than as a shaded parking area. [map]

former Citizens of Texas Savings & Loan Association
Baytown, TX

This former Citizens of Texas Savings & Loan Association was designed by Lowell Lammers and built in 1966. It closed in 1990. The building now houses the Citizen Conference Center. [map]

Lone Star State Bank
Brownfield, TX

This Lone Star State Bank was previously known as the First National Bank of Brownfield. This building appears to be from the 1950s or 1960s. [map]

former bank
Amarillo, TX

This former bank now houses the law office of Kalinke & Hunter originally housed a bank. It was probably built in the 1960s. [map]

former Midway National Bank
Grand Prairie, TX

This Midway National Bank branch was built in 1965. The building has housed a Grand Bank of Texas branch since 1999. The building is nearly an oval with 10 sides. [map]

former Pioneer Savings & Loan
Waco, TX

This Pioneer Savings & Loan branch was built in 1955. The building has been vacant since 1991. A new owner in 2016 renovated the building but I believe it is still vacant. These photos are from 2018. [map]

American Bank
Waco, TX

The American Bank was designed by Durwood Pickle and built from 1977-1979 as the Bellmead State Bank. It features many original interior details. In 2019, it was announced that this building may be demolished in 2020. Preservationists are fighting back, seeking to landmark the building before that happens. [map]

RoadsideArchitecture.com

Copyright. All photos at this website are copyrighted and may only be used with my consent. This includes posting them at Facebook, Pinterest, blogs, other websites, personal use, etc.

Tips & Updates. If you have suggestions about places that I haven't covered, historical info, or updates about places/things that have been remodeled or removed, I'd love to hear from you: roadarch@outlook.com.