(hit "refresh" to get the most recent version of this page; click on photos for larger images)
Umbrella House
Sarasota, FL
The Umbrella House was designed by Paul Rudolph in 1953. It was built as a model home on Lido Key and is also known as the Hiss House. The "umbrella" name came from a huge wooden trellis that extended over the terrace and pool. That structure was destroyed in a storm in the 1960s and rebuilt in 2010. Architectural Digest has called this "one of the five most remarkable houses of the mid-20th century." The open floor plan includes visible structural columns and a double-height living room. There are nine levels, three bedrooms and three baths. The house was in poor condition in the 1990s but has since been restored. For more, see these websites: 1 and 2. [map]
1310 Westway Drive
Sarasota, FL
The house at 1310 Westway Drive was designed by Edward Siebert and built in 1952. It is next door to the Hiss House and is known as the Hiss Studio. [map]
1332 Westway Drive
Sarasota, FL

The house at 1332 Westway Drive was designed by Ralph Twitchell and built in 1959. For more, see this website. [map]

From 1941-1966, Sarasota was a mecca for modern architecture. For more, see this book.
house
St. Petersburg, FL
This house shown on the above left was designed by Frank E. Stumm and built in 1966. It is known as the "hat house." The garage behind the house, bottom right above, has the same style roof. [map]
dome house
St. Petersburg, FL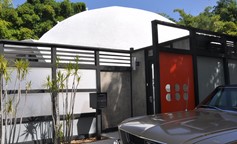 This dome house and its twin geodesic dome garage were built in 1982. They are now concealed behind fencing and foliage. For more, see these websites: 1 and 2. [map]
9016 Collins Ave.
Surfside, FL
Regent Palace Apartments
Surfside, FL
The apartment building at 9016 Collins Ave. was designed by Gilbert Fein and built in 1957. In the 1960s, the building was known as the Arbor Apartments. I don't know if that was the original name. [map]

The Regent Palace Apartments were built in 1951. [map]
Herron House
Venice, FL

The Herron House was designed by Victor Lundy and built in 1957. For more, see this website. [map]
RoadsideArchitecture.com

Copyright. All photos at this website are copyrighted and may only be used with my consent. This includes posting them at Facebook, Pinterest, blogs, other websites, personal use, etc.

Tips & Updates. If you have suggestions about places that I haven't covered, historical info, or updates about places/things that have been remodeled or removed, I'd love to hear from you: roadarch@outlook.com.