(hit "refresh" to get the most recent version of this page; click on photos for larger images)
Giant Olive
Philadelphia, PA
Giant Olive
Lindsay, CA
Giant Olive
Corning, CA
This Giant Olive in Philadelphia is installed at the Continental Mid-town Restaurant. This place is famous for its martinis. [map]

This Giant Olive in Lindsay is about eight feet long. It was originally installed at the Lindsay olive packer's co-op. When that closed, it was moved to the Olive Tree Inn. This Giant Olive remains although the motel is now a Super 8. This photo is from 2013. [map]

This Giant Olive in Corning is about 15 feet tall. It was created by Chuck Owens in 2009 and is installed on the corner of an olive orchard. [map]
Giant Artichoke
Castroville, CA
Giant Cabbage
San Jose, CA
Giant Pickle [gone]
Detroit, MI
This Giant Artichoke was built in 1963. It is 20 feet tall and 12 feet wide. It is made of concrete and rebar and stands next to the Giant Artichoke Restaurant. Castroville has been growing artichokes since the 1920s and claims to be the Artichoke Center of the World. For more, see this website. [map]

The Giant Cabbage is installed in front of the West Valley Branch Library. It was built around 2003 when the library opened. The sculpture functions as a water feature when fed by rainwater and dew flowing from the roof. [map]

This Giant Pickle was installed in 2007 above Eph's Downtown, a sandwich-focused restaurant. These photos are from 2009. By 2011, the restaurant and the pickle were gone. [photos thanks Mark Comstock]
Pickle Man was built for Canino's Italian restaurant around 1994. The restaurant featured fried pickles and pizza. The statue was originally painted green. He became known as "Pickle Man." Canino's closed and the lot was used to sell used cars. The statue might have been painted red, white, and blue at that point. The lot is empty now but the statue is maintained. In 2022, the statue was repainted the original green. [map]
Baked Potato
Blackfoot, ID
2008:
2022:
This giant Baked Potato is installed in front of the Idaho Potato Museum. There was another Potato before this one which fell apart when workers attempted to move it in 2006 from the side of the building to the front. It had the word "Idaho" painted on the side. By 2008, this Potato had been built and a sign was installed in front of it. In 2020, a new sign was installed and the Potato was repainted. For more, see these websites: 1 and 2. [map]
Big Idaho Potato Hotel
Boise, ID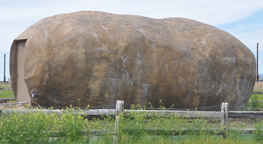 The 28-foot-long potato which is now used for the Big Idaho Potato Hotel was built in 2012. It was installed on a custom trailer and driven around the country to celebrate the Idaho Potato Commission's 75th anniversary. The plan was for a one-year tour but it ended up being so popular that it is still on the road. In 2018, a new potato was built. In 2019, the old potato was turned into this hotel as an Airbnb. For more, see these websites: 1 and 2. [map]
Field of Corn
Dublin, OH
The Field of Corn was created in 1994 by Malcolm Cochran. The 109 ears of corn are made of concrete and bronze. The ears are about six feet tall and arranged in even rows. The site was used as a cornfield from 1935-1963 and became a park when it was donated to the city. This installation is a reminder of the town's heritage. Dublin is now a rapidly developing suburb. [map]
Giant Ear of Corn
Coon Rapids, IA
This Giant Ear of Corn is part of the Garst Seed Company sign. The corn supposedly rotates but it wasn't when I took these photos in 2006. Garst was bought out by Syngenta in 2005. The sign's wording has been changed to "Coon Rapids, Natural Iowa." [map]
Ear of Corn [gone]
Minneapolis, MN
Ear of Corn
Olivia, MN
Corn Water Tower
Rochester, MN
This Ear of Corn in Minneapolis was located in the Gaviidae Common Food Court when this photo was taken in 2008. I believe the food court and this statue are gone now.

This Ear of Corn in Olivia is 25 feet tall and was built in 1973. The fiberglass statue is installed on top of a gazebo in Memorial Park. Olivia claims to be the Corn Capital of the World. [map]

The Corn Water Tower has a 60 feet tall ear of corn which is lit at night. It has been here at the Libby Foods' Seneca Foods plant since 1931. For more, see this website. [map]
Ear of Corn
Jonesville, LA
Cornstalk [gone]
Hoopeston, IL
This Ear of Corn in Jonesville is located at Chris Freeman Farms. I believe this was installed in 2021. [map]

This Cornstalk sculpture in Hoopeston was 16 feet tall and is made of metal and wood. It was created by Dana Thomas in 2003. It had been installed at McFerren Park since 2004. These photos are from 2009. Hoopeston claims to be the "Sweet Corn Capital of the Nation". I believe this sculpture has been gone since at least 2015 unless it was moved elsewhere in the park.
Handey's Farm & Nursery [gone?]
Montgomery, AL
Ear of Corn [gone]
Lime Springs, IA
The Handey's Farm & Nursery sign features a giant wood and metal ear of corn and two metal roosters. This photo is from 2010. Google Street View from 2013 shows the sign and roosters are still there. However, the ear of corn was gone. Perhaps it is only displayed when corn is available for sale.

This Ear of Corn was installed on a trailer and parked in front of the Lime Springs Fire Department and City Hall when these photos were taken in 2009. The ear was made with two-gallon milk jugs. It was originally built in 1993. This sculpture is either gone or it has been moved somewhere else.
Ear of Corn
Little Rock, IA
Ear of Corn
Pepperwood, CA
This Ear of Corn in Little Rock probably advertises for Little Rock's annual Corn Show or is displayed there. Does anyone know who made this sculpture and when or more about it?

This six-foot-tall Ear of Corn in Pepperwood was carved from wood by 1952. There were once two of these sculptures installed at opposite ends of town. The town was devastated by flooding in both 1955 and 1964. At some point, a "Gone but Not Forgotten" plaque was placed on the Ear of Corn as a memorial. For more, see this website. [map]
Wheat
Hutchinson, KS
These 19-foot-tall Wheat sculptures were installed on the metal screen of the Pegues department store building during a remodeling in 1956. The store closed in 1996 and the building now houses lofts and offices. [map]
More Fruits & Vegetables:
Pear (Dorchester, MA)
Banana Car: 1, 2 (Kalamazoo, MI)
Bell Pepper, Tomato, Meatball (Branson, MO) [map]
Pear (Columbus, OH) [gone]
Banana (Virginia Beach, VA) [vintage; gone]
various (various places in the U.S.)

Big Banana (New South Wales, Australia)
Cherries (New South Wales, Australia)
Banana (Queensland, Australia)
RoadsideArchitecture.com

Copyright. All photos at this website are copyrighted and may only be used with my consent. This includes posting them at Facebook, Pinterest, blogs, other websites, personal use, etc.

Tips & Updates. If you have suggestions about places that I haven't covered, historical info, or updates about places/things that have been remodeled or removed, I'd love to hear from you: roadarch@outlook.com.