(hit "refresh" to get the most recent version of this page; click on photos for larger images)
Giant Mango
Bowen, Queensland;
Australia
Pineapple
Water Tower [gone]
Honolulu, HI
Giant Pineapple
Lake Placid, FL
Giant Pineapple
Baltimore, MD
Giant Pineapple
Los Angeles, CA
The Giant Mango was built in 2002 and is located at the Bowen Visitor Information Centre. For more, see these websites: 1 and 2. [photo thanks Martin Zentner]

The Dole Water Tower held 100,000 gallons and was made of tin. It was built in 1928 as a fire control system at the head offices of the Dole Pineapple Corporation in Honolulu. Unfortunately, it had severe rust problems and was disassembled in 1993. It was 195 feet tall and 25 feet wide and was one of the best-known landmarks in downtown Honolulu. A simulated shadow was painted onto the adjacent building as a reminder of the tower. For more, see these websites: 1 and 2.

The Pineapple in Lake Placid is installed on top of the former Plantation Paradise sign. The pineapple stand and souvenir shop was established in 1952. The building has been vacant since the early 2000s. The pineapple has an osprey nest at the top. For more, see this website. [map]

The Pineapple in Baltimore is located on the roof of Victor Graphics. This printing company was founded in 1983. They were looking for a logo and chose the pineapple for its association with welcoming and hospitality. This 14-foot-tall pineapple was built by FAST and installed in 1998. [map]

The Pineapple in Los Angeles partially conceals a cell phone tower. [map]
Giant Lemon
Lemon Grove, CA
2014:
2021:
This Lemon in Lemon Grove is about 10 feet long. The city built a giant lemon in 1928 as a parade float. In 1930, it was covered with plaster and installed downtown near the location where it stands today. It was repainted around 2019. For more, see this website. [map]
Giant Lemon
Elysburg, PA
Giant Lemon
Carlsbad, CA
Giant Lemon [gone]
Oceanside, CA
Giant Lemon
Lake Ozark, MO
Giant Lemon
Davie, FL
The Giant Lemon in Elysburg functions as a lemonade stand at Knoebels Amusement Park.

The Giant Lemon in Carlsbad is identical to the one in Elysburg. It is used as a lemonade stand at the Flower Fields.

The Giant Lemon in Oceanside had been located near the Pier since at least 2006. I believe it was gone by 2018.

The Giant Lemon in Lake Ozark functions as a lemonade concession stand.

The Giant Lemon in Davie is located at Bob Roth's New River Groves. This Lemon is actually a Giant Orange painted yellow. There are also a couple of Giant Oranges at this orange stand and gift shop. [map]
Watermelon Slice
Muscatine, IA
Watermelon Slice
Billings, MT
Watermelon Slice [gone]
Sunset, TX
The Watermelon Slice in Muscatine is installed in front of Mairet's Garden Center which opened in 2009. The Slice was originally placed here by Hoopes Melon Shed. [map]

The Watermelon Slice in Billings was installed in 2022 to advertise for SummerFair. I assume that it was temporary. [map]

The Watermelon Slice in Sunset was installed on a trailer in front of a defunct farmers' market. This photo is from 2011. There was very little that remained of the watermelon in 2015. It was gone by 2018.
Big Slice
Green River, UT
2012:
2023:
The Big Slice is 25 feet long. It was created in the 1950s for the town's annual Watermelon Days festival. This watermelon is now towed around on a trailer but it used to be motorized. It is stored next to the John Wesley Powell River History Museum. It was repainted around 2018. [map]
Watermelons
Green River, UT
These two propane tanks painted as Watermelons are installed in front of Vetere melon stands at opposite ends of town. [left map]; [right map]
Watermelon
Vining, MN
Watermelon
Seminary, MS
The Watermelon in Vining was created from scrap metal by Ken Nyberg. Vining celebrates Watermelon Day every August. This sculpture is one of several pieces installed in Nyberg Park. For more, see this website. [map]

This Watermelon in Seminary was installed at the Watermelon Patch fruit stand by 2008. Since 2015, a shoe store has been there but the giant watermelon remains. [map]
Watermelon
Cordele, GA
Watermelon
Cordele, GA
Watermelon Bus Stop
Ishaya City, Japan
The first Watermelon in Cordele shown above is installed in front of a long-closed gas station. [map]

The second Watermelon in Cordele shown above is displayed next to the Chamber of Commerce in June and July during melon season. Cordele claims to be the Watermelon Capital of the World. [map]

This Watermelon Bus Stop is one of several fruit bus stops in town. [photo thanks Dan Bloom]
Watermelon Water Tower
Luling, TX
Giant Watermelons
Luling, TX
The Watermelon Water Tower is 154 feet tall. Luling calls itself the Watermelon Capital of America and holds an annual Watermelon Thump Festival. For more, see this website. [map]

These Giant Watermelons were installed around 2010 above the Watermelon Shop. The sign and melons were built by Jay Gordon of Blackout Signs & Metalworks in 2011. The store closed in 2015. By 2018, when this photo was taken, the melons had been moved just down the block and installed on roof of the Watermelon Thump Pavilion. The sign text had been changed from "Watermelon Shop.com" to "Watermelon Thump." [map]
Watermelon [gone?]
Bald Knob, AR
Watermelon [gone]
Wilton, IA
The Watermelon in Bald Knob was located in front of Ronnie's Produce Market. It was 25 feet long and made of lacquered cloth over steel. It was originally created for a float used in the town's annual parade. This photo is from 2008. I'm told that this watermelon is gone now.

The Watermelon in Wilton appeared to be a painted propane tank. It was installed behind a building with no identified business name. By 2021, it was gone.
Peach Water Tower
Gaffney, SC
Big Peach [gone]
Byron, GA
Peach Water Tower
Clanton, AL
The Gaffney Peach Water Tower was built in 1981. The leaf itself is 60 feet long. South Carolina produces more peaches than Georgia. There are lots of peach stands on the stretch of I-85 where this water tower is located. Gaffney is home to an annual Peach Festival. For more, see this website. [map]

The Big Peach stood between I-75 and the Big Peach Antiques Mall. It was 75 feet tall, 28 feet in diameter and was mounted on a 100-foot-tall pole. It was installed in 1987 and was made from vinyl over an aluminum frame. It was illuminated at night. In 2011, the Big Peach was knocked from its pole by high winds. It was replaced with a big sign.

Byron had a Peach Water Tower. It has been painted white with the City's name on it.

The Clanton Peach Water Tower is 120 feet tall. It is taller than the one in Gaffney but not as large. It was built in 1992 by the Chicago Bridge & Iron Company which also built the Gaffney Peach. For more, see these websites: 1 and 2. [map]
Peach Park
Clanton, AL
2007:
2020:
Peach Park features another giant peach which has been there since at least 2005. I believe it was installed by the Peach Park market and sandwich shop next door. The market has been there since 1984. The peach has been repainted at least several times and previously had two leaves. [map]
Banana
Bakersfield, CA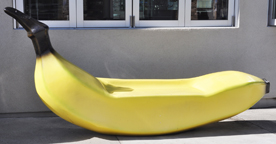 This Banana is used as a bench outside the entrance of Dewar's Candy Shop. It was installed there sometime between 2012 and 2015. [map]
RoadsideArchitecture.com

Copyright. All photos at this website are copyrighted and may only be used with my consent. This includes posting them at Facebook, Pinterest, blogs, other websites, personal use, etc.

Tips & Updates. If you have suggestions about places that I haven't covered, historical info, or updates about places/things that have been remodeled or removed, I'd love to hear from you: roadarch@outlook.com.