(hit "refresh" to get the most recent version of this page; click on photos for larger images)
Central Market
Dallas, TX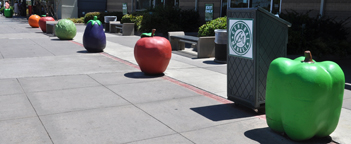 Central Market
Plano, TX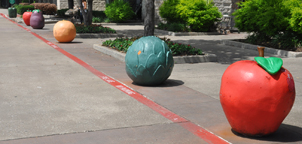 Central Market
Austin, TX
At least three Central Market locations have several giant fruit and vegetable statues in front of the store. The chain was established in 1994 in Austin, TX. There are now about 10 locations. [Dallas map]; [Plano map]; [Austin map]
Cornucopia
St. Petersburg, FL

This concrete Cornucopia was installed in 1971. The seven-foot-long statue features various fruits including: grapes, an apple, a pear, a peach, strawberries, cherries, an orange, and a cantaloupe. [map]
Peck's Farm Market East
Spring Green, WI

Peck's Farm Market West
Spring Green, WI
Peck's Farm Market has two big produce stands just down the road from each other. They also sell other foods and gifts, and feature a petting zoo, horse drawn wagon rides, and a children's play area. Peck's Farm Market was established in 1966. I don't know how long these giant food statues have been here. There is another ear of corn like this one in Indianapolis, IN. For more, see this website. [strawberry photo thanks Mark Comstock] [Peck's Farm Market East map]; [Peck's Farm Market West map]
Giant Banana, Orange, Corn & Strawberry
Fairfield, OH
Giant Strawberry & Pumpkin
Wisconsin Rapids, WI
The Giant Banana, Orange, Corn and Strawberry sculptures in Fairfield are located at Jungle Jim's International Market. For more, see this website. [map]

The Giant Strawberry and Pumpkin were built around 2001. The Pumpkin is about 12 feet tall and eight feet wide. The Strawberry is about 10 feet tall and eight feet wide. They are mounted on poles at Altenburg's Country Gardens. They are brought down for local parades and towed by a tractor (note the wheels). This farm has been here since 1964. [map]
Giant Pumpkin [gone?]
Vandalia, IL
Pumpkin Patch Ride
St. Paul, MN
Pumpkin House
Brainerd, MN
The Pumpkin in Vandalia is made of concrete. This photo is from 2010. I think this Pumpkin might be gone. I can't locate it at Google Street View.

This Pumpkin Patch is a kiddie ride at Como Town, located in Como Park. For more kiddie rides, see this section.

This Pumpkin House is located at Paul Bunyan Land. It may have been moved here from someplace else.
This fiberglass Giant Pumpkin was installed on top of an empty silo at Meyer's Farm Market. The fiberglass pumpkin was built by FAST and had been there since 2004. The first photo above is from 2008. During a storm in 2010, the pumpkin was knocked off the silo and broken. It was rebuilt and reinstalled in 2011. Just weeks later, the new pumpkin was also knocked off the silo. The photos from 2011 above show the remains of both broken pumpkins. There were plans to build a third pumpkin. The other two were covered by insurance. However, the pumpkin is still in pieces on the ground. For more, see this website. [first photo thanks Mark Comstock] [map]
Pumpkin [gone]
Sun Valley, CA
Pumpkin
Danville, IL
Pumpkins
Moriarty, NM
The giant Pumpkin in Sun Valley was located at U Pick Parts when this photo was taken in 2013. In 2015, the business closed. I don't know if this Pumpkin was saved.

The giant Pumpkin in Danville is located at a produce stand. It appears to be made of foam rather than cement. [map]

These two giant Pumpkins in Moriarty are located at McCall's Pumpkin Patch. The one on the left was installed around 2015. The one in the two photos on the right was installed around 2018. [map]
Pumpkin
Lemmon, SD
Pumpkin
Colorado Springs, CO
Pumpkin
Longmont, CO
The giant Pumpkin in Lemmon has been installed in front of a residence since around 2009. It looks like it might be made from rubber. [map]

The 11-foot-tall Pumpkin in Colorado Springs was installed in 2016. It was built by Concrete Couch from 90% recycled materials with community volunteers. [map]

The giant Pumpkin in Longmont has been installed at the Rocky Mountain Pumpkin Ranch since at least 2007. [map]
RoadsideArchitecture.com

Copyright. All photos at this website are copyrighted and may only be used with my consent. This includes posting them at Facebook, Pinterest, blogs, other websites, personal use, etc.

Tips & Updates. If you have suggestions about places that I haven't covered, historical info, or updates about places/things that have been remodeled or removed, I'd love to hear from you: roadarch@outlook.com.