(hit "refresh" to get the most recent version of this page; click on photos for larger images)
Morel Mushroom
Nevada, MO
Giant Mushrooms
Middlebury, IN
Giant Mushrooms
Sutherlin, OR
This Morel Mushroom is about thirty feet tall and is lit at night with spotlights. It advertises for FreshMorels.com which grows and sells morel mushrooms. [map]

These Giant Mushrooms in Middlebury are recreations of those exhibited by Krider Nurseries at the Century of Progress International Exposition at the Chicago World's Fair from 1933-1934. In 1935, parts of the exhibit including these mushrooms were installed here at the Krider's World's Fair Gardens. After Krider Nurseries went out of business, the garden was neglected. The city restored it in 1995.

These Giant Mushrooms in Sutherlin are located at Magic Mushroom/Oregon Gifts. The mushrooms on the roof of the building were built around 2000. The giant joint was made around 2015. The mushroom car is a drive-able golf cart. The sculptures were made from sprayfoam by the owner with the assistance of Steve Fletcher. [map]
Green Pepper
North Hudson, WI
Celery Stalk
Santa Ana, CA
Salad Bowl
Hot Springs, AR
Sugar Beet
Halstad, MN
This giant Green Pepper is located in front of the Village Inn Sports Bar & Grill. The Pepper may only be installed here during North Hudson's annual Pepper Fest. [map]

This giant, bronze Celery Stalk sculpture was installed in 2015. It is a tribute to Japanese-American farmers who worked in California's "Salad Bowl." For more, see this website. [map]

This giant Salad Bowl is installed at the Cafe 1217. The restaurant opened in 1997. The Salad Bowl has been there since at least 2007. [map]

This 21-foot-tall Sugar Beet was built by Josh Porter in 2019. It is installed at the main intersection in town. For more, see this website. [map]
Chile Peppers
Las Cruces, NM

2012:
2017:
This concrete Chile Pepper is 47 feet long. It was installed in 2011 in front of America's Best Value Inn. It was partially concealed behind walls. This VW van in the parking lot has a much smaller chile pepper on the roof. Around 2016, the concrete wall around the chile had been removed and the motel was renamed the Big Chile Inn. [map]
Chile Pepper
Hayward, CA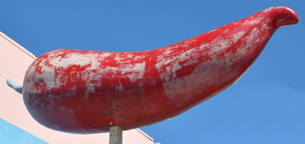 This Chili Pepper is located at Bell Plastics. It was produced by Mark Cline in 2016. [map]
Giant Garlic [gone]
Ann Arbor, MI
Garlicgeese
Gilroy, CA
The Giant Garlic hung above the Quarter Bistro & Tavern since at least 2007. Around 2020, the restaurant had been demolished.

This sculpture, entitled Garlicgeese, was created by Scott Donahue and installed in 2015. It depicts a mother garlic-shaped goose and her five goslings. The figures are made from brass, epoxy, and stainless steel. Gilroy is the garlic capital of the world. [map]
Vidalia Onions
Vidalia, GA
Giant Carrots [gone]
Ann Arbor, MI
These Vidalia Onions are located inside the Vidalia Onion Museum which opened in 2011. For more, see this website.

These Giant Carrots were installed in front of the Food Gatherers food bank which was established in 1988. This photo is from 2011. The Carrots were gone by 2017.
Giant Carrots, Pumpkin, Radish & Onions
Albuquerque, NM
These Giant Carrots, Pumpkin, Radish & Onions are located in the Children's Fantasy Garden at the ABQ Biopark Botanic Garden. The garden opened in 2001.
Giant Lemon? [gone]
Oklahoma City, OK
Masquerade Costume & Tuxedo has what looked like a Giant Lemon on the roof. Does anyone know what this thing was and what the original business was? By 2012, the business was still there but the bulge was missing from the roof.
RoadsideArchitecture.com

Copyright. All photos at this website are copyrighted and may only be used with my consent. This includes posting them at Facebook, Pinterest, blogs, other websites, personal use, etc.

Tips & Updates. If you have suggestions about places that I haven't covered, historical info, or updates about places/things that have been remodeled or removed, I'd love to hear from you: roadarch@outlook.com.