(hit "refresh" to get the most recent version of this page; click on photos for larger images)
These two buildings are examples of Dairy Queen's A-Frame design. It seems that these buildings were only built in Florida since I have found no evidence of them anywhere else.

The Naples location was built in 1963. These photos are from 2009. In 2012, the business moved to a new building. In 2014, the All American Shake Shop opened in the building. The building now houses Turco Taco. [first Naples photo, ca. 1987, thanks Eavenson Art] [map]

This Miami location was built in 1954. This photo is from 2009. In 2012, the roof was painted red and the front of the building was blue. For more, see this website. [map]

There is another one of these buildings in Bonita Springs, FL which now houses Trackside Donuts & Cafe. I believe that location was built in 1968. [map]

There is another surviving A-frame building in Miami.

There was another one of these buildings in Bradenton, FL which has been replaced with a modern building.

If you know of any other Dairy Queen A-frame buildings that still exist, I'd love to hear from you.
Dairy Queen
Port Charlotte, FL
The Dairy Queen has a squattier A-frame design than those mentioned above. It was built in 1961. I suspect that this building may have been adapted from another business. These photos are from 2009. The signs were updated by 2013, but the building remains the same. For more, see this website. [map]

There is also an oddly shaped A-frame Dairy Queen in Sanibel, FL. [map]
former Dairy Queen [gone]
Scottsdale, AZ

2012:
2018: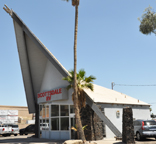 This former Dairy Queen was designed by Haver & Nunn and built in 1964. It was part of the Polynesian Plaza tiki strip mall. The building was referred to as the Polynesian Dairy Queen in phone books at that time. It originally had a thatched roof. As far as I know, this was the only location built like this. The mall itself was demolished in the 1990s. This building housed an Enterprise Rent A Car for many years but it had been vacant since 2009. In 2014, the building was put to use as office space for Scottsdale RV. In 2019, the building was dismantled. The A-frame structure was preserved and will supposedly be used for a shopping center restaurant in Scottsdale.
Dairy Queen [gone]
Richfield, OH
Dairy Queen
Detroit, MI
This Dairy Queen in Richfield has a tiki-like roof element. I have never seen another one like it. I assume the building was adapted for the Dairy Queen. This photo is from 2009. There was also a mini golf next door. By 2013, the building and mini golf had been demolished and replaced with a Subway.

This Dairy Queen in Detroit has a small, box-like building. I suspect this is an old building with a newer pole sign. By 2018, the letters had been removed from the front of the building and modern signs had replaced them. The pole sign had also been replaced with modern "swoosh" panels. [map]
Dairy Queen
Wabash Ave.
Terre Haute, IN

Dairy Queen
13th St.
Terre Haute, IN
This Dairy Queen on Wabash Ave. uses rooftop letters in lieu of a pole sign. [map]

The Dairy Queen on 13th St. has rooftop letters and a pole sign with with a plastic "lips" logo. There is also this one-of-a-kind strawberry sundae sign which was built by the Paulding Sign Company in 1957. It is about six feet tall. It is superimposed over a flashing, bulb-studded chevron which is about 15 feet wide. The only other location that I know of with rooftop letters like these is at this location in Austin, IN. Were these letters a regional thing or just the only ones left? [map]
Dairy Queen
Paris, TX

This Dairy Queen has an extended canopy that I have not seen anywhere else except the one shown below in Sherman, TX. It may have been a regional variation to offer more shade to customers and their vehicles. [map]
Dairy Queen
Sherman, TX
This Dairy Queen has updated its signage as per corporate branding. Up until at least 2016, there were letters on the front of the canopy that read "'Live a Little!' at Dairy Queen Burgers Shakes." There were letters on the side of the building which read "Sundaes Burgers." These photos are from 2018. [map]
RoadsideArchitecture.com

Copyright. All photos at this website are copyrighted and may only be used with my consent. This includes posting them at Facebook, Pinterest, blogs, other websites, personal use, etc.

Tips & Updates. If you have suggestions about places that I haven't covered, historical info, or updates about places/things that have been remodeled or removed, I'd love to hear from you: roadarch@outlook.com.