(hit "refresh" to get the most recent version of this page; click on photos for larger images)
The first Dairy Queen opened in 1940 in Joliet, IL, serving only soft-serve ice cream. By 1947, there were about 100 stores. By 1955, there were 2,600. Today, there are more than 5,900 locations worldwide. In the early 1950s, Dairy Queen developed its slanted roof, rounded corners walk-up building with the classic tilted cone sign. In 1960, the company dropped this design for its barn-like building. For more about Dairy Queen, see this website.
Dairy Queen
Grafton, WV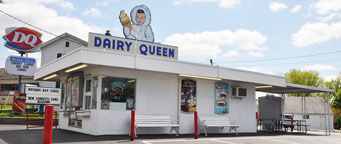 This Dairy Queen was built in 1957 and this Eskimo sign was installed then. This photo is from 2012. In 2016, this sign was meticulously repainted. Dairy Queen's corporate executives would prefer that the sign be taken down since it does not fit with current branding. However, the owner of the Grafton location is holding firm to keep the sign. The original Eskimo signs were porcelain enamel but the signs which still exist have all been painted over. These signs never had neon and were lit with spotlights. In 2019, the building was demolished and rebuilt but the sign was reinstalled on the roof. [map]

A similar sign existed in Wilmington, NC which was a two-piece triangulated sign. It was built around 1950. The sign was removed in 1998 and has been in storage at the Cape Fear Museum since then. This Eskimo character also appeared on the company's cups.
Dairy Freeze was established in the 1950s. Dairy Freeze moved to this location across the street in 1963 and brought the Eskimo sign along. I assume the original location housed a Dairy Queen first. This appears to be a maintained original sign rather than a modern reproduction. [map]

There were other Eskimo signs like these in Watertown, MA and Greenville, SC.
Dairy Queen
Charlotte, NC
This Dairy Queen opened in 1947. It is the oldest location left in North Carolina and the third oldest in the Southeast. The awnings are original or close to it. The two-piece, rooftop Eskimo sign has been repainted and possibly refabricated. The shape is different from the ones in Grafton and Quincy shown above. The Eskimo is also more realistic looking than the original signs. It's possibly that this sign might be the original since the one in Gastonia (see description below) was also a different shape. I believe this paint job is from the 1980s. In 2018, the sign was repainted. The Eskimo's jacket is now blue and she holds a Dilly Bar in one of her hands. [map]
Dairy Queen [gone]
Charlotte, NC
This Dairy Queen opened in 1950. The canopy was originally rounded like the other Charlotte location shown above. The canopy was ripped off the building during Hurricane Hugo in 1989. The signs are obviously modern. This location probably had an Eskimo sign originally. This location closed in 2019.
Dairy Queen
Gastonia, NC
Dairy Queen
Hickory, NC
This Dairy Queen in Gastonia opened in 1949. The neon is not original. This location had an Eskimo sign originally which had a very goofy paint job. I have not seen any other sign or advertising with such a depiction. The vintage photo appears to be from a Grand Opening so that would rule out a later eccentric repainting. [map]

This Dairy Queen in Hickory appears to be from the late 1940s or early 1950s. There was an old sign which was replaced with a modern plastic one. [map]
This Dairy Queen opened in 1950. [map]
The National Animated Sign Co. in Hot Springs, AR developed waving signs in the late 1940s and patented the design in 1951. The company produced many variations of these bellhops including doormen, chefs, butlers, service station attendants, waitresses, cowboys, Indians, and others. All of these signs were about seven feet tall. To notify passing motorists when a store was open or if a motel still had vacancies, the figure's arm moved up and down and the light behind the hand was lit. In 1951, the National Animated Sign Co. produced a clown sign for the local Dairy Queen in Hot Springs. The sign company proposed the name of "Curly the Clown" and hoped that Dairy Queen would use the design nationwide. However, Dairy Queen didn't take them up on the offer and the character was never used in advertising. The Hot Springs clown sign was eventually removed and it is now in a private collection.

The folks at Dairy Queen corporate know nothing about these clown signs and have no explanation for the two other clown signs at the Shelbyville, IN location (see below) or for the one in Richland, MO. The Richland Dairy Queen sign was repainted when the name was changed to Dairy King and again when it became the Burger Stand. There was another clown sign in Bowling Green, KY. The National Animated Sign Co. also built similar clown signs for other ice cream stands. There was also a Dutch Girl in Wytheville, VA which held an ice cream cup just like these Dairy Queen clowns. I don't know if that sign originally advertised for Dairy Queen.
Circus Drive-in [gone]
Seelyville, IN
I'm told that this sign came from the Circus Drive-in in Lyford, IN. It may have been moved to Seelyville in the 1980s. There was no sign of an ice cream stand there. I also don't know if this sign was sold directly to a Circus Drive-in or if it was at a Dairy Queen before that. This sign was still there in 2013 but gone by 2018.
Dairy Queen
Shelbyville, IN


This is the only Dairy Queen location with a Curly the Clown sign. Apparently, the National Animated Sign Co. sold or donated this sign to this stand around the time that it tried unsuccessfully to convince Dairy Queen to use these signs nationally. Other than the signs in Richland, MO and the possible DQ sign in Seeleyville mentioned above, I don't know of any other Dairy Queen signs that were either built or that have survived. The cone in this clown's hand is still lit at night but the arm no longer moves. [map]
Big Top Drive-in
Evansville, IN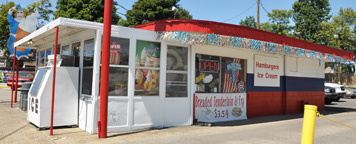 The Big Top Drive-in opened in 1950. This clown sign was installed sometime after that. The design is slightly different from the Dairy Queen clown. This Evansville sign has more of an hour glass shape and the clown's hair next to the ice cream is outlined more deeply. This sign still bears the National Animated Sign Co. tag on the side. The Big Top clown's arm waves most of the time and the cone in his hand is lit. In 2022, the owner was planning to have the sign repainted. [map]
RoadsideArchitecture.com

Copyright. All photos at this website are copyrighted and may only be used with my consent. This includes posting them at Facebook, Pinterest, blogs, other websites, personal use, etc.

Tips & Updates. If you have suggestions about places that I haven't covered, historical info, or updates about places/things that have been remodeled or removed, I'd love to hear from you: roadarch@outlook.com.