(hit "refresh" to get the most recent version of this page; click on photos for larger images)
Dairy Queen
Pawcatuck, CT
Dairy Queen
Riverside, CA
former Dairy Queen
Carmichael, CA
The Dairy Queen in Pawcatuck has been here since 1954. [map]

The Dairy Queen in Riverside was built in 1958. There was another location in town which was built the same year. That one was demolished in 2011. There must have been a rooftop neon sign at this building originally. The pole sign was a later addition. Dairy Queen's "lips" logo was developed in 1960. This photo is from 2013. In 2018, the panel was changed to read "DQ". [map]

The former Dairy Queen in Carmichael has housed a Tugboat Fish & Chips since at least 2007. [map]
Dairy Queen
New Castle Rd.
Butler, PA
Dairy Queen
Pittsburgh Rd.
Butler, PA
There were two Dairy Queens in Butler. They both appear to be from the 1950s. The New Castle Rd. location opened in 1954. In 2018, that location closed after a dispute with Dairy Queen corporate. It reopened a few months later as Edwards Ice Cream. The rooftop sign is gone now. [New Castle Rd. map]; [Pittsburgh Rd. map]
Dairy Queen
Wheeling, WV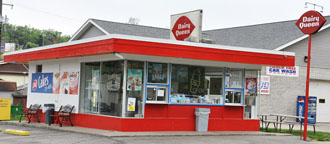 This Dairy Queen probably had a neon sign originally like the other ones on this page. For more, see this website. [map]
Dairy Queen
Buckhannon, WV
This Dairy Queen opened in 1954. [map]
Dairy Queen
Paynesville, MN
Dairy Queen
Janesville, MN
This Dairy Queen building most likely started out with a flat roof. The original sign was then reinstalled on top of the peaked roof addition. [map]
Dairy Queen
Starbuck, MN
Dairy Queen
Albuquerque, NM
This Dairy Queen location in Starbuck opened in 1956. However, this sign was not there in recent years. It was installed around 2008, however, it appears to be a vintage sign not a reproduction. It may have come from another location or the original sign may have been in storage. [map]

This Dairy Queen in Albuquerque appears to be from the 1950s. [map]
Dairy Queen [gone]
Willmar, MN

This Dairy Queen appears to be from the 1950s. This photo is from 2011. In 2015, this location closed and the rooftop sign was gone. By 2018, a gable roof had been added and the building was housing a used car lot office.
This Dairy Queen was built in 1947. It was the first location built in Minnesota. I believe this "control tower" design may have been unique. Or, if not, there don't seem to be any other buildings left like this. In 2010, the building was listed on Minnesota's 10 Most Endangered Historic Places by the Preservation Alliance of Minnesota. These photos are from 2011 and the building was still there as of 2016. [map]
Dairy Queen
Montvale, NJ
This Dairy Queen opened around 1951. There is a neon cone inside the store but I don't know if it's the one from this sign. For more, see this website. [map]
Dairy Queen
Bedford, VA
This Dairy Queen is probably from the 1950s. The sign is either a replacement or it has been repainted. The red paint and lower case letters are unique. [map]
RoadsideArchitecture.com

Copyright. All photos at this website are copyrighted and may only be used with my consent. This includes posting them at Facebook, Pinterest, blogs, other websites, personal use, etc.

Tips & Updates. If you have suggestions about places that I haven't covered, historical info, or updates about places/things that have been remodeled or removed, I'd love to hear from you: roadarch@outlook.com.