(hit "refresh" to get the most recent version of this page; click on photos for larger images)
River Diner [gone]
New York, NY
The River Diner was a Kullman from the early 1930s. It was demolished in March 2004. [second photo thanks Mark Comstock]
Cheyenne Diner [gone]
New York, NY (now Birmingham, AL)
The Cheyenne Diner is a Paramount from 1940. It was known as the Market Diner until 1986. These photos are from 2003. The Cheyenne closed in 2008 and was moved to Birmingham, AL. It was put in storage and nothing has been heard about it since then. For more, see these websites: 1, 2, 3, and 4.
Empire Diner
New York, NY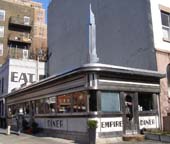 The Empire Diner is a Fodero from 1946. This photo is from 2009. In 2010, the Empire Diner closed. The stylized Empire State Building sculpture on the roof which was added in 1976 was removed. In 2011, this diner reopened as the Highliner but it closed again in 2012. It reopened in 2013 as the Empire Diner. It has opened and closed a few times since then. It was open in 2019 but the diner was hidden behind umbrellas for outdoor dining. For more, see these websites: 1, 2, and 3. [map]
Lunchbox Food Co./Rib Restaurant [gone]
New York, NY
2003:
2007:
2009: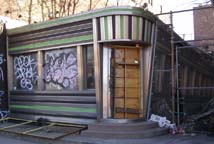 The Rib Restaurant was the last inhabitant of this Kullman diner from the 1950s. The diner was originally known as the Terminal Diner, then later known as the Lost Diner (1991), Seafood Organic (1997), the Video Diner (1999), the Reel Diner and Miss Liberty Diner. It was restored and reopened in 2002 as the Lunchbox Food Co. The Rib Restaurant took over in 2005 but closed in 2006. It remained vacant, vandalized and boarded up after that. The diner was still there in 2014 but gone by 2016. For more, see these websites: 1, 2, 3, and 4.
Market Diner [gone]
New York, NY

2003:
The Market Diner is a DeRaffele from 1964. At one time, there were approximately eight Market Diners in New York City, owned by the same family. This was the last one to open. In 2006, this Market Diner closed and demolition for condos seemed imminent. However, in 2008, this diner reopened. A patio area was added and the vintage sign was reworked. In 2015, this diner closed for good. It was demolished in 2016. For more, see these websites: 1 and 2.
RoadsideArchitecture.com

Copyright. All photos at this website are copyrighted and may only be used with my consent. This includes posting them at Facebook, Pinterest, blogs, other websites, personal use, etc.

Tips & Updates. If you have suggestions about places that I haven't covered, historical info, or updates about places/things that have been remodeled or removed, I'd love to hear from you: roadarch@outlook.com.