(hit "refresh" to get the most recent version of this page; click on photos for larger images)
Miss Albany Diner
Albany, NY
The Miss Albany Diner is a Silk City (#4195) from 1941. It is still at its original location. It was once known as Lil's Diner. In 1986, it was restored for the filming of the Albany-based movie "Ironweed". This diner is listed on the National Register of Historic Places. In 2012, the diner was sold and reopened as Sciortino's Italian Restaurant. Some minor changes were made to the interior. That restaurant closed in 2015. The diner is now housing the Tanpopo Ramen and Sake Bar. The cow head is gone now. For more, see these websites: 1 and 2. [map]
Jack's Diner
Albany, NY
Jack's Diner is a 1948 Comac. It is one of only two Comac diners left. The other is the Tastee Diner in Laurel, MD. Just after these photos were taken in 2010, Jack's Diner closed when the owner retired. A new owner reopened the diner later that year. It has been repainted red and yellow. For more, see this website. [map]
Quintessence Diner [gone]
Albany, NY

2007:
2009 & 2010:

The Quintessence Diner is a Fodero from 1948. It closed around 2004 and then finally reopened in 2009. New owners painted the diner's trim black in 2008. In 2012, the Albany Medical Center purchased the property and the diner closed. This diner was demolished in 2015. For more, see this website.
West Taghkanic Diner
Ancram, NY
The West Taghkanic Diner is a Mountain View (#399) from 1953. The sign is original and was built in 1955. The diner originally was named the Taghkanic Chief and the sign was altered after a change in ownership. The first photo is from around 2001 when the sign was painted a darker color. The other photos are from 2010. In 2023, it was announced that the sign was being removed due to the offensive image of a Native American. For more, see this website. [map]
Hunter Dinerant
Auburn, NY
Auburn Diner
Auburn, NY
Danny's Diner
Binghamton, NY
The Auburn Diner is a Bixler from the 1930s. It was damaged by fire in 1994 and moved here in 2000. The diner was completely restored and reopened in 2003. [map]

Danny's Diner is a Sterling (#396) from 1939. [map]
Woodlawn Diner
Blasdell, NY
I believe the Woodlawn Diner was built on-site in 1952. In 2022, the red panels were covered with silver metal panels. [map]
Bolton Service Diner (later Bolton BBQ)
Bolton, NY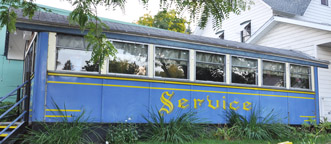 The Bolton Service Diner is a 1946 Worcester (#791). It was originally located in Providence, RI where it was known as Mancini's Service Diner. It was moved to Plainville, MA and renamed Don's Diner. It then was moved to Attleboro, MA where it was named the Red Rock Diner (1969-1972) and later Eddie's and Myle's Service Diner (1973-1987). The diner was moved to Bolton Landing in 1990 and is known as Bolton Beans. It later became Bolton BBQ which is closed now. For more, see this website. [map]
RoadsideArchitecture.com

Copyright. All photos at this website are copyrighted and may only be used with my consent. This includes posting them at Facebook, Pinterest, blogs, other websites, personal use, etc.

Tips & Updates. If you have suggestions about places that I haven't covered, historical info, or updates about places/things that have been remodeled or removed, I'd love to hear from you: roadarch@outlook.com.