(hit "refresh" to get the most recent version of this page; click on photos for larger images)
New Ideal Diner
Aberdeen, MD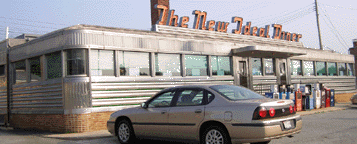 The New Ideal Diner is an O'Mahony (#2206) from 1952. This 100-seat diner was delivered to this site in four sections. This diner closed around 2011. The neon letters were removed from the roof around 2018. By 2019, it was housing TopFlight Seafood. For more, see these websites: 1 and 2. [map]
Hollywood Diner
Baltimore, MD

2007:
2010: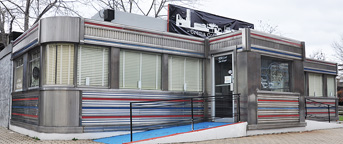 The Hollywood Diner is a Mountain View (#326) from 1954. It was originally located in Westbury, NY and remained there until the early 1980s. It has moved around Baltimore a few times since then. It has been used as a movie location a few times (hence the name). In 2009, the ownership and name changed to "Crema Coffee Co. at the Hollywood Diner". In 2011, the Red Springs Cafe became the diner's new occupant. In 2012, the diner changed hands again and was now known as Thomasino's Pizza Subs & Pasta. That business left in 2014. Since 2015, the diner is used as dining space in conjunction with food trucks which park on the same lot. For more, see this website. [map]
Happy Day Diner [gone]
Baltimore, MD
The Happy Day Diner is a DeRaffele from 1959. It was previously known as the Double T Diner. By 2015, there was a used car dealership on the lot. The diner was still there in 2017 but gone in 2018. I don't know if it was moved or demolished. For more, see this website.
Frank's Diner
Jessup, MD
Frank's Diner is a Kullman Princess from 1959. This diner was originally the Olympia Diner and located in Carneys Point, NJ. It was moved here in 1996. The diner closed in 2017. In 2019, the interior was gutted and began housing the Tobacco Leaf. [map]
Tastee Diner
Laurel, MD
The Tastee Diner is a Comac diner from 1951. In 2018, it was announced that the diner is going to be gutted and remodeled. For more, see this website. [map]
RoadsideArchitecture.com

Copyright. All photos at this website are copyrighted and may only be used with my consent. This includes posting them at Facebook, Pinterest, blogs, other websites, personal use, etc.

Tips & Updates. If you have suggestions about places that I haven't covered, historical info, or updates about places/things that have been remodeled or removed, I'd love to hear from you: roadarch@outlook.com.