(hit "refresh" to get the most recent version of this page; click on photos for larger images)
Relish Restaurant
Brooklyn, NY
The Relish Restaurant occupied a Mountain View from 1952. These photos are from 2009. The diner closed in 2010. In 2011, it reopened as the Cafe de La Esquina, a Mexican restaurant. In 2014, it was announced that an apartment building would be built on the site. The diner closed in 2019. However, in late 2019, the diner was still there and housing Carol & Dottie's Diner. It now houses Blank Street Coffee. [map]
Lindenwood Diner
Brooklyn, NY

The Lindenwood Diner is a DeRaffele from about 1962. For more, see this website. [map]
Jackson Hole Diner
East Elmhurst, NY
The Jackson Hole Diner occupies a Mountain View (#441) from 1952. The diner was originally known as the Airline Diner. It features a great, working neon sign with an airplane (the diner is not far from La Guardia Airport) and extensive neon Greek scrollwork (a reference to the Greek diner tradition). The interior is small and has what appears to be an original pink and black color scheme. For more, see this website. [map]
Carmichael's Diner [gone]
Jamaica, NY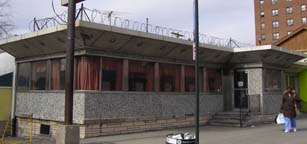 Carmichael's Diner was a 1950s DeRaffele. It had been closed since at least 2007. This photo is from 2009. The diner was gone by 2013 and was most likely demolished.
former Blue Sky Diner
Long Island City, NY
The Blue Sky Diner was housed in a Mountain View from 1954. It was previously known as the Skyline Diner, the Ocean Diner, and the Golden Fountain. The diner appeared to be vacant when these photos were taken in 2009. From 2010-2011, it operated as M. Wells, aka Magasin Wells. In 2012, the diner was still vacant. In 2013, the diner was restored for the Adelfia Sports Bar. The exterior was covered up with black paneling at that point. The building is now vacant again. [map]
Five Star Banquet
Long Island City, NY
New Thompson's Diner
Long Island City, NY
The Five Star Banquet is a Kullman from around 1962. All that remains of the diner now is this canopy. This photo is from 2009. The diner was vacant in 2014. By 2016, it had reopened as the Five Star Bar & Grill, an Indian restaurant. The canopy was still there. For more, see this website. [map]

The New Thompson's Diner is from the 1950s and might be a Master diner. [map]
Clinton Diner
Maspeth, NY
The original Clinton Diner was built in 1935 and was a square building. Around 1955, a Kullman diner replaced it. Around 1965, the diner got a makeover by DeRaffele. These photos are from 2009. Around 2014, the diner was renamed GoodFellas Diner. [map]
RoadsideArchitecture.com

Copyright. All photos at this website are copyrighted and may only be used with my consent. This includes posting them at Facebook, Pinterest, blogs, other websites, personal use, etc.

Tips & Updates. If you have suggestions about places that I haven't covered, historical info, or updates about places/things that have been remodeled or removed, I'd love to hear from you: roadarch@outlook.com.