(hit "refresh" to get the most recent version of this page; click on photos for larger images)
This Longhorn Bull sculpture is installed next to a historic marker which was installed in 1968. I don't know if the Longhorn was built at the same time or it came before or after the marker. In the early 20th century, Bovina was one of the largest cattle shipping points in the country. [map]
Bull [gone]
Woodbury, CT
The Bull statue in Woodbury appeared to represent a Longhorn. It stood in front of Javs Mexican Grill. By 2012, the restaurant had closed and the statue was gone.
Uncle Frank's German Food [gone]
Radcliff, KY
El Capitan
Dodge City, KS
The Uncle Frank's German Food bull was installed on the roof of the restaurant. This photo is from 2010. By 2013, the restaurant had closed but the statue was still there. It was gone by 2016.

This bronze statue of El Capitan, a Longhorn bull, was installed downtown in 1980. It was created by Jasper D'Ambrosi. [map]
Longhorn Bull
Livingston, TX
Bull [gone]
Akron, OH
The Longhorn Bull statue in Livingston is installed in front of Richard's Pawn Shop. [map]

The Bull in Akron was a metal sculpture. It appeared to represent a Longhorn bull. It was installed on a trailer in front of Felons For Hire. These photos are from 2009. By 2013, the business and the Bull were gone.
Longhorn Bulls
Plano, TX
These bronze Longhorn Bull sculptures were produced by Robert Summers. They were installed next to the Baccus Cemetery in 2005. These photos show just a few of the 22 statues in this depiction of a cattle drive. [map]
Longhorn Bulls
Fort Worth, TX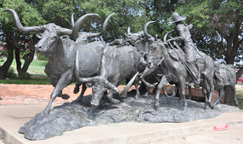 This Longhorn Bull sculpture is installed in front of the Texas Longhorn Breeders Association World Headquarters & Museum. The sculpture was created by T.D. Kelsey in 1984 and is entitled "Texas Gold." At 29 feet wide, it is one of the largest cast bronze statues in the world, [map]
Cattle Drive
Frisco, TX

The Cattle Drive was created by Anita Pauwels in 2003. The bronze sculptures and murals are located in Frisco Central Park. It depicts the late 19th century cattle drive and life on The Shawnee Trail. When viewed from above, the park is shaped like a longhorn head. [map]
Bulls
(page 4)
Bulls
(page 5)
Bulls
(page 6)
Bulls
(page 7)



RoadsideArchitecture.com

Copyright. All photos at this website are copyrighted and may only be used with my consent. This includes posting them at Facebook, Pinterest, blogs, other websites, personal use, etc.

Tips & Updates. If you have suggestions about places that I haven't covered, historical info, or updates about places/things that have been remodeled or removed, I'd love to hear from you: roadarch@outlook.com.