(hit "refresh" to get the most recent version of this page; click on photos for larger images)
Wild Goose Monument
Wawa, ON
Goose
Fergus Falls, MN
The first version of the Wild Goose was built of plaster over chicken wire, making it too vulnerable to the weather. It was constructed in 1960 to commemorate the final link in the TransCanada Highway. This is the third goose that was built. It was created by Ed Solonyka and erected in 1963. It is 22 feet long, 28 feet tall, with a wingspan of 20 feet. Wawa means "wild goose" to native Ojibway Indians who based the word on the "wa-wa" sound of geese flying overhead. In 2014, fundraising began to build a replica of the corroded sheet metal statue. [map]

There are two other Giant Geese in Wawa. For more, see this website.

The Goose in Fergus Falls has a wingspan of about 20 feet. It was built in 1972. The steel sculpture moves with the wind like a giant weathervane. It is installed next to the Otter Tail County Historical Museum. For more, see this website. [map]
Goose
Saginaw, MI (now Bay City, MI)
This Goose is located at Blohm's Service Center. The owner liked geese and had this one built and installed on the roof around 1971. It was modeled after the goose statue in Wawa described above. These photos are from 2011. Blohm's closed around 2012 and the goose was removed. It is now located at Duncan's Outdoor Shop in Bay City, MI. [map]
This Goose, known as "Maxie", was built in 1976. The name was derived from the Latin name for goose, Branta caradehsis makimus. The statue is 40 feet tall and has a 61-foot-wide wingspan. Sumner claims to be the Wild Goose Capital of the World. Maxie is the largest goose in the world. For more, see this website. [map]
Golden Goose
Longmont, CO
2012:
2023:
The Golden Goose in Longmont was located in front of Old Town Outfitters. The statue was installed during the Geese Galore civic art project. In 2002, 22 seven-foot-tall geese were displayed around town. They were all decorated differently in coordination with the businesses they stood in front of. I believe most of the statues were auctioned off. In 2020, this statue was installed in front of the Longmont Christian School where she has been nicknamed "Mother Goose." By 2023, the statue was installed in the field behind the school. For more, see these websites: 1, 2, and 3. [map]

Three other surviving geese are located at Blue Ribbon Farm, The Flower Bin, at a used car dealership, and inside the Civic Center. The Ben Franklin Goose was vandalized and removed.
Goose
Longmont, CO
Goose
Squaw Lake, MN
This Goose sculpture in Longmont has been installed on the roof of the Left Hand Brewing Company since at least 2007. It was also built for the Geese Galore civic art project and is entitled the "Iron Clad Robo-Goosinator." [map]

This Goose in Squaw Lake was installed in 1992. A plaque next to the statue identifies Squaw Lake as the birthplace of Geese Unlimited in 1984. [map]
Mother Goose
Davenport, IA
The Mother Goose was used as the entrance to Mother Goose Land, a kiddie park built in the 1950s. It closed in the early 1970s. The property is now Fejervary Park. For more, see this website. [map]
Mother Goose Restaurant
Hazard, KY
The Mother Goose Restaurant was built by George Stacy who got the idea from a dream. He started working on the house in 1935 and finished it in 1940. The building is 45 feet long and 28 feet wide. The outside is from local sandstone and it has eight egg-shaped windows. The Goose's eyes had car lights that used to blink at passing motorists. An adjacent stone structure resembles three eggs (two were used as a service station and one as a market).

The building was originally planned as a home and Stacy and his wife lived there for many years. Eventually, it became a grocery store and restaurant. At some point, gas pumps were added out front but they are gone now. These photos are from 2001. Since 2010, the building has been used as a hotel known as the Mother Goose Inn. In 2021, the Goose feature collapsed and fell off of the building in high winds. It was restored shortly after that. [map]
Flying Geese
Omaha, NE

These bronze Flying Geese are part of the "Spirit of Nebraska's Wilderness" sculpture group which also includes buffalo and a covered wagon scene. The sculptures were created by Kent Ullberg and installed in 2002. The 58 geese continue to the inside of the First National Tower across the street. [map]
More Geese:
Penny the Goose (Lucerne, CA) [gone]
Fox & Goose (Sacramento, CA)
Goose (Longmont, CO)
Goose (Longmont, CO)
Goose (Montezuma, NY)
Golden Goose (Las Vegas, NV)
3 Geese: 1, 2, 3, (Hanna, AB)
Snow Goose (Dunrea, MB)
Goose (Cabri, SK)
Goose (Longue-Rive, QC)
The Big Duck
Hampton Bays, NY

at the Duck's former location in Flanders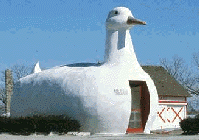 The Big Duck around 2001 (decorated for the holidays)
| | |
| --- | --- |
| | |
The Big Duck is one of the finest remaining examples of mimetic roadside architecture. In fact, similar types of buildings, shaped like animals, food, etc., are referred to as a "duck architecture" in reference to this structure.

The Duck started out as a store for farmer Martin Maurer and his wife to sell their Peking ducks. From the 1920s to the 1950s, three quarters of American ducks were produced in Long Island. In the 1950s, there were more than 70 other duck farms nearby. But today, there are only 4 duck farms left on Long Island.

The Maurers got their idea while on a trip to California (inspired by eating in a teapot-shaped luncheonette). They hired a couple of unemployed theatrical designers during the Depression. The plans for the duck were drawn from an actual duck tied to a porch with a piece of string. The Duck was finished in 1931. It is 20 feet tall, 30 feet long, and 15 feet wide. It weighs 10 tons.

Ford Model T taillights were used for the Duck's eyes (they still work and glow red at night). Today, the interior is used for Big Duck souvenir gift shop. In December, the Duck is decked out with garlands and ornaments for the holiday season.

The Duck has been moved a few times. In 1936, the Duck was moved from Riverhead to Flanders where it continued to sell eggs and processed ducks. The Duck closed in 1984 and, in 1988, it faced demolition and was moved to Hampton Bays. It's possible that the Duck may return to its previous Flanders site in order to preserve a dozen old farm buildings in order to give the property a national historic site designation. (The Duck is on the National Register of Historic Places). There was a tribute to this Duck at Island Green Golf in Selden, NY. For more, see these websites: 1 and 2. [map]
RoadsideArchitecture.com

Copyright. All photos at this website are copyrighted and may only be used with my consent. This includes posting them at Facebook, Pinterest, blogs, other websites, personal use, etc.

Tips & Updates. If you have suggestions about places that I haven't covered, historical info, or updates about places/things that have been remodeled or removed, I'd love to hear from you: roadarch@outlook.com.