(hit "refresh" to get the most recent version of this page; click on photos for larger images)
Duck
Blackduck, MN
Duck
Blackduck, MN
Duck
Blackduck, MN
The first Duck in Blackduck shown above is located downtown next to the Fire Department. This "original duck" was created in 1942 to replace a previous statue. It is made of cement and resembles a wood carved hunter's decoy. It is 16 feet long.

The second Duck in Blackduck shown above is located at the Drake Motel. It is about five feet long and made of paper mache and wood. [map]

The third Duck in Blackduck is the newest of the three statues. The fiberglass statue was created by FAST Fiberglass and installed in Wayside Park in 1983. [map]

For more, see this website.
Mallard Duck
Mallard, IA
This Mallard Duck is at the entrance to town which bears the same name. [map]
This Mallard Duck was built in 1960 by Elmer Olson. The statue is about 26 feet tall and is made of concrete and steel. The text around the base reads Land of Ducks, Fishing, Farming, Hunting, Living. The statue is located next to the Traverse County Fairgrounds. For more, see this website. [map]
Duckmobile [gone]
Houston, TX
This Duckmobile came from the "Batman Returns" roller coaster at the now-gone Astroworld in Houston. I believe it is a replica of the one that the Penguin drove in the 1992 movie. This Duckmobile was parked next to this Drury Inn since at least 2008. These photos are from 2011. It disappeared around 2013. The original Duckmobile is or was located in Hollywood, CA.
Rubber Duck
New Braunfels, TX
Rubber Duck
Vassar, MI
This Rubber Duck in New Braunfels is installed on the roof of Got Toys. The store opened in 2012. There was another Got Toys with this statue in Gruene, TX. The statue is still there but the business is known as You Quack Me Up Toy & Gift Emporium. There was another location in Wimberley, TX which has closed. I don't know if the statue is still there. [map]

This Rubber Duck float advertises for Vassar's annual Riverfest which includes a rubber duck race.
Rubber Duck
Oxnard, CA
2015:
2021:
This Rubber Duck in Oxnard was installed on the roof of Pacific Coast Re-Bath in 2015. The statue was produced in Los Angeles from durable foam. It was gone by 2016. In 2021, he returned with new eyes and eyelashes. He is now displayed on top of a trailer in front of the store. [map]
Rubber Duck [gone]
S. Grand St.
Amarillo, TX
Rubber Duck [gone]
Coulter St.
Amarillo, TX
These Rubber Ducks are installed in front of Quick Quack Car Washes. The company was established in 2004 as the Splash & Dash Car Wash with the first location in Sacramento, CA. There are now more than 30 locations in Utah, Texas, California, and Colorado. This duck mascot is named Quackals. He also appears as a human dressed in a duck costume for promotions and special events. I don't know how many statues were built but I believe these were the only two in Amarillo. The Duck on S. Grand was gone by 2018 and by 2019 there was a different car wash chain there. The statue on Coulter St. was gone by 2018. I believe there is only one statue per region and they are moved around. There is another one in Colorado Springs, CO. It was still there in 2019.
Rubber Duck [gone]
Albany, IN
Rubber Duck
Vevay, IN
Daffy Duck
Casper, WY
The Rubber Duck in Albany was located at Pete's Duck Inn, a restaurant and bar. The restaurant was remodeled as Pete's Bar & Grill around 2018 and the duck statue was removed.

The Rubber Duck in Vevay is installed on a trailer in front of Little Lambs Daycare. [map]

This Daffy Duck statue is installed in front of Sanford's Grub & Pub. There is also a Bugs Bunny statue here. These fiberglass statues are about 30 feet tall. These statues were originally installed in 1994 at the Warner Bros. Studio Store in Atlantic City, NJ. They were removed in 2001. There are about 10 Sanford's locations in WY, CO, SD, and ND. This is the only location with the statues. I believe it opened around 2007. [map]

There is a smaller Daffy Duck statue at the Warner Bros. Studio in Burbank, CA.
Coot
Ashby, MN
Loon
Virginia, MN
This Coot statue is about 10 feet tall. It was made of concrete and metal. The weight of the wings requires this bracing. It was built in 1991 by Steve Morgan for "Coots Unlimited", a local sportsmen club. [map]

The Loon in Virginia was installed on Silver Lake in 1982. It replaced a smaller loon from 1979 which was vandalized. This fiberglass statue is tethered by a cable to the bottom of the lake. It is about 21 feet long and known as "Ginny". The statue is put in storage during the winter months. [map]
Loon
Lakeland, FL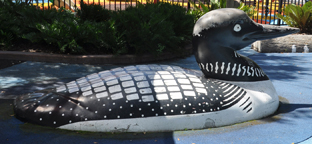 This Loon statue is installed in the Barnett Family Park playground area. The park opened in 2004. [map]
This Loon statue is 20 feet tall and made of concrete. It was installed here next to Long Lake in 1963. The loon is the Minnesota state bird. [map]
This 16 feet tall Loon is nicknamed "Claire d'Loon". The statue has been here since 1981 and had a box that produced loon sounds. The voice box is being restored in 2015. Mercer claims to be the Loon Capital of the World. [map]
Loon Car
Park Rapids, MN
This Loon Car was created by Wayne Shilson in 2005. The car was pulled in local parades but has been retired. It is located behind the Park Rapids Information Center. For more, see this website. [map]
RoadsideArchitecture.com

Copyright. All photos at this website are copyrighted and may only be used with my consent. This includes posting them at Facebook, Pinterest, blogs, other websites, personal use, etc.

Tips & Updates. If you have suggestions about places that I haven't covered, historical info, or updates about places/things that have been remodeled or removed, I'd love to hear from you: roadarch@outlook.com.