(hit "refresh" to get the most recent version of this page; click on photos for larger images)
Fox
McLeansboro, IL
Foxes
St. Charles, IL
The Fox in McLeansboro is about seven feet tall and is installed on the football field at Hamilton County Junior & Senior High School. The school's teams are known as the "Foxes". The statue was originally located at McLeansboro High School. For more, see this website. [map]

The Foxes in St. Charles are installed on the Main Street Bridge which spans the Fox River. There are two pairs of these statues. They were cast in France in 1927 and represent the Four Sons of Charlemagne. [map]
Fox Chevrolet [gone]
Timonium, MD
Fox Chevrolet [gone]
Baltimore, MD
former Fox Chevrolet [gone]
Baltimore, MD
These three foxes were built for Fox Chevrolet. There was another location in Laurel, MD but it did not have a statue. The Fox Chevrolet dealership was established in Baltimore around 1935. The name came from the company's owner, Lou Fox. I believe these rooftop statues were created in the 1970s. The statue shown on the far right remained although the building was occupied by a church. This building was previously used as Fox Chevrolet's used car lot. It is located just down the street from the dealership. These fox statues may have been inspired by Lincoln-Mercury Cougar statues. In 2013, these Fox Chevrolet dealerships became AutoNation Chevrolet dealerships. All three Fox statues were destroyed during the remodeling. The former used car lot building that was used by a church is now used as AutoNation's used car lot.
Fox & Goose
Sacramento, CA
This Fox & Goose sculpture was installed in front of the Fox & Goose Pub in 2011. The bronze sculpture is about five feet tall. It was created by Richard Ratcliff. [map]
Wolf
Aberdeen, SD
This recycled steel Wolf sculpture was created by John Lopez in 2019. It is installed at Northern State University, home of the Wolves. [map]
Wolf
Lemmon, SD
Howling Wolf
Oakland, CA
Beerwolf [gone]
Columbus, OH
The Wolf sculpture in Lemmon was created by John Lopez from scrap metal. It was installed sometime after 2016 at the Kokomo Gallery which displays other works by Lopez. [map]

This Howling Wolf sculpture was installed in front of Cold Ice Inc. in 2017. By 2020, the fabric on the Wolf had completely disintegrated from the sun and wind. All that is left is the rebar frame. It is still there in 2022. [map]

This Beerwolf was about seven feet tall. It was installed on someone's front porch. These photos are from 2009. By 2010, the statue was gone. These statues were mass-produced by Coors to promote Coors Light Beer. They wear a "Beerwolf" belt buckle. [photos thanks Mark Comstock]
Dempewolf Ford Lincoln Mercury
Henderson, KY
This wolf, aka "Wolfie", is installed at the Dempewolf Ford Lincoln Mercury dealership. The one-of-a-kind statue was created in the early 1980s and is about 15 feet tall. These photos are from 2010. The wolf now has yellow pants. Around 2018, the dealership changed names and the statue was moved further back on the lot, behind a fence. [map]
This Gopher was installed in 2019 on the roof of Topo, a walk-up burrito and snack stand. The owner originally wanted to the entire building to be in the shape of a gopher. However, he settled on the 7-foot-tall upper torso on the roof. It is made of styrofoam and steel. Topo means mole in Spanish. For more, see this website. [map]
This Gopher greets visitors to the Minnesota State Fair. The mascot's name is Fairchild and this concrete statue of him was created in 1966. He holds a pair of tickets in his right hand. Another gopher statue, Fairborne (Fairchild's nephew), was added in 1983. I think that might have only been a wood carving. Does anyone have a photo of him? [map]
Beaver
Lee, MA
This Beaver is installed in front of Beaver Self Storage, previously known as Beaver Auctions and Appraisals. The statue was created by the owner's sister, Susan Carty. It was originally made of hay over chicken wire. When the statue started to deteriorate, it was spray painted brown. At some point, the Beaver was decapitated by a vandal. The sculpture was then moved back inside the property's fence. The head was replaced and concrete was added to the statue to protect it. The statue is about ten feet tall. [map]
This Beaver holds a cow chip. In 1970, the city of Beaver proclaimed itself the "Cow Chip Throwing Capital of the World" and holds an annual contest. This statue is installed on a trailer and moved to different locations around town.
This Beaver stands in front of Augusta High School. The school's sports teams are known as the Augusta Beavers. This fiberglass statue is obviously from the same mold as the one in Beaver, OK above. I believe this one was built first. [map]
Slappy the Giant Beaver [gone]
Houston, TX
Slappy the Giant Beaver was installed in front of Beaver's in 2017 when the restaurant/bar opened. The statue was built by David Adickes. The Beaver was dressed in different outfits. In 2019, Beaver's closed and the statue was removed around 2021. For more, see this website.
This Beaver is a fiberglass statue created by Hamm's Beer. The beaver was depicted chopping down trees in Hamm's TV commercials. This one was used at a bar and is probably from the mid-1970s. Somewhere along the line, he was repainted to look like a skunk. He is now in a private collector's hands and will be restored to his original colors. For more, see this website. [photos thanks Vintage Roadside]
Beavers
Bastrop, TX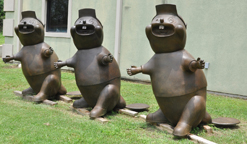 This Beaver in Melissa is installed at a Buc-ee's, a huge gas station with a just as huge convenience store. The company was founded in 1982 and there are now about 35 Buc-ee's locations in East Texas, with a few locations in Alabama, Georgia, and Florida. The Melissa location opened in 2019. The beaver statues were designed by Clint Howard in 2012, based on the Buc-ee's logo. The metal statues are produced at his Deep in the Heart Art Foundry (bottom photo above) in Bastrop, TX. The statues are fabricated in 12 pieces which are welded together. Most or all of the Buc-ee's locations have these five-foot-tall statues now. For more, see this website. [Melissa map]; [Bastrop map]
RoadsideArchitecture.com

Copyright. All photos at this website are copyrighted and may only be used with my consent. This includes posting them at Facebook, Pinterest, blogs, other websites, personal use, etc.

Tips & Updates. If you have suggestions about places that I haven't covered, historical info, or updates about places/things that have been remodeled or removed, I'd love to hear from you: roadarch@outlook.com.