(hit "refresh" to get the most recent version of this page; click on photos for larger images)
Rhinoceros [gone]
Islamorada, FL
Rhinoceros
Orlando, FL
This Rhinoceros statue in Islamorada was installed on top of the Safari Lounge sign. It was missing after Hurricane Irma in 2017. I don't know if it was saved.

This Rhinoceros statue in Orlando is located at Fun Spot America.
Hippo
Hutto, TX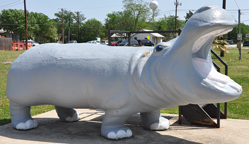 This Hippo statue is 10 feet tall and made of concrete. It was created for a miniature golf course but it wound up here. The statue was produced by Ben Robinson of the Plycrete Mold Co. The original sculpture from which the mold was made was created by Elmer Johnson. It was installed in 1992 and is Hutto's main tourist attraction. A photo-op staircase has been built next to the statue. Many smaller hippo statues have also been decorated and installed around town. Hutto's fondness for hippos can be traced back to around 1915 when a hippo escaped from a circus train in town. For more, see this website. [map]
This Hippo statue is installed in front of Hutto High School. He is the school's mascot. I don't know when it was installed or who created it. For more, see this website. [map]
Hippo
Edmond, OK
Hippo, Bear & Dinosaur
Sandusky, OH
This Hippo statue appears to be holding a camera. The trap door in back suggests that this statue might have been mechanical in some way. It is located in front of Glass Solutions. These photos are from 2011. The statue was repainted around 2020. [map]

The Hippo, Bear & Dinosaur statues were installed in front of the Best Budget Inn when these photos were taken in 2012. The Dinosaur came from a Sinclair gas station. The hippo and bear were created by Ben Robinson (see description of the hippo in the row above). Robinson sold many statues to mini golf courses and these figures most likely came from one. In 2014, the motel became the Magnuson Hotel Sandusky. It now appears to be a U-Haul rental business. The three statues were still there in 2021. [map]
Sheep
Kansas City, MO
Sheep
Bensalem, PA
Sheep
Akron, OH
These Sheep statues in Kansas City are installed in a fountain in front of the Ponce De Leon Building. [map]

These Sheep statues in Bensalem were previously used to advertise for Serta Mattresses. They are now installed on the roof of a former diner which is occupied by Lou's Farm Mart. [map]

These Sheep statues in Akron are installed on the roof of the Mattress Factory Outlet. The nine statues have been there since at least 2009 when the building housed Best Bedding. The building was painted bright blue around 2016 but the Sheep remain. [map]
Sheep [gone]
Vernal, UT

These aluminum Sheep statues were installed at Showalter Ford in 2010. The owner liked sheep and put the sheep there to get people talking. the statues were gone by 2019. For more, see this website.
Sheep Monument
Hagerman, UT
This Sheep Monument bronze sculpture was created by Danny Edwards. It was installed in 2013. For more, see this website. [map]
Rocky Mountain Sheep
Denver, CO
These Rocky Mountain Sheep are located at the Byron White U.S. Courthouse. The limestone sculptures were created by Gladys Caldwell Fisher in 1936 with WPA funding. [map]
Ram [gone]
Redlands, CA
Bighorn Ram
Afton, WY
Aluminum Critters & More [gone]
Billings, MT
This giant Ram statue was built for Pharaoh's Theme and Water Park which operated from 1996-2006. In 2011, the park reopened as the Splash Kingdom Waterpark. This statue and several others just like it appear to be gone now.

The Bighorn Ram in Afton is located at Castle Rock Dodge Chrysler & Jeep. The sculpture was created by Jonathan the Bear Man. For more, see this website. [map]

Aluminum Critters & More opened in 2006. They sold statues of Rocky Mountain wildlife, jungle animals, reptiles, and farm animals. The store and the statues were all gone by 2018.
Bighorn Ram
Cascade, ID
Grizzly Bear with Salmon
Cascade, ID
These Bighorn Ram and Grizzly Bear with Salmon sculptures are made from barbed wire. They were made by Big John, a local artist. The Bighorn Ram is installed in front of a Dodge dealership. The Bear is located elsewhere in town. Big John's barbed wire sculptures of an Indian and a buffalo were also installed in town. However, I did not notice those statues when these 2014 photos were taken. [map]
RoadsideArchitecture.com

Copyright. All photos at this website are copyrighted and may only be used with my consent. This includes posting them at Facebook, Pinterest, blogs, other websites, personal use, etc.

Tips & Updates. If you have suggestions about places that I haven't covered, historical info, or updates about places/things that have been remodeled or removed, I'd love to hear from you: roadarch@outlook.com.