(hit "refresh" to get the most recent version of this page; click on photos for larger images)
I believe the "realistic" fiberglass, dinosaur statues shown on this page were produced for Sinclair gas stations. Some claim that these more realistic statues were part of the Chicago's 1933 Century of Progress Exposition but I don't believe that they are that old. As far as I know, the only dinosaur statues at that fair were life-sized and not made from fiberglass. There are only a couple of vintage photographs of these "realistic" statues: one at the gas station opening in Wilmington, IL in 1963 and another on a parade float in Chicago. There may only have been a few of these statues produced. They may have been produced by Prewitt Fiberglass Animals, most likely in the early 1960s.
Sinclair Dinosaur [gone]
St. Clair, MO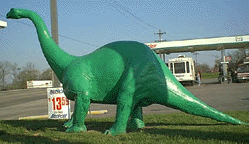 This Sinclair Dinosaur statue was located at a Sinclair station when these photos were taken in 2005. The statue was chained to an underground concrete block to keep it from blowing away. The statue blew down the hill once and lost a couple feet of its tail. By 2010, this statue and the gas station were gone. It is now in a private collection. [top photo thanks to David Carlson]
Sinclair Dinosaur [gone]
Moscow, IA
This Sinclair Dinosaur stood next to the Cove Restaurant in Moscow since at least the 1970s. The statue came from a Sinclair gas station which was just across the highway. In 2008, it was sold to Loch Ness Pools in Oklahoma City, OK. It is now in the owner's private collection.
Sinclair Dinosaur
Lexington, NE
This Sinclair Dinosaur is installed at the Nebraskaland Truck & Travel Center Sinclair gas station. It has been here for many years. It was stolen once and returned. It was chained down after that. By 2018, it was on a trailer which is apparently wheeled inside when the station is closed. [map]
Sinclair Dinosaur
Elwood, IL
This Sinclair Dinosaur statue is believed to have been installed at a Sinclair station in Wilmington, IL in 1963. At some point, the statue disappeared. Since 1975, this statue has been installed in a residential backyard in Elwood. G&D Tire now has one of the more modern fiberglass statues.
Sinclair Dinosaur
Green Bay, WI

2007:
This Sinclair Dinosaur statue stands in front of the "Dino Stop" Shell gas station. There was originally a Sinclair station here. When Shell moved in, the owner wanted to remove the dinosaur but he kept it due to public outcry. In 2007, the dinosaur wore a painted Shell yellow vest. In 2011, the statue was temporarily wearing a white football jersey. In 2016, the statue was repainted green. [map]
RoadsideArchitecture.com

Copyright. All photos at this website are copyrighted and may only be used with my consent. This includes posting them at Facebook, Pinterest, blogs, other websites, personal use, etc.

Tips & Updates. If you have suggestions about places that I haven't covered, historical info, or updates about places/things that have been remodeled or removed, I'd love to hear from you: roadarch@outlook.com.