(hit "refresh" to get the most recent version of this page; click on photos for larger images)
The Sinclair dinosaur statue type shown below and on the next pages was originally produced by International Fiberglass in the mid-1960s. According to Steve Dashew, the founder of International Fiberglass, he had hoped that Sinclair would be interested in marketing the dinosaur statues in a big way. However, they only bought a few and the statues were sold to other businesses such as amusement parks and mini golf courses. The statues were produced in two sizes: 12 feet long (the "King Dinosaur") and eight feet long (the "Baby Dinosaur"). For more, see this vintage marketing brochure from International Fiberglass [thanks Terry Nelson].

Sinclair acquired one of these statues, possibly from Colorado, and had a mold made in the late 1980s. They began distributing these statues to their gas stations at that point. Evidently, one way to tell the Prewitt/IF statues from these later Sinclair-produced statues is by looking at the feet. The Prewitt/IF statues had a pad on the bottom of the feet that could be adjusted to keep the statues level.

In recent years, Sinclair has created another version that faces the other direction. These modern statues are also painted a darker green. Many of these have been popping up in Colorado, Nevada, and possibly other states. These statues are owned by the corporation and are not sold to the stations themselves. They have been copied and sold by garden statuary stores and on-line. Some of these are produced in Mexico and possibly China. Some of these copies are fiberglass while others are aluminum.

The statues on the pages in this section are organized alphabetically by state.
Sinclair Dinosaur
Holbrook, AZ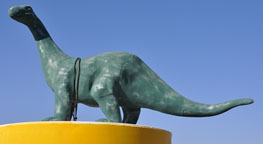 This Sinclair Dinosaur in Holbrook is located at the Rock Factory souvenir shop. [map]
Sinclair Dinosaur
Fresno, CA
Sinclair Dinosaur
Lodi, CA
Sinclair Dinosaur
Chico, CA
Sinclair Dinosaur
Morro Bay, CA
Sinclair Dinosaur
Sacramento, CA
Sinclair Dinosaur
Hanford, CA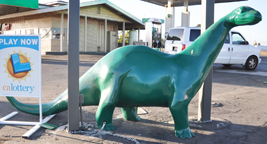 These Sinclair Dinosaurs in Fresno, Lodi, Chico, Morro Bay, Sacramento, and Hanford are recent additions. These statues were installed when the brand was changed to Sinclair.

The Fresno location was previously a Union 76 station. It was rebranded as Sinclair around 2015. The Fresno statue is dressed in different outfits throughout the year, including knitted sweaters. When this photo was taken in 2017, the dinosaur was wearing an apron for Mother's Day. [map]

This Lodi station was also a Union 76 station until 2013. [map]

This Chico station was a Shell station until around 2014. [map]

The Morro Bay location became a Sinclair around 2018. The statue was there by 2020. [map]

The Sacramento location was previously a Shift Change station. It became a Sinclair around 2020. This statue is installed on top of the canopy. [map]

The Hanford location was previously a Texaco station. Around 2016, it became a Sinclair station. The dinosaur statue was added about a year later. [map]
Sinclair Dinosaur [gone]
Jackson, CA
Sinclair Dinosaur
San Francisco, CA
This Sinclair Dinosaur in Jackson were located at Poor Man's Bronze. It was probably an aluminum replica of the original fiberglass statue. This photo is from 2014. By 2015, the statue was gone.

This Sinclair Dinosaur in San Francisco has been at this location since 1975 when the storefront housed Shoe Biz. The statue disappeared briefly in 2016 when the space was being renovated for the new tenant, Anthem. It was returned anonymously and repainted. This photo was taken after that. For more, see this website. [map]
Sinclair Dinosaur
Hayward, CA
This Sinclair Dinosaur was installed at Bell Plastics in 2016. [map]
Sinclair Dinosaurs [gone]
Steamboat Springs, CO
These two Sinclair Dinosaurs statues in Steamboat Springs were located at a Western gas station. It was previously a Sinclair station. These photos are from 2012. By 2015, the statues were gone.
Sinclair Dinosaur [gone]
Golden, CO
Sinclair Dinosaur
Denver, CO
Sinclair gas stations with these Dinosaur statues are common in Colorado.

This Sinclair Dinosaur in Golden shown above had been at this station since the late 1980s. Before that, it was at another Sinclair in town. The statue was gone by 2018.

This Sinclair Dinosaur in Denver above is at a Sinclair station on West Colfax. [map]
Sinclair station
Sinclair Dinosaur
Cascade, CO
Sinclair Dinosaur
Colorado Springs, CO
Sinclair Dinosaur
Manitou Springs, CO
Sinclair Dinosaur
Clermont, FL
The Sinclair Dinosaur statue in Cascade is located at the North Pole, a Santa-themed amusement park.

The Sinclair Dinosaur in Colorado Springs has probably been at this Sinclair gas station since the 1960s. It was chained in place when this photo was taken around 2001. By 2014, the statue was moved next to the building. [map]

There are two Sinclair Dinosaurs at a Sinclair station in Manitou Springs. [map]

The Sinclair Dinosaur in Clermont is located at the Showcase of Citrus. [map]
Sinclair Dinosaur
Iowa City, IA
This Sinclair Dinosaur appeared to be for sale along with the gas station when these photos were taken in 2006. However, the statue and station were still there in 2013. The statue has "Please Do Not Crawl on Dino" painted on its side now. For more, see this website. [map]
Sinclair Dinosaur
Storm Lake, IA
Sinclair Dinosaurs [gone]
Altoona, IA
The Sinclair Dinosaur in Storm Lake is penned in at Sparky's One Stop which is surrounded by cornfields. [map]

These Sinclair Dinosaurs in Altoona were located at the Sinclair Gold Truck Stop. These photos are from 2010. The statues were still there in 2011. By 2015, the station had become a Flying J and the statue were gone.
Sinclair Dinosaur
Wilmington, IL
Sinclair Dinosaur
Abilene, KS
Sinclair Dinosaur [gone]
Salina, KS
The Sinclair Dinosaur in Wilmington is installed on the roof of G&D Tire and Alignment. This building was built as a Sinclair station in 1963. In 2001, the owner of G&D bought this statue which was previously located in Chattanooga, TN. [map]

The Sinclair Dinosaur in Abilene is installed on the canopy of a former Sinclair station. The station is now a repair shop called John's Service. [map]

The Sinclair Dinosaur in Salina was located at a Sinclair station. I have heard that there is or was another one in town near I-70. However, I believe there is only one other location and I don't believe it has a statue. In 2017, the Sinclair signs and Dinosaur were removed.
RoadsideArchitecture.com

Copyright. All photos at this website are copyrighted and may only be used with my consent. This includes posting them at Facebook, Pinterest, blogs, other websites, personal use, etc.

Tips & Updates. If you have suggestions about places that I haven't covered, historical info, or updates about places/things that have been remodeled or removed, I'd love to hear from you: roadarch@outlook.com.