(hit "refresh" to get the most recent version of this page; click on photos for larger images)
Lustron House
College Park, MD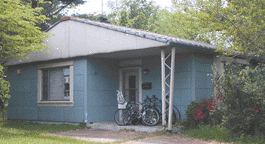 There are about six Lustrons left in Maryland. This College Park Lustron is a little rough around the edges but at least it's still intact. [map]
Lustron Houses
Minneapolis, MN

There are about 20 Lustrons located in Minnesota, about half of them are in Minneapolis.
Missouri Lustron Houses:
Joplin
Lustron House
Clarksdale, MS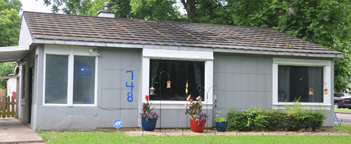 This Lustron House is one of only two in Mississippi. The other one is in Jackson, MS. [map]
Lustron House
Grand Forks, ND
There are about 38 Lustrons in North Dakota. This Lustron House was built in 1950. It is located at the Grand Forks County Historical Society. After the flood of 1997, this house was dismantled and reassembled here.
Lustron House
Finley, ND
This Lustron House was abandoned when these photos were taken in 2022. [map]
William Wittmer Lustron House
Alpine, NJ
Harold Hess Lustron House
Closter, NJ

There were around 16 Lustrons sold in New Jersey and about a dozen of them remain. These two Lustrons were assembled in 1950 and are just a few miles apart. Both have two bedrooms and one bath. The Alpine Lustron was originally owned by William Wittmer. The Alpine house is also known as the Marjorie Hiorth House (Wittmer's widow). [map]

The Closter Lustron was built in 1950. It features a "breezeway", a mostly glass, enclosed connecting structure between the house and garage. Harold Hess originally tried to have this house built in Fort Lee, NJ but he could not get past zoning restrictions there. In 2015, the Township of Closter was gifted the house and began restoring it. The house has been rented to a local business owner who is serving as caretaker. [map]
Lustron House
Woodbury, NJ
This Woodbury Lustron is in great shape. The window awnings must have been an original option. The garage appears to now be cinderblock with a Lustron top. [map]
Lustron House
Clinton, NJ
The Clinton Lustron is in great shape and stands on a fairly large piece of property in an upscale neighborhood. [map]
Lustron House [gone]
Sea Bright, NJ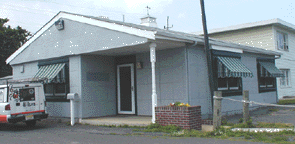 This Lustron House in Sea Bright was originally used as a demonstration model. When this photo was taken in 2004, it appeared to be unoccupied and between commercial uses. By 2012, it had been replaced with new development.
RoadsideArchitecture.com

Copyright. All photos at this website are copyrighted and may only be used with my consent. This includes posting them at Facebook, Pinterest, blogs, other websites, personal use, etc.

Tips & Updates. If you have suggestions about places that I haven't covered, historical info, or updates about places/things that have been remodeled or removed, I'd love to hear from you: roadarch@outlook.com.