(hit "refresh" to get the most recent version of this page; click on photos for larger images)
Lustron House
Middletown, NY

There are about 95 Lustrons in New York. The Middletown Lustron was vacant when these photos were taken in 2010. This house is now painted beige. [map]
Lustron House
S. Main St.
Albany, NY
The S. Main St. Lustron is nicely maintained and visible on all sides. I don't know if there was originally a breezeway connecting the house and garage. [map]
Lustron House
Jermain St.
Albany, NY
Lustron House
Jermain St.
Albany, NY
There were eight Lustrons built on this block in 1949. Three were moved due to highway expansion and are now shingled over. The other five are shown here below. These two blue Jermain St. Lustrons are next door neighbors. Both of their porches have been boxed in. [map]
Lustron House
Jermain St.
Albany, NY
Lustron House
Jermain St.
Albany, NY

Lustron House
Jermain St.
Albany, NY
The tan and brown Jermain St. Lustrons are nicely maintained. The yellow house on the bottom was boarded up when these photos were taken in 2010.
Lustron House
Clover Lane
Loudonville, NY
Lustron House
Clover Lane
Loudonville, NY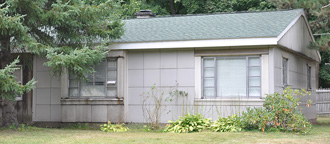 There were about six Loudonville Lustrons built on Clover Lane. Only these two are still recognizable. [top map]; [bottom map]

There were five other Lustrons in Loudonville just a few blocks away on Osborne Rd. Three are now sided-over, one is obscured by large additions, and the other was demolished.
RoadsideArchitecture.com

Copyright. All photos at this website are copyrighted and may only be used with my consent. This includes posting them at Facebook, Pinterest, blogs, other websites, personal use, etc.

Tips & Updates. If you have suggestions about places that I haven't covered, historical info, or updates about places/things that have been remodeled or removed, I'd love to hear from you: roadarch@outlook.com.