(hit "refresh" to get the most recent version of this page; click on photos for larger images)
Lustron House
El Paso, TX
This Lustron House is one of only three in Texas that I know of. The other two are in Dallas and Fort Worth (below). [map]
Lustron House
Fort Worth, TX
Lustron House
Dallas, TX
This Lustron House in Fort Worth was built in 1949. It has early square bedroom windows. [map]

This Lustron House in Dallas also has early square bedroom windows. [map]
Lustron Houses
Norfolk, VA
There are about 70 Lustrons in Virginia. These Lustron Houses are covered up a bit but their origins are still obvious. [left map]; [right map]
Lustron House
Bristol, VA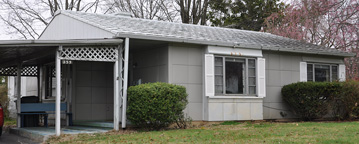 This Lustron House was built in 1949. This photo is from 2011. The house now has a modern, metal roof. [map]
Lustron House [gone]
Arlington, VA

This Lustron House was built in 1949. These photos are from 2010. The house was demolished in 2016.
Lustron House [gone]
Arlington, VA
Lustron House
Arlington, VA
This Lustron House on the left was fairly well preserved. It was still there in 2014 but gone by 2017. This Lustron House on the right is now covered with wood. [map]
Lustron House
Arlington, VA
This Lustron House is hidden behind stucco. The original roof tiles remain. [map]

There were 11 Lustrons in Arlington but now only five remain. Not too far away, at the Marine base in Quantico, VA, there were about 60 Lustrons which were offered free for the taking. Most of them wound up being destroyed. For more, see these websites: 1 and 2.
RoadsideArchitecture.com

Copyright. All photos at this website are copyrighted and may only be used with my consent. This includes posting them at Facebook, Pinterest, blogs, other websites, personal use, etc.

Tips & Updates. If you have suggestions about places that I haven't covered, historical info, or updates about places/things that have been remodeled or removed, I'd love to hear from you: roadarch@outlook.com.