(hit "refresh" to get the most recent version of this page; click on photos for larger images)
Touchstone Wildlife and Art Museum
Haugton, LA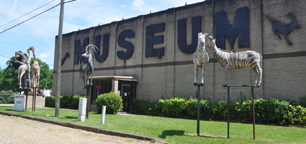 The Touchstone Wildlife and Art Museum opened in 1981. [map]
Blaine Kern's Mardi Gras World
New Orleans, LA

2010:
Blaine Kern's Mardi Gras World is the world's biggest producer of floats, sculptures, and props. Blaine Kern Studios was established in 1947. For more, see this website. [map]
Harry's Grill & Piggy's Ice
Hendersonville, NC
Harry's Grill & Piggy's Ice has a large collection of fiberglass statues. The ice cream stand opened in 1980. The restaurant was added in 1993. Many Hendersonville residents refer to their town as "Hooterville" - a name taken from the "Petticoat Junction" TV sitcom from the 1960s. Included among these statues is a Pizza Chef statue, are two Big Boy statues and Yogi and Boo-Boo Bear statues. The Yogi Bear statue stood in front of a restaurant in Lake Lure for more than 25 years. Before that, he was installed at a campground. The Boo-Boo Bear statue was cast from a mold that was used previously for the Yogi Bear Honey Fried Chicken chain. [map]
America's Fiberglass Animals
Shelton, NE
America's Fiberglass Animals is another fiberglass statue manufacturer. The company is now known as simply Fiberglass Animals. These photos are from 2008. The company has many of the molds from Prewitt Fiberglass Animals, one of the biggest producers of fiberglass statues in the 1960s. For more, see this website. [map]
RoadsideArchitecture.com

Copyright. All photos at this website are copyrighted and may only be used with my consent. This includes posting them at Facebook, Pinterest, blogs, other websites, personal use, etc.

Tips & Updates. If you have suggestions about places that I haven't covered, historical info, or updates about places/things that have been remodeled or removed, I'd love to hear from you: roadarch@outlook.com.