(hit "refresh" to get the most recent version of this page; click on photos for larger images)
Fitzgeralds Casino & Hotel [gone]
Las Vegas, NV
Fitzgeralds Casino & Hotel opened originally as the "Sundance" around 1980. The Sundance was designed by Martin Stern, Jr. It became Fitzgeralds in 1987. The sign featured a spilling pot of gold and a rainbow. The original sign and 34 foot tall leprechaun (aka "Mr. O'Lucky") were removed in 2002 and taken to the Neon Museum. In 2004, Mr. O' Lucky was badly damaged in a fire. In 2012, Fitzgeralds closed and the casino was rebranded as "The D Las Vegas". The signs were removed. Some of the coins were saved by The Neon Museum. For more, see these websites: 1, 2, 3, 4, 5, 6, and 7. [daytime photo thanks Glenda Campbell]
Binion's Hotel & Gambling Hall
Las Vegas, NV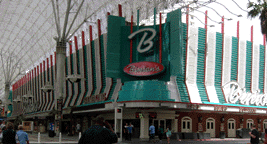 Binion's Hotel & Gambling Hall, originally known as Binion's Horseshoe, was named after its owner Benny Binion. In 1951, he bought the "Eldorado Club" and "Apache Hotel" and converted them into Binion's Horseshoe. In 1988, the Horseshoe expanded by acquiring the adjacent hotel, "The Mint". In 2004, Binion's Horseshoe was sold and the signs were altered to remove any horseshoe references. The old signs are now located at The Neon Museum. [map]

The sign in the third row above was restored by the Neon Museum. It was originally part of the Binion's Horseshoe facade. It was installed in 2009 in the median of Las Vegas Blvd. near the museum. For more, see these websites: 1, 2, 3, 4, 5, 6, 7, and 8. [daytime photo thanks Glenda Campbell] [map]
El Portal Theatre
Las Vegas, NV
Fremont Hotel & Casino
Las Vegas, NV
The El Portal Theatre opened in 1928. It closed in the late 1970s and became El Portal Gifts. The building now houses an Indian Arts & Crafts store. The original sign is at The Neon Museum. It was taken down when the Fremont Street Experienced was built in 1995. This sign was installed after that. For more, see these websites: 1 and 2. [map]

The Fremont Hotel & Casino was designed by Wayne McAllister and opened in 1956. At that time, it was the tallest building in the state. These signs are contemporary. For more, see these websites: 1, 2, and 3. [map]
Vegas Club Hotel & Casino [gone]
Las Vegas, NV
Four Queens Hotel & Casino
Las Vegas, NV
The Las Vegas Club Hotel & Casino opened in 1931. In the late 1940s, it moved across the street. In the 1960s, the casino and hotel were remodeled with a baseball theme. Some of the older Las Vegas Club signs are now at The Neon Museum. In 2017, the building was demolished. The baseball player statue was saved but I believe it is still in storage. For more, see this website.

The Four Queens Hotel & Casino opened in 1966. It was named after the owner's four daughters. For more, see this website. [daytime photo thanks Glenda Campbell] [map]
Western Hotel
Las Vegas, NV
The Western Hotel opened in the 1950s as the Western Motel. That building was demolished in 2013 for Tony Hsieh's Downtown Project. By 2010, the sign attached to the motel had been apparently restored and moved to the larger building (middle photo above). That sign was originally painted blue and read "Western Motel."

The larger building was constructed in 1970 as the Western Hotel & Bingo Parlor. It later became the Western Hotel & Casino. It closed in 2012. The hotel was purchased by Tony Hsieh in 2013. The building was renovated and hosted a conference in 2014. I don't believe these signs are lit anymore. For more, see these websites: 1 and 2. [map]
Barbary Coast Hotel & Casino [gone]
Las Vegas, NV
New Frontier Hotel
Casino [gone]
Las Vegas, NV
Paris Hotel & Casino
Las Vegas, NV
The Barbary Coast Hotel & Casino opened in 1979. It had an 1890s San Francisco theme. It replaced Empey's Desert Villa Motel which had been there since 1952. The signs were created by YESCO. The hotel closed in 2007 and was renamed Bill's Gamblin' Hall & Saloon. The signs were replaced but the entrance remains the same. For more, see these websites: 1, 2, 3, and 4.

The New Frontier Hotel & Casino opened in 1942 as the "Last Frontier Hotel". After a renovation in 1955, the name was changed to the "New Frontier". From 1967-1999, the name was changed to "The Frontier" and then changed back once again to the "New Frontier." This sign was created in 1967 and was the tallest sign on the Strip at the time. The hotel was demolished in 2007. I believe the sign is going to the Neon Museum. For more, see these websites: 1 and 2.

The Paris Hotel & Casino opened in 1999. In addition, to replicas of the Arc de Triomphe and the Eiffel Tower, there is this 200 foot tall neon balloon sign. It is a tribute to the Montgolfier hot air balloon of the 1700s. For more, see these websites: 1, 2, 3, and 4. [map]
Westward Ho
Hotel & Casino [gone]
Las Vegas, NV
Marie Callender's Restaurant & Bakery
Las Vegas, NV
The Westward Ho Hotel & Casino opened in 1963 and closed in 2005. The hotel was demolished in 2006 and replaced with condos. The 80 foot tall free-standing golden umbrella was still there when this photo was taken in 2006. It is gone now. For more, see these websites: 1, 2, 3, 4, 5, 6, and 7.

The Marie Callender's Restaurant & Bakery chain was established in Orange, CA in 1964. The company now has about 75 locations. I believe these signs are from the 1960s. I don't think any of the other locations have them. [map]
Circus Circus Hotel & Casino
Las Vegas, NV
The Circus Circus Hotel & Casino opened in 1968. It features free live circus acts throughout the day and an indoor amusement park. The Lucky the Clown sign was built by YESCO and installed in 1976. It is 123 feet tall. For more, see these websites: 1 and 2. [map]
Pabst Blue Ribbon [gone]
Las Vegas, NV
This Pabst Blue Ribbon sign was built by YESCO and installed in 2015. The animated sign, named "Cool Blue," is 30 feet tall. In 2020, the sign was removed. It has been donated to the Neon Museum where it will be displayed at some point. For more, see these websites: 1 and 2.
RoadsideArchitecture.com

Copyright. All photos at this website are copyrighted and may only be used with my consent. This includes posting them at Facebook, Pinterest, blogs, other websites, personal use, etc.

Tips & Updates. If you have suggestions about places that I haven't covered, historical info, or updates about places/things that have been remodeled or removed, I'd love to hear from you: roadarch@outlook.com.