(hit "refresh" to get the most recent version of this page; click on photos for larger images)
Cider Barrel
Germantown, MD
The Cider Barrel was built in 1922 as a roadside stand that sold locally produced cider and other produce. The barrel is 12 feet tall. The stand closed in 2003 and the trailer park behind it, the Cider Barrel Mobile Home Court, was razed. In 2004-2005, the Barrel was restored and repainted while an apartment complex was built behind it. By 2007 (bottom row of photos), a sign was installed next to the barrel. In 2012, the property owner expressed the desire to have the stand moved somewhere else. However, the Cider Barrel is still there. For more, see this website. [map]
These A&W buildings shown below may have inspired this patented design from 1952.
former A&W Root Beer
El Cajon, CA
2001:
2014:
This giant barrel started out as an A&W Root Beer stand. In the late 1970s, it was known as the Variety Barrel. In 2001, it was known as El Barrilito. By 2008, it was named Rosendo's Taco Shop. For more, see this website. [map]
The Barrel
Boron, CA
The Barrel is another former A&W root beer stand. It was known as Dinky's before it became The Barrel. For more, see this website. [map]
former A&W Root Beer
San Diego, CA
2010:
2014:
2020:
This former A&W Root Beer stand housed Angels U Flowers & Gifts when the 2010 photo was taken. It had previously been called the Barrel of Flowers. In 2014, it housed IB Printing. However, there was a sign next to the building which read "Coming Soon: Deb's Cookie Jar." However, I don't believe that ever happened. The building appeared to be vacant in 2016. By 2019, the building was housing a CBD Superstore. [2010 photo thanks Gregory May] [map]
El Indio de Tijuana
Escondido, CA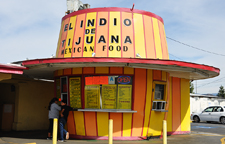 El Indio de Tijuana occupies a former A&W Root Beer stand. In the 1970s, it was known as Michael's Drive In. [map]
Angel Petals
National City, CA
2014:
2020:
Angel Petals is housed in a former A&W Root Beer stand. The building was repainted around 2018. [map]
Lucky Burger [gone]
Houston, TX
Lucky Burger was housed in this former A&W Root Beer stand since 1975. These photos are from 2011. In 2014, Lucky Burger closed and, just a few months later, the building was occupied by Oui Banh Mi, a Vietnamese drive-thru restaurant. In 2015, the building was demolished. There was a second Lucky Burger in a former A&W barrel building in Houston. That building was also demolished. For more, see this website.
former A&W Root Beer
Mesa, AZ

2004:
This former A&W Root Beer stand was built in 1956. The building has gone through several owners and name changes in the past few years. When the first photos above were taken in 2004, the stand was closed but still had signs for Fatt Dawgs and Beef. By 2005, it had reopened as El Barrilito. By 2011, the building was repainted and renamed Vaqueros Carne Asada. In 2017, the building was vacant and painted white. It is still vacant. For more, see these websites: 1 and 2. [map]
Beef Burger Barrel
Amarillo, TX

2011: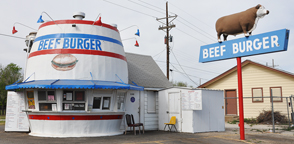 2017: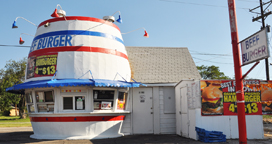 The Beef Burger Barrel opened as an A&W Root Beer stand in 1937. In the 1940s, it was used as a fruit stand. The building has been moved around town over the years but has been here on Plains Blvd. since 1952. It was a Lot-A-Burger from 1953 until around 1970, before becoming the Beef Burger. There was a neon hamburger on top of the sign originally. In the early 1990s, it became the Beef Burger Barrel. The restaurant closed in 2007 but reopened a few months later. The building and sign were repainted at that point. The neon was removed from both the sign and the building. The steer statue and steel panel sign were gone by 2017. For more, see these websites: 1 and 2. [map]
The Barrel
Osburn, ID
The Barrel was built in 1929 as a drive-in restaurant. In the 1940s, living quarters were added to the building. The Barrel operated until at least 1981. Around 2002, the building was adapted for a residence. For more, see these websites: 1 and 2. [map]
Barrel of Fun
Louisville, KY
The Barrel of Fun ice cream stand has been here since 1994. This barrel or a look-alike was originally installed at a boardwalk location in Wildwood, NJ. The barrel originally had a giant hot dog installed on the roof and the words "Barrel-N-Bun" molded onto the front. The letters were later adapted to read Barrel of Fun. This barrel is smaller than those built for A&W. The base is about nine feet in diameter. After the barrel's stint in New Jersey, it was notched at the bottom to fit onto a utility trailer. It was then installed at a used car lot where it served as a hot dog stand. For more, see this website. [map]
Frosty Inn
Russellville, AL
The Frosty Inn opened in 1960. It seems this was part of a chain as there was another location in Bay St. Louis, MS at one time. This patent from 1959 was probably the one used for these buildings. The Russellville rooftop barrel was restored in 2000. For more, see this website. [map]
La Botte Italian Restaurant [gone]
Lompoc, CA
Monkey Madness
Misquamicut, RI
The La Botte Italian Restaurant opened in 1981. These giant barrels were next to the entrance. "Botte" means barrel in Italian. In 2020, the restaurant moved across the street. In 2021, the restaurant was demolished and a Dutch Brothers coffee stand has been built on the property.

The Monkey Madness amusement park ride is at Atlantic Beach Park. I believe this ride was mass-produced and used at other parks. The ride was not there in 2021 but it might be brought back during beach season. [map]
Green Door Liquor
Beaver Bay, MN
Barrel Drive-in [gone]
Clear Lake, IA
Ye Olde Ale House
Bethlehem, PA
Giant Gun Powder Barrel
Haugan, MT
I believe the Green Door Liquor store opened around 1955. I don't know how old this sign is but it has been here since at least 2007. [map]

The Barrel Drive-in opened in 1958. This restaurant also featured a giant rooster and a giant ice cream cone. The drive-in was demolished in 2018. The barrel was removed and taken somewhere on a truck. For more, see this page.

According to the sign, the Ye Olde Ale House was established in 1962. It has been closed since at least 2007. It may have closed in the early 1970s. Does anyone know more about this place? [map]

The Giant Gun Powder Barrel in Haugan has been located at Powder Mag Fireworks since at least 2018.
I don't believe this patented barrel was ever built.

More Giant Barrels:
Candy Barrel (San Francisco, CA) [gone]
Barrel Club (Vallejo, CA) [vintage; gone]
Humpty Dumpty (aka Barrel Drive-in) (Denver, CO) [vintage; gone]
Downey's Root Beer Barrel (Morgantown, IN) [vintage; gone]
Giant Bourbon Barrel & Bottle (Bardstown, KY)
State Fair (St. Paul, MN)
Bung's Tavern (Burlington, NJ)
James Saltwater Taffy (Wildwood, NJ) [gone]
The Barrel (Devils Lake, ND) [vintage; gone]
Root Beer Barrels: 1, 2 (Milwaukee, WI)
Triple XXX Root Beer (various locations)

Obri Sud (Lazne Libverda, Czechoslovakia)
RoadsideArchitecture.com

Copyright. All photos at this website are copyrighted and may only be used with my consent. This includes posting them at Facebook, Pinterest, blogs, other websites, personal use, etc.

Tips & Updates. If you have suggestions about places that I haven't covered, historical info, or updates about places/things that have been remodeled or removed, I'd love to hear from you: roadarch@outlook.com.